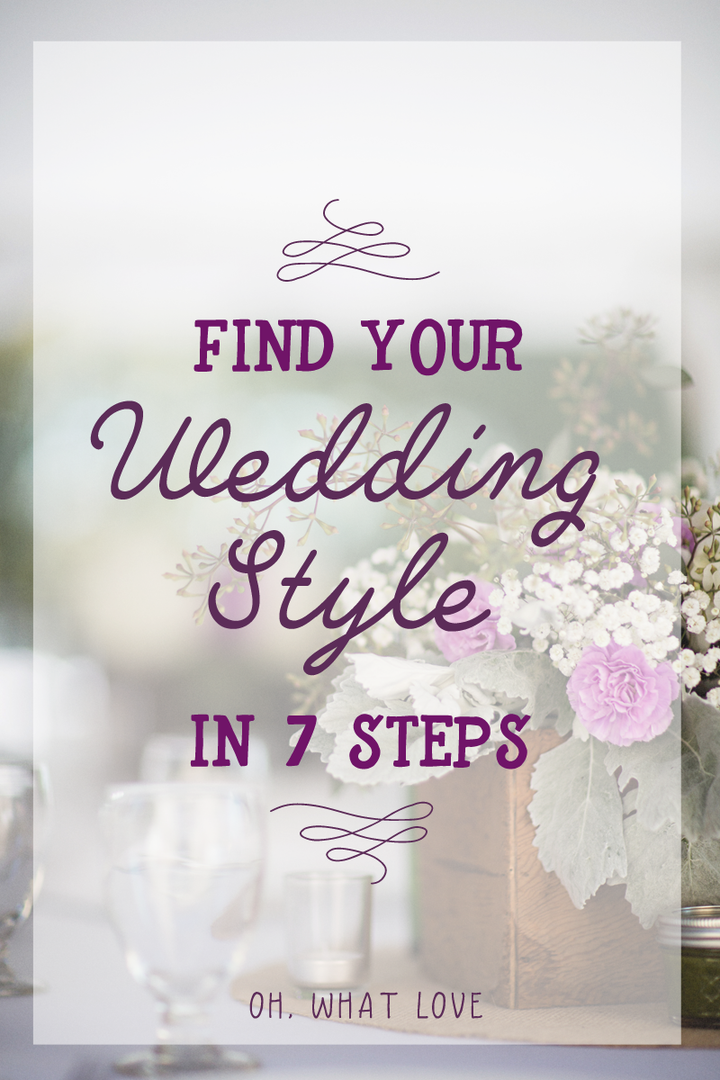 Your wedding should not be the same as the wedding held at your venue the week before. It doesn't have to be decorated with floating candles in centerpieces set atop mirrors in the center of the table. It should ooze your personality and style. It should have your special touches and show the humor of your groom. When your guests walk into your reception, they should have no question that it's your reception.
That's why I'm sharing my tips on how to build your wedding day around who you are as a couple – both together and individually. Because you want to remember it as being one of the most special days of your life.
Your wedding style consists of these things:
– Color
– Decor
– Overall feel and personality of the day
– Music
– Food
– Memories you want people to have of your wedding
Before we dig into the steps, here are some major things to consider
when planning your wedding style:
– Your hobbies
– Your personal style
– Where you find inspiration
– Your favorite colors
– Things that make you smile or laugh
Step One: Inspiration Online
Start where it make sense – Pinterest! If you have a Pinterest account, create a board (or a few boards) dedicated to wedding planning. If you have any ideas in mind about what you want for your wedding, do a quick search for those and start pinning. If you're not sure where to start, look up the profiles of some wedding blogs – Oh, What Love, Style Me Pretty, Southern Weddings,Ruffled Blog, 100 Layer Cake & Green Wedding Shoes all have lots of wonderful boards and pins that you can use as a jumping off point. Or visit your the websites of your favorite stores and try to envision how you could merge some of the things you love about those places into your wedding day. Pin those things that inspire you.
Work on pinning 25 to 50 images to get yourself started, and try to be a little picky. Before you pin an image, think about why you like it and if it really feels like 'you'. Because Pinterest is full of amazing ideas and inspiration, you can get caught up in pinning things that aren't your normal style or aren't realistic to your vision. Try to really stick to things you absolutely love or can see incorporating into your wedding day.
Throughout your engagement, continue to look for images that inspire you in your wedding planning. Keep in mind your hobbies, favorite stores, favorite memories, favorite places and your personal style when you're choosing photos. The more of your personality you infuse, the more memorable your day will be.
Step Two: Share Your Story
Everyone loves to share their story. And when it comes to your wedding, sharing your story is so important in getting started with planning. Your past has made you who you are as a couple and there's no better way to find your wedding style than to look back on your relationship at the exciting and fun parts.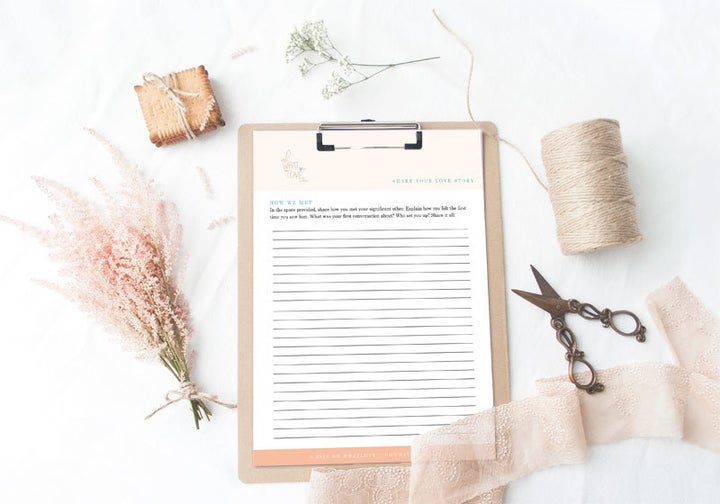 In this step, you're going to download this worksheet and fill it out. Tell the story – you know, the one about how you and your hubby to be met, fell in love… and especially how he popped the question. Now's your time to shine. In the space provided, share those special moments about how you met, your first kiss, how you fell in love and how he proposed to you. You'll be happy you did this, you'll want to remember these special times forever so it's important to document them while they are still fresh in your mind. These stories will be useful if you set up a wedding website or create a wedding book as well – you're just getting a head start!
And don't worry about being a professional editor! Just write these stories down like you would write a diary entry.
While you're thinking of your stories, also go and find your favorite photos of the two of you together and add them to an album on Facebook. You'll have all of your favorites in one place to use for wedding slideshows or your wedding website.
Step Three: A Color Story
Color is a very important part of your wedding day. Narrowing down your color palette will help you make better decisions about decorations and accessories.
Some things to think about:
– What colors make you happy?
– What colors inspire you?
– What colors compliment your personality?
Once you choose your colors, the decoration, bridesmaid dress and flower decisions all get a little bit easier because you have a palette to follow.
Step Four: Centerpiece Pretties
Now it's time to focus on the details. The details – like the centerpieces and flowers – can be some of the hardest decisions you make in your whole wedding planning process because there are a lot of little decisions that have to be made. But, all of these little decisions put together create the vision of your wedding, so you want to make sure these ideas are cohesive.

When looking for ideas for your centerpieces, think of your favorite decorating styles. Decide on 2 or 3 keywords to describe your personal style, and use those keywords when searching for ideas for your décor. Will you use 'found' objects to decorate your tables just like you do your home for a flea market style wedding? Do you want tall and elegant centerpieces or boxes filled with florals for the center of your tables? Take a look at your favorite wedding blogs for inspiration and add them to your Pinterest board.

You can also use the décor style your favorite stores or people who inspire you to help you make these decisions. If you're in love with Anthropologie's product displays, figure out a way to do something similar in your wedding. Once you have some ideas for your centerpieces, the style of your wedding should start to come together.
Step Five: Pretty Petals
Flowers are another fun way to define your wedding style. They're going to be in so many of your wedding pictures and some brides even preserve their bouquets, so you're going to want to take a little time to design a floral style that fits with your personal style & that is cohesive with the wedding look that you're building.

Your flowers for the bouquets and centerpieces should be a stunning mix of your favorites and match your wedding colors. Your florist can help with ideas for your flowers, or use these bouquet recipes from Wedding Chicks to help you choose which blooms you'll use. Set up a Pinterest board with some examples of your favorite bouquets and centerpiece flowers to share with your floral designer so they can come up with a beautiful bouquet that you'll swoon over.

From elegant and sleek to whimsical and bohemian, the flower options are endless and can help you create the wedding of your dreams.
Step Six: Sweet Stationery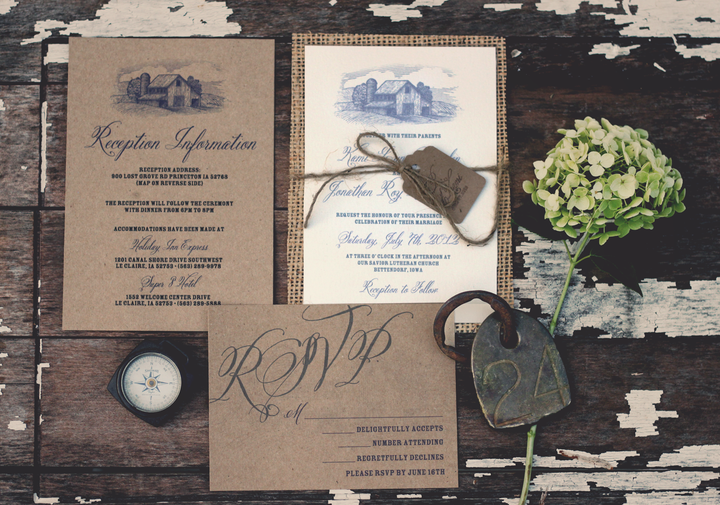 By now you should be getting a solid idea of your wedding style. You should see a theme in all of the ideas that you have been saving, and now you can pull all of that together with the very first thing your wedding guests will see – your invitations.
Some think of invitations as just a piece of paper, but if you want a wedding that is cohesive and well-detailed, then make sure your invitations match the style of your wedding.

Do you want extra special details like twine and tags? A totally custom invitation designed just for you? Or an elegant letterpressed or gold foil invitation that your guests are going to want to keep forever? Once again, the ideas are endless. If you're stuck on what to do, try to incorporate some textures, fabrics or patterns from your wedding décor – that's a no-fail way to make sure they match your wedding style.

Look for some ideas on this Pinterest board and pin the ones that speak to you the most and then work with a stationer on designing invitations that will impress your guests.
Step Seven: Pull it All Together!
You've covered the main points that define your wedding style – the colors, the centerpieces, the flowers and the stationery – now you can focus on the details! Party favors, place settings and signage are great ways to build more of your personality into your wedding day. Go through all of the ideas you've pulled together and take bits and pieces from each to style the wedding you have always wanted.


Need some help pulling your vision together? Enlist the help of a wedding stylist or planner. Their expertise is in pulling your ideas together to help create the wedding day you've always dreamed about.

What has been your biggest struggle in finding your wedding style? Share in the comments!
Related
Before You Go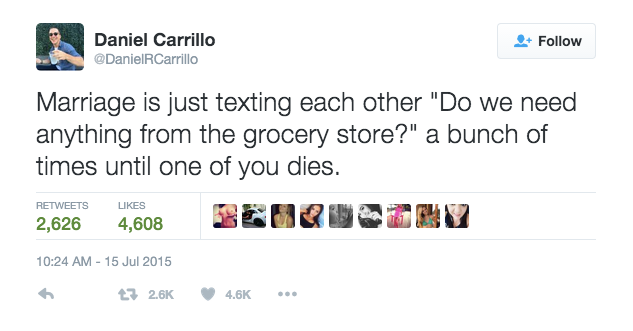 Funny Tweets About Married Life