My husband and I were sitting at the airport in Phoenix waiting to fly home to San Francisco, and I started to cry.
"What's the matter?" Dan asked.
I took out a notebook and wrote, "My doctor called. Mammogram not normal. I go tomorrow for another look."
The next day, I found myself in another waiting room. This time ,there were only women. We wore pink gowns tied in front, and we were all waiting to hear results from follow-up tests.
"You got called back, too?" a petite woman said. "It's nerve-racking. My sister had breast cancer. It's better these days; most live. My sister lived. You have kids?"
"I could do bald," she said.
I had thought the same thing. I didn't know if I could do chemo. I felt like a cancer survivor -- I had lost my mom to cancer, and it had taken a while for me to laugh again and not hurt all the time.
The petite woman picked up a risk-factor card and read out loud. "Eat well. I eat well," she said. "Exercise. I exercise," she said. "Drink less. I don't drink every day," she paused, "but I could use a drink right now."
I laughed. She laughed. The other two women reading magazines who didn't seem to be listening laughed. For a moment, we were all human and that was enough.
And then the nurse came in the room and called my name. I followed her into a private room. "Normal," she said.
As I drove home, I worked on releasing alternate scenarios I had imagined, but there was part of me that didn't want to forget the week of not knowing that I had just lived.
Maybe the race for a cure really isn't a race at all. Maybe it's an invitation to stop. I stopped. I stopped and felt thankful for the people in my life, where I live, and how we live.
Because I was on an airplane that Sunday afternoon, gripped with the fear of a call-back mammogram appointment, I looked at Earth differently. I saw her dry desert, the Colorado River, the Sierra Nevada Mountains, the golden hills, the San Francisco Bay, and I felt grateful to be living on Earth. Big worries seemed smaller. The beauty of the Earth seemed bigger.
After I got my "normal" results, I waited for a return to normal. But everything has been redecorated in pink, from yogurt containers to NFL players, and I am reminded of women in pink robes waiting. And now I want each pink ribbon I see to remind me to call a woman I love, tell her I love her and tell her thank you. What if instead of racing back to normal, I made more time for women in my life, women I know, and women I don't know? What if I really felt them, soaked them in, like looking down on Earth from 30,000 feet, as if it were a last look? Intense savoring. Intense delight. Her intrinsic beauty so apparent. It could be a new normal.
Who knows what that might cure?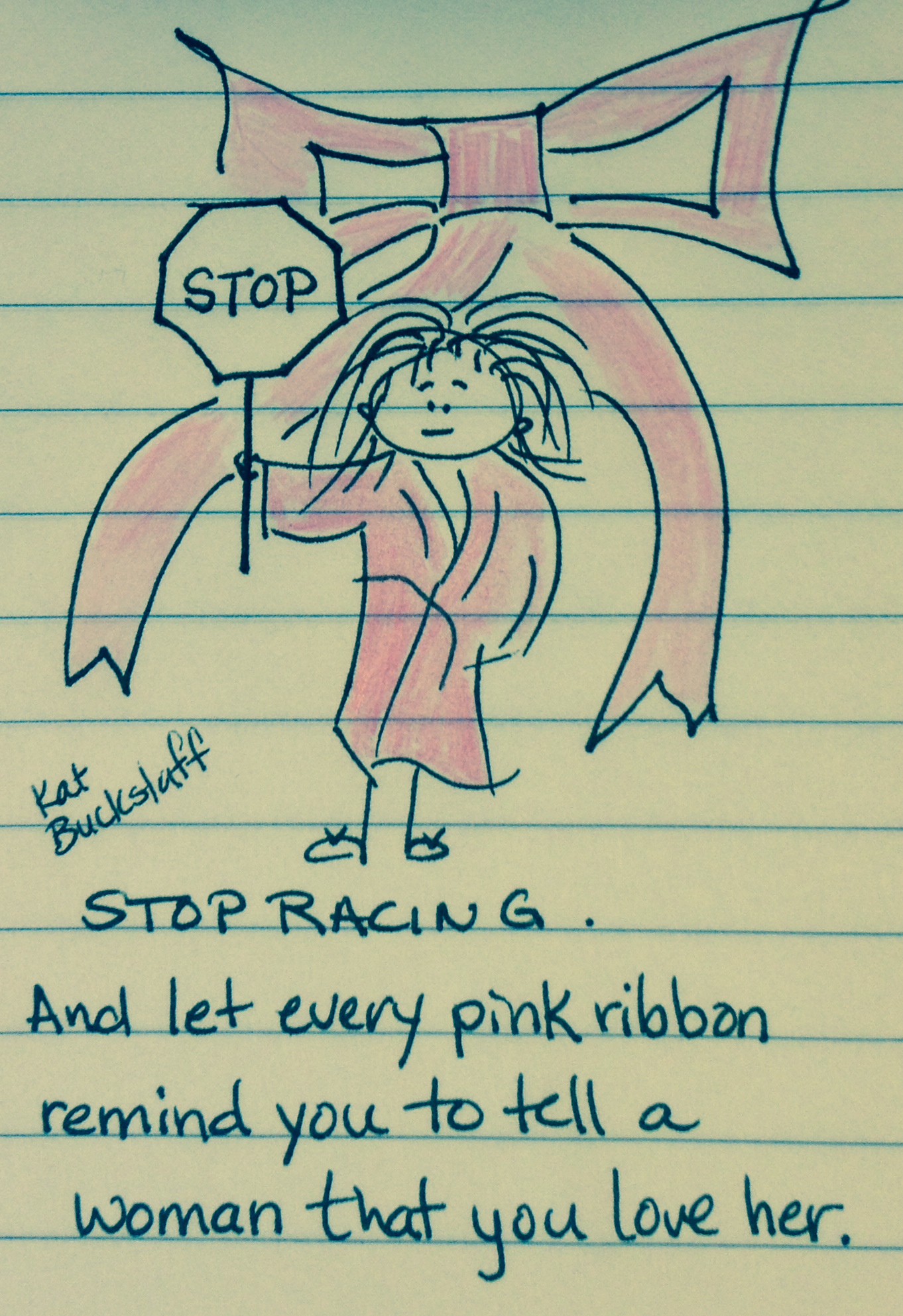 This column originally appeared in The San Francisco Chronicle.
Kathleen Buckstaff's memoir The Tiffany Box is full of love, humor, heartache, and insight. A gathering of e-mails, letters, diary entries, newspaper columns, and holiday bulletins to family and friends, comprise Kathleen Buckstaff's candid, funny, and recognizably true chronicle of a generation "in-between": nurturing its young while nursing its aged, and coming to terms with the bitter realities that temper life's sweet rewards. http://www.amazon.com/The-Tiffany-Box-A-Memoir/dp/0988764202
REAL LIFE. REAL NEWS. REAL VOICES.
Help us tell more of the stories that matter from voices that too often remain unheard.