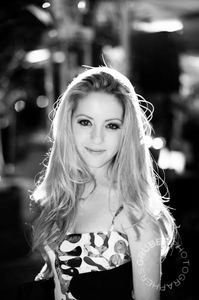 I felt like I was on Mars, yet I was only 90 minutes south of Miami. I was a 15-year-old in Havana, two years before the United States restored diplomatic relations with Cuba.
Decaying buildings and streets resembled a ghost town, but people -- not to mention intimidating anti-American propaganda -- were everywhere. It was scary. However, once I arrived at Havana's El Patronato Synagogue, I relaxed. The Director greeted me with a hug in front of a particle board filled with photos of Jewish-Cuban families.
"Gracias." Flustered that I could not communicate with her any further, I turned to the translator. "Please thank her for this incredible hospitality."
She led me into the dining hall, pointing to a wall and speaking rapidly in Spanish. The translator said, "This is where we plan to hang your paintings."
I had been invited to display six large abstract biblical canvases. My path to this moment started with an eye-catching infomercial and my everlasting persistence. At the headstrong age of six, I had become fixated with an infomercial of a middle-aged woman painting flowers. It looked so cool. I, too, wanted to paint pretty flowers. I managed to wear down my mother to take me to buy a how-to book, brushes, paints and canvases. Within a few days, my first flower appeared on my canvas.
I soon began developing my own style as an artist. My artistic style has since evolved with my observations of life as a series of shapes, forms and colors that lead to meanings, narratives, and journeys. My work has developed into explorations of the human body in multimedia.
Six of my paintings interpreting the biblical story of Joseph and Pharaoh hung at my brother's Bar-Mitzvah a few years ago. A Jewish-Cuban artist saw them and exclaimed: "You must show in Cuba."
I immediately said yes. Again, I wore my parents down. It was far more difficult to persuade them to allow me to make this trip than it was to convince them to buy art supplies years ago.
"Cuba? No!"
Still, I researched ways to obtain a visa, identified possible places to stay and finally convinced my own synagogue to sponsor the trip. Six months later, I entered El Patronato for the opening of my exhibit, feeling a wave of humidity. The air conditioner was broken but this did not diminish the enthusiasm of the audience of one-hundred. I was humbled by the crowd's many questions.
"What does it mean to have your paintings displayed in a synagogue?"
Sweat poured down my face as I thought about that first question. I forgot my prepared answer, but I knew the experience was bringing me closer to my Jewish heritage. I was an agnostic in an atheist country discussing Judaism and the Bible. I walked into the synagogue as a stranger and left several hours later as though I had been there all my life.
I returned to New York and expanded my art into teaching. For the past two summers, I have volunteered to teach art to underprivileged children.
"Today we are going to be drawing sunflowers," I said to my students.
I walked around, offering assistance. Then I stopped at Steven. He had drawn a man and a dinosaur fighting over a flower. "Steven, what do we have here?"
"The dinosaur grew the flower, and the man came, and . . ." He continued his story for another minute. It was incredible. He followed my model and directions to create his own direction, his own narrative.
I push my students to develop the mentality not just to think outside of the box, but to create a completely new box. As a largely self-taught artist, I embody this mentality. Perhaps that is why I can feel at home in a place that feels like another planet.
Alex Eisman graduated from the Children's Professional School last month and will attend University of Miami, where she was accepted Early Decision.
Popular in the Community