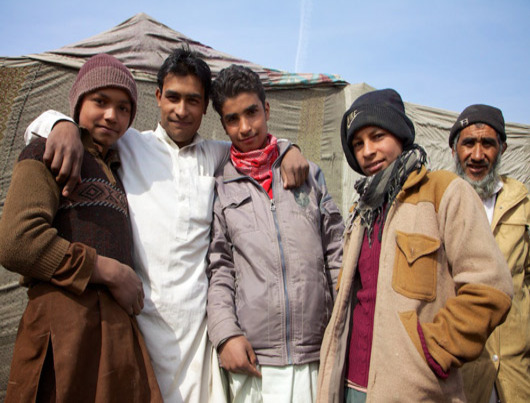 MSF Kabul Afghanistan: Young men from a camp in Kabul who helped to setup a temporary clinic for their people in Kabul.
However, the sheer number has raised serious questions around the sustainability of repatriation and its future prospects after the critical transition period of 2014. This will highly depend on the synergies of political, economic and social factors. For returning refugees to thrive in Afghanistan, especially for Afghan youth who hold the dreams and hopes of Afghanistan, economic stability is vital to encourage greater confidence in the prospect of rebuilding their shattered lives as Afghanistan look forward.
The awkward reality for many Afghan refugees is that a future secured in Pakistan or Iran is more stable and prosperous. Those displaced decades ago have seen entire generations born outside of Afghanistan, many of the refugee youths having little familiarity or knowledge with their "home" country. As the years pass, they have no wish to return to a country they have never set foot in or feel emotionally connected to. In the end, displacement has caused complete and irrevocable transformation in national belonging. For the near two million Afghan refugees in Pakistan, the newly issued UNHCR refugee cards providing legal status have now provided them with access to basic services and rights that would otherwise be inaccessible and limited in Afghanistan. In Iran, Afghan children, especially girls, have access to education, which is unavailable to them, especially in the remote rural areas, due to the strict conservative society that severely limits girls' educational attainment. The availability of such benefits in host countries means families are less willing to uproot their children and risk a lower standard of living.
For those who have returned, many have encountered serious obstacles to picking up the pieces of their lives they were forced to leave behind. Those without assistance are increasingly vulnerable and many have returned only to then become internally displaced by the ongoing conflict and insecurity. They are forced to live in tents, barely insulating them from the harsh winter months, with little access to food and water. Currently, there are around 600,000 internally displaced persons in Afghanistan, and this may rise further in 2014. In a country struggling to repair itself from decades of conflict and civil strife, Afghans are experiencing multiple challenges in finding work, accessing education and medical care. In seeking a return to their homeland, they are living a precarious existence, facing even greater struggles and hardships than in their former status as refugees in Pakistan or Iran. For newly returned Afghan youths, these factors are culminating in a tipping point in their ability to survive and more are willing to leave Afghanistan once again. A renewed approach to countering these common experiences is needed, so that this vital source of innovation, skill and energy remains to rebuild and shape Afghanistan's future.
The UNHCR's new strategy for voluntary repatriation and reintegration was set out in its 2012 Solutions Strategy for Afghan Refugees that focused on the development of 48 high-return areas (reintegration centres) in Afghanistan. The aim is to ensure that these areas have schools, clinics, shelter and provide access to land and livelihood opportunities. Additionally, the UNHCR provides a return package for refugees, which includes $200 ($150 in 2013) after their return. However, many of these reintegration centers are facing extreme difficulties in meeting their original 2012 objectives. Land allocation has been slow and a major source of conflict, with many being embroiled in disputes with local inhabitants most commonly known as "land grabbing." Returnees often lack sufficient documentation to prove their land ownership or tenure to the UNHCR. Land grabbing is one of the greatest challenges to return and reintegration into Afghan society. Afghanistan is 80 percent sustained through the agricultural sector, which indicates how vital land rights are in generating income, livelihoods and the ability to move forward from daily survival to long-term social security.
These obstacles to reintegration spotlight the multiple needs of Afghans returnees, which are directly entrenched in the long-running limitations to socio-economic opportunities. Economic recovery is still at its initial stage. The majority of Afghans survive on subsistence agriculture and informal trade. In the cities, most are either self-employed or casual wage laborers, both of which deliver low and unreliable income. The embeddedness of this urbanized informal sector and lack of basic services has undermined Afghanistan's ability to absorb the greater international push for the organized return and reintegration of Afghan refugees. This is particularly harsh for returning Afghan youths, many of the problems for the less educated and low-income relate to material survival as they struggle to find dependable employment and cover the debilitating costs of education that will help stabilize their future. It is vital that the needs of returning Afghan youths are recognized to reflect their crucial contribution in shaping the economic and social prosperity of Afghanistan.
However, with Afghanistan hovering at the bottom of nearly all categories of the United Nations Human Development Index, the immediate focus has been on dealing with chronic poverty through donor-focused humanitarian policy. The construction of sanitation facilities, mobile health and food distribution services has helped provide basic and vital services to those displaced, especially in remote areas of Afghanistan. But these are short-term objectives. The core focus for Afghanistan after political transition this year is to drive forward and implement development initiatives that would provide the durable and sustainable footing for Afghanistan to lift itself out of poverty.
This will depend on reviving and repairing infrastructure, industrial and agricultural sectors alongside committed investment in education, healthcare, sanitation and water and food security. Additionally to these macro-economic services, microcredit is a beneficial injection of income for refugees; the skills and knowledge developed over their years in exile can be utilized through microcredit loans that allows them to buy land and establish independent businesses. Many have already taken advantage of such loans provided by BRAC (formerly the Bangladesh Rural Advancement Committee), an organization specialising in relief and rehabilitation programs for refugees. This is a vital economic strategy, given that many repatriated Afghans have become key actors in repairing and rebuilding their country's infrastructure. Many highly skilled refugees have regenerated key public service sectors such as telecommunications, construction, transportation and logistics, which have helped facilitate trade and commerce throughout Afghanistan. For Afghan youths, promoting education, alongside access to employment, credit, options to upgrade their skills as well as ownership of land and housing are all crucial tools for their permanent reintegration and psychological well being. This is especially true for women and girls whose needs are often neglected in refugee integration policy: As such a gender-sensitive integration model must be recognized. By providing space for refugee innovation and entrepreneurial development secondary displacement amongst returnees is vastly reduced.
It is clear that the scale and complexity of problems facing refugees necessitates long-term political commitment in Afghanistan in order to bring about sustainable transformation for refugees. And yet, as donors face the growing crisis in Syria and Iraq, the focus away from Afghanistan will likely create a shortfall in much needed funding for Afghanistan's refugees. Within the coming years, Afghanistan must establish a strong economic sector with a new government committed to the rule of law and its institutions. It is only then will new and greater opportunities be opened up for refugees hoping to return. By providing viable solutions, many returnees will see the reality of their hopes and dreams invested in Afghanistan. As one of the most vital assets for Afghanistan, refugee youths will increasingly look towards economic opportunities to mitigate obstacles to their return and secure their road home.
REAL LIFE. REAL NEWS. REAL VOICES.
Help us tell more of the stories that matter from voices that too often remain unheard.