I am usually the first person to ask a question when I don't understand something, and I have no shame about that.
I know that so many of the experiences and talents that have led me to where I am today can be attributed to my experience with dyslexia. Learning humility from a young age, I knew the importance of relying on other people and learning from everyone around me.
But I learned to love and nurture my own unique learning style because both of my parents were educators and recognized that I need a different support environment from a young age. Most kids, especially when I was growing up in the 1950s and 1960s, did not have such an opportunity. When I was in school, I struggled with reading, mispronounced similar sounds, and was unable to alphabetize. I was great at math, and that led me to a career in business and, eventually to helping kids feel empowered by learning to start their own businesses. In fact, back in the early '80s, I was inspired to become a Special Education teacher in the infamous New York City public school system.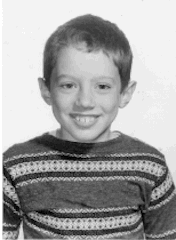 When I met Daniel at Empact Showcase this past November, I was blown away by his astute attention to the needs of all students and his exciting, innovative answer to how to support their educational success. His organization, New Frontiers in Learning (http://www.nfil.net/), works to support adolescents and young adults who learn in a unique way through specialized help that ultimately capitalizes on their strengths and individual talents, ensuring each student's success.
After talking to him about his own career path, I wanted to learn more about what he and New Frontiers in Learning are accomplishing.
Steve Mariotti: I know the importance of designing programs to fit students. What types of students fit the New Frontiers model?
Daniel Koffler: We are always trying to see how we can fit the program to meet the individual needs of each student, rather than fitting potential students to already defined supports. People are dynamic, and the areas in which they need support can change, so our team needs to be ready for such changes.
For instance, a freshman we met was immobilized by his anxiety about staying organized and up-to-date in his classes and coursework. He struggled mightily to fit in with his peers and was failing all of his classes when we met with him and his family. He felt like a failure, which made him even more socially withdrawn and inclined to avoiding class and academic responsibility. We targeted our support on his social and academic deficits, so he was able to find both academic and social success. The structure of coming in daily allowed him to utilize a structure and find a balance between academics and social opportunities. Now, this student's confidence has increased because he recognizes how successful he can be with the right supports. His organization and time management skills have steadily improved, which allows for more time during his sessions to be spent on comprehending the course content on a deeper level.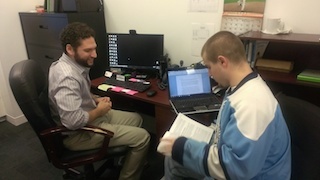 Generally speaking, however, students who benefit from our services may struggle with various learning and academic differences and/or executive function deficits. This can mean a person's cognitive processes, which assist in the ability to manage and control other cognitive processes, and include skills such as time management and organization. Many times, our students have the academic ability to attend college but still need the extra supports New Frontiers provides in order to work through the rigor of the college curriculum, keep their courses organized, and plan out and manage their time to fit in all of their academic and social responsibilities.
SM: What services does New Frontiers offer?
DK: New Frontiers offers high school and college academic tutoring, as well as social and executive functioning support services. Tutoring and coaching services are provided during individually scheduled, one-on-one sessions throughout the entire year. New Frontiers' coaches provide support for both high school and college level coursework, as well as support in the development of executive functioning skills. New Frontiers also offers two summer programs, each consisting of three three-week sessions, of which, students can come to one, two, or three sessions. During our full-day Summer in the City program, students spend the mornings participating in social and cultural experiences throughout the city (Museum of Natural History, Intrepid, etc.). Through these outings, students learn how to navigate the city, plan and initiate activities, live on a budget, and more. In the afternoons, the students participate in a book club, as well as varied executive functioning and leadership lessons.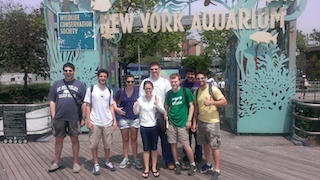 Some examples of lessons that the staff teach during the afternoon sessions include how to manage one's time, techniques to identify and manage stress in young adulthood, and how to organize and prioritize responsibilities. Through our half-day College Readiness Experience, students get the opportunity to spend time working on the skills necessary to be college ready, such as academic foundations (written expression, reading comprehension, and conducting research), studying and managing your time in college, navigating the college campus, negotiating testing and classroom accommodations, and more.
SM: What types of skills does New Frontiers work on?
DK: New Frontiers has identified 5 critical areas in which students need to be proficient for college readiness: foundational academics, executive functioning, social communication, independence, and self-advocacy. It is important for students to have key foundational knowledge and skills to be able to comprehend text, write fluently, and perform basic math functions. Executive functioning skills, such as time management and organization, help students to set and maintain a college routine. Social communication skills are integral in students getting involved on campus, as well as developing relationships with fellow classmates and professors. Independence and self-advocacy is necessary for monitoring one's progress, coping with obstacles, and seeking appropriate supports when necessary. New Frontiers assists students in developing skills in all of these areas based on their individual learning profile.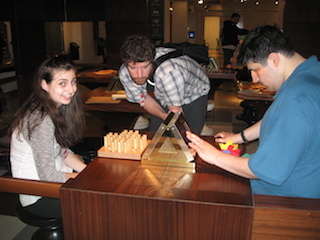 SM: How are services provided under the New Frontiers model?
DK: During the academic school year, students receive one-on-one, individualized coaching sessions, anywhere from 1 to 5 hours a week. The students follow a set schedule developed between the student and their coach. Students have the option of utilizing our office in lower Manhattan for their sessions; however, we can also provide supports on campus when the students cannot commute to our office. We can also provide services remotely, if appropriate, when we cannot get to the students. We use the backdrop of their everyday responsibilities in high school and college to develop these skills.
SM: What types of communication do you have with parents, professionals and other members of each family's team/community?
DK: New Frontiers has developed a true culture of collaboration amongst staff, students, families, and professionals. We believe it's important, and that they saying, "It takes a village..." certainly rings true when it comes to young adults transitioning from high school to college. Our students are adults, and we treat them as such; however, there are times, with student permission, that we communicate with their parents and other professionals to take all proactive steps to lead to their success.
For example, our students have a set schedule of when they see their coach each week. When students do not attend their sessions, it can be for many reasons, such as they are avoiding coursework, abnormal sleeping patterns, medication changes, lack of time management, or they may simply forget. We reach out to the parents when students miss their session, not to micromanage them, but to figure out as a team what the underlying cause is for the lack of attendance so that we can build in supports to move the student forward successfully.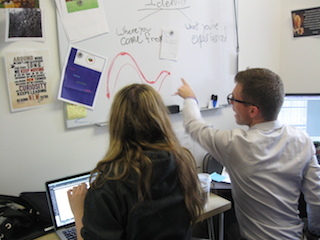 SM: What does a typical coaching session look like?
DK: Each session is unique to the student, and can vary; however, there are systems that New Frontiers utilizes consistently for each student to help set them up for success and to develop the critical skills necessary to become an effective college students. Our systems include, but are not limited to: reviewing the content of each class with a student; teaching the student how to break down large complex assignments into small and more manageable tasks; the creation of a next steps-checklist; and, the development of a system to organize time, tasks, and their other responsibilities. Our consistent checks and balances not only ensure academic success, but assist the students in developing their executive functioning skills in an authentic learning experience.
Teaching students how to develop their own system of checks and balances helps them to become more independent in self-monitoring, which is extremely important in college, as it is the expectation. Without checks and balances, students may fall behind on their assignments, forget to hand assignments in, not give themselves enough time to complete a paper or study for an exam, etc. We teach students how to develop these systems, but also support them in following through with them during the development process
Special thanks to Lauren Bailey for her assistance on this article.
Related
Popular in the Community