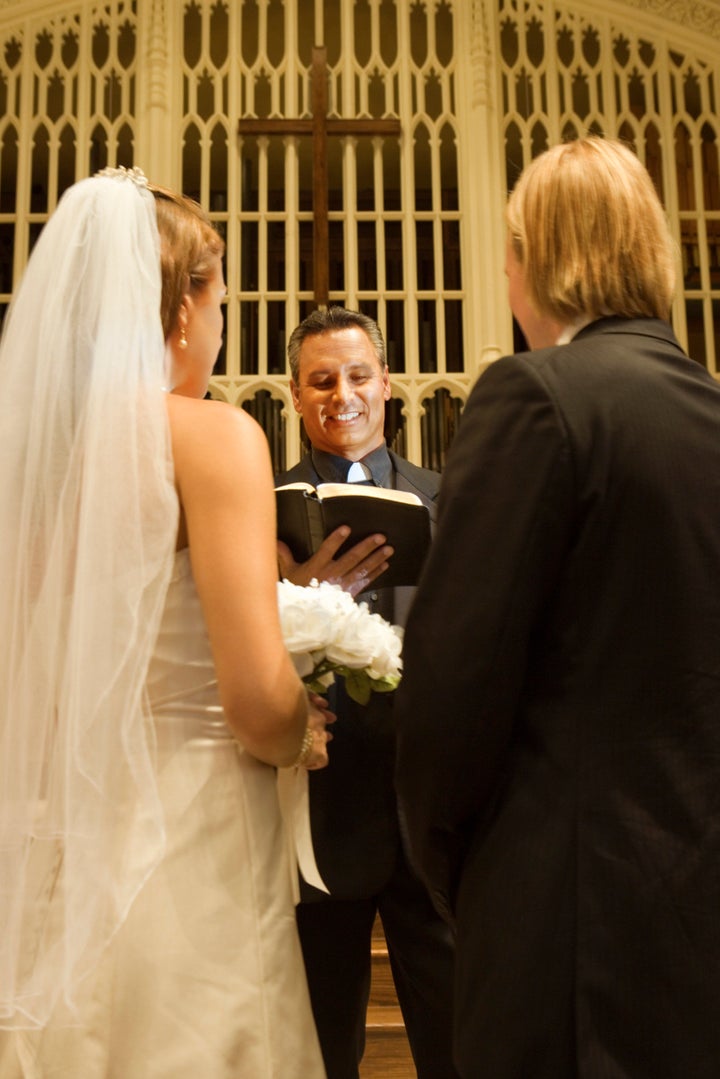 You're getting married. You've always dreamed of having your wedding in a church, but you don't attend a congregation, and you have no idea how to start looking for the right person to preside over your ceremony. If you don't have a pastor or a church, don't be concerned. Even deeply spiritual people may not be able to join a church when they're in the midst of life's transitions (moving for education, building a career, meeting a partner), and most pastors understand that. You're not alone as you search for a clergy person, but there are some things that you want to keep in mind.
Don't put it off. Looking for the right person to preside over your wedding should be on the top of your to do list. Pastors' schedules are busy, church calendars are full, and it's important. You'll want to put the same care into choosing the right pastor that you would in selecting the florist, photographer, caterer, or any other professional who's involved in the wedding.
Think about the sort of service you want. If you grew up in a particular church and you feel most comfortable in that denomination or type of service, then reach out to pastors who are also in that tradition. If you had bad experiences, try to think about what you didn't appreciate and base your search on that. For instance, you hated the formality, or you felt uncomfortable with the casual nature of it. You were bothered by how strict your church was, or that it didn't seem to take the Bible seriously.
The reality is that there are all kinds of churches, and if there's something that made you uncomfortable about your religious upbringing, then there's probably a pastor who had a similar experience. You may be limited in your selection by geography, but there are all sorts of clergy out there -- we are gay, straight, married, and single. Many pastors didn't enjoy the church they grew up in either. You can find that person, if it's important to you.
Consider your particular circumstance. Some pastors will not officiate certain weddings. For instance, some pastors won't preside over a service if the couple lives together. Others will not (or cannot) marry a same-sex couple. Others will not preside over the ceremony if the couple is not a member of their congregation. Still others do not feel comfortable presiding over a couple of two different religions. Sometimes clergy hold different standards out of a strong belief. Other times, they just don't feel like working on every single beautiful Saturday afternoon.
If you are in one of the above situations, there are many clergy who will officiate your wedding, but you may have to do a bit of research. You can check church websites (sometimes churches have the wedding information listed there) or you can call the church office. You can ask, "Does the pastor have any sort of restrictions about whom he or she will marry?" If the secretary does not know, you can call, email, or meet with the pastor. Explain what your hesitations are, and see if he or she can help you.
Go to a service. If you'd like to do further research before contacting the clergy, attend a service where the pastor is presiding. Are you comfortable with the way that he or she talks about God? Do you appreciate the prayers and sermon?
Expect to pay a fee. If you're not a member of the congregation, then all the hours that the minister puts into your wedding are on top of the regular time that the pastor ordinarily works. It might seem like pastors are a lot different, but we're just like anyone else. So imagine if you were called in to work on a Thursday night, Friday night, and Saturday afternoon. Then when you turned in your hours, your client became indignant that you would charge for your time. That wouldn't feel right, would it? It's the same for a pastor. Plus, there cleaning expenses, electricity, and security. Many people are working to make sure that your wedding goes smoothly. So, just as you expect to pay for all of the other professionals, you can have your checkbook ready for the church.
Understand that there may be counseling available. Pastors spend a little bit of time officiating at weddings, but we spend most of our time working with couples after the vows have been uttered. We typically work with men and women when spouses or partners face betrayal, mental-illness, addiction, or death. While most wedding professionals want to make sure that day is the most beautiful day in your life, we are in it for the long-haul. Most pastors are not equipped to do long-term counseling, but we are able to help you talk through spiritual needs and point you in the right direction when you need a therapist. Many ministers require pre-marital counseling before they will preside over your wedding. They will help you navigate those potential pitfalls that may be waiting for you in the years to come.
One of the most wonderful notes that I received from a couple said, "We contacted you to be our officiant. We're thankful that we now have a pastor." As you think about all of the aspects of your wedding, your relationship with the pastor might be an important one, not only for that day, but in the years to come.
Popular in the Community