It had been more than eight years since Jackie and I were in Amsterdam. Our previous trip, in 2005, was great fun, but it would have been even better if the Rijksmuseum hadn't been under wraps for a lengthy renovation that came to an end only this year. Once the much-reconfigured museum had re-opened, we were ready for another visit to the Netherlands. It was just a matter of following our usual practice of finding a musical event around which to build an itinerary.
That was pretty easy to do: Using the website bachtrack.com, I quickly found a concert performance of Handel's 1726 opera Alessandro, which tells a paper-thin story about Alexander the Great having a mid-life crisis but which is packed from start to finish with irresistible music. The cast, similar to that heard on a recent recording, was excitingly promising, including Russian soprano Julia Lezhneva, and Croatian countertenor Max Emanuel Cencic, a rock star of the baroque opera scene. I logged on to the Concertgebouw auditorium's English-language website on the very morning tickets went on sale but, partly because of the six-hour time difference, only mediocre seats remained, two of which I speedily bought while they were still available. The lesson here is to set your alarm and get on line in the middle of the night if necessary.
We arrived in Amsterdam the day before the performance (as part of a more extensive trip including the UK and The Hague) and checked in to the Hotel Pulitzer, beautifully situated in the western canal district and composed of 20-odd town houses that in the 1960s had been threatened with demolition (hard to imagine nowadays). This gives the Pulitzer spacious, pleasant gardens and patios that in nice weather can be the focus of hotel life. The various parts of the complex are linked by glassed-in walkways and unexpected staircases that are not attractive in themselves but that lead to comfortable, well-equipped and very quiet rooms. The hotel has its own elegant 100-year-old salon boat, velvet upholstery, tassels and all, which seats a dozen or so guests. Seventy-five minute canal tours are conducted daily, and they are an appealing introduction to Amsterdam's waterways - they cost €34 ($45) per person and are incomparably nicer than the cheaper tours on bigger boats. The hotel's location is its greatest asset: it is in a very calm but central area within a 10- or 20-minute walk of most of what a visitor will want to see; only once did we resort to a taxi to get to a somewhat remote restaurant. Depending on dates and availability, double rooms here start at €249 ($330).
The following afternoon was Alessandro, for which we picked up our tickets without a hitch. The show was worth planning a vacation around. At age 23, Ms. Lezhneva is already a captivating singer, with an unusual and fascinating voice, solid physical control over it, and the kind of musicality that enables her to shape notes and phrases in an endlessly interesting manner. If she's this luminous (and charming) at her age, she's going to blaze when she's 30 - and there is nothing I hear in her healthy singing that suggests anything but a long career. Mr. Cencic too possesses a distinctive voice: big, open, resonant, wide-ranging and flexible. He was a stirring Alessandro. The remainder of the cast was consistently strong and helped make one forget the flimsiness of the action.
Conductor George Petrou tends to choose crazy-fast tempos; I pay tribute to the singers (all of them) and to the members of his Athens-based Armonia Atenea orchestra (most of them) for keeping up with him - and even making elegant music. But that doesn't mean the tempos made musical sense; they often didn't. Nor did the conductor's admittedly amusing little changes to the score - a non-Handelian pizzicato passage here, a borrowed ritornello there. Yet I can't work up anything more than mild irritation, because conductors like Petrou - I think of Alan Curtis among several others - merit praise for putting together good period-instrument orchestras, hiring terrific singers, making recordings and taking their 18th-century shows on the road,.
As to the Rijksmuseum, I pass along two tips from the museum's own website: to avoid lining up, buy tickets in advance (you can print them out at home - they are valid any time - or buy them from your hotel concierge, who is likely to have a stack of them on hand); and keep away on weekends. Our concert was at 1 p.m. on a Saturday, however, and we could not resist spending a couple of hours looking at paintings beforehand. Although the new space offers reasonable elbow room in the "Gallery of Honor" - its side galleries containing key works in the collection - leading to Rembrandt's The Night Watch (the Rijksmuseum's blockbuster hit), it was impossible to look at the heart-melting Vermeers, for instance, without being squashed in a crowd. Still, while those side galleries were crammed with people, the room dominated by The Night Watch is big enough that even with 100 or more viewers scrutinizing it, there was plenty of space for everyone.
On our second, all-day, visit we covered most of the rest of the museum, including the excellent and relatively compact mediaeval department, and became acquainted or reacquainted with artists such as Berckheyde, Coorte, Breitner and Veth. The new space is exceedingly pleasant to be in, with wall colors that show off the paintings to their benefit and that are easy on the eye and many decorative details of the original building resurrected. Labeling (in Dutch and excellent English) gives enough background and interpretation to be educational but not so much that it becomes pedantic. There is a clever historic-thematic logic to the way the collection is displayed, and this keeps interest high. Sadly, while navigation is generally convenient, there are areas of the museum that remain difficult to get to - to move from one half of the top floor to the other it is necessary to go down a long flight, cross the building, and climb (or ride) up again. There's only so much even a major renovation can do.
After more than six hours (I could never have stuck it out so long when I was younger: until a few years ago, I'd conk out after two hours max), we had a beer and a bowl of olives at the nice museum café (which is open for an hour after the museum closes at 5 p.m.); they served bread and butter with the olives, which was a terrific idea.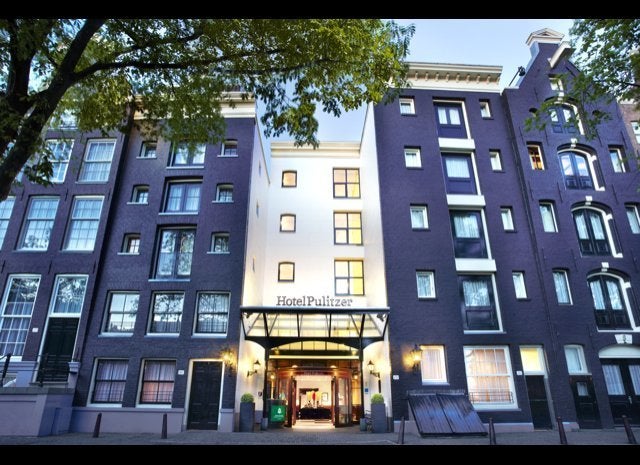 Art, Music And Comfort In Amsterdam