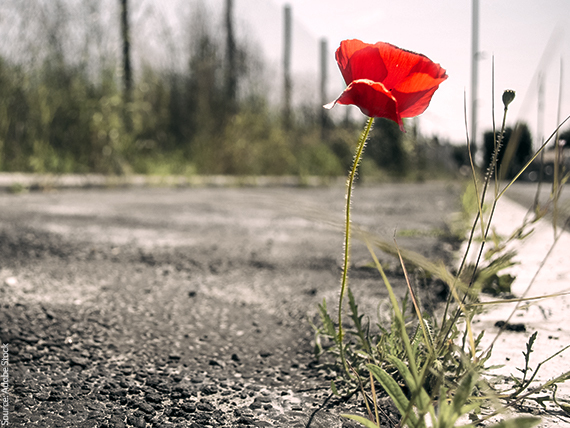 What do you do when ugliness invades your workplace? How about at home or in the public square? Whether it is a disagreeable co-worker, an irate customer or the heaviness of negativity in general, finding those things that yield life and joy can help get you through.
Having just closed out 2015, the 70th anniversary marking the end of the Second World War, it does us good to reflect on the lives of several courageous people who, though imprisoned in Nazi concentration camps, were able to appreciate light and life in the midst of darkness and death. The threads that connect their resilience and ability to find meaning in affliction and hope in despair set them apart and teach us valuable lessons for finding beauty in adversity anywhere.
Take Gerda Klein, for example. I first heard about Klein when reading Futureville by Skye Jethani. Klein was one of two thousand girls held at a Nazi work camp in Grünberg. Even though death lurked around every corner, life sprang up all around in the form of flowers. Klein references a courtyard filled with beds of roses and tulips, describing the place of her captivity as,
"cruelty set against a background of beauty."
Every morning, the ladies would make their way across the courtyard to work in the factory. One day, they spotted a crocus newly in bloom, piercing through a crack in the concrete. Klein noted how hundreds of feet shuffled around to avoid trampling the crocus that day. The preservation of its life was a measure of love and an exercise of free will. As best they could, they chose life and to show love instead of hatred.
Looking to nature as a source of beauty is not uncommon. Marian Lamprecht, a Polish Catholic arrested as a teenager for photographing a German soldier, fixed his gaze upon nature for freedom. Lamprecht, too, was kept in a Nazi labor camp. Though he was encircled by fences, the birds he would admire all the days of his life could fly freely and soar above the injustice below.
As a young man, Lamprecht vowed that he would do all he could to preserve their freedom and at times, risked his own to keep the vow he made. Throughout his life of 100 years, Lamprecht made it his business to see to the needs of his feathered friends. He considered the birds to be symbols of hope. For us, the birds and their freedom stand in stark contrast to the oppression Lamprecht and so many others experienced as captives over seventy years ago.
Lastly, we come to the fleas of Ravensbrück, once the bane but also the blessing of women held in the barracks of a Nazi concentration camp where the Dutch heroine Corrie ten Boom and her sister Betsie were held. Picture being in an overcrowded lodging. Now imagine it infested with fleas. As you might have guessed, Corrie did not see the good in this at first. Her sister Betsie, on the other hand, believed God could use anything for good, even the fleas, going so far as to acknowledge them in her prayers. Grudgingly, Corrie followed suit and thanked God for the fleas also.
Strangely enough, when other barracks were routinely visited by Nazi guards to assault their inhabitants, the ten Booms barracks was not. Little did they know at the time, but those same fleas deterred the guards from entering the barracks, serving as a barrier between the women and additional harm.
Now, you might be wondering how your workplace situation could even compare to living life on the brink of death. No matter what challenges you're facing, or how heavy your burdens, you can still have hope.
As Jethani says in Futureville, "We all journey through the wilderness of the world with echoes of Eden in our souls." Perhaps this is why humanity has the ability to see beauty in adversity and the capacity to hope, knowing that not all is lost.
Like Gerda, observe the background your career is set against. Admire the roses and tread carefully around the crocuses in your life. Like Marian, treasure freedom and do all you can to protect it. Like Betsie and Corrie, be thankful for the fleas and acknowledge that they serve a purpose. There's a reason for them, whatever your fleas may be.
Where will this year take you? View the world in a different light by seeing with new eyes, learning to spot beauty amid adversity, wherever you are.
Popular in the Community