Her name was Bella. But to her grandson, Matt Lebovic, she was Bubbe. 
Growing up in the 1980s in Commack, Long Island, Lebovic knew both his paternal grandparents were Holocaust survivors. But, as is the case with many families of survivors, the tragic events of their early lives and the murder of their families at the Auschwitz-Birkenau death camp was not a frequent subject of conversation.
But from the time he was 8-years-old, when at an early age he read The Diary of Anne Frank, the young Lebovic set out to learn as much as he could. For the next three decades, Lebovic, now 38, steeped himself in the Holocaust, reading, researching and writing on the subject. But his own family's story remained largely a mystery. He longed for some tangible connection. But there were no letters, no diary, no photograph of his grandmother as a lively young teen with a flair for style and a twinkle in her eye.
A few months ago, Lebovic made a startling discovery, recognizing and identifying his grandmother as a young teen, in a rare photograph taken at Auschwitz.
With this week's commemoration of Holocaust Remembrance Day, on May 5, known as Yom Hashoah in Israel, Lebovic shared the story of his recent revelation that is shedding light on his grandmother's life during this dark chapter of history.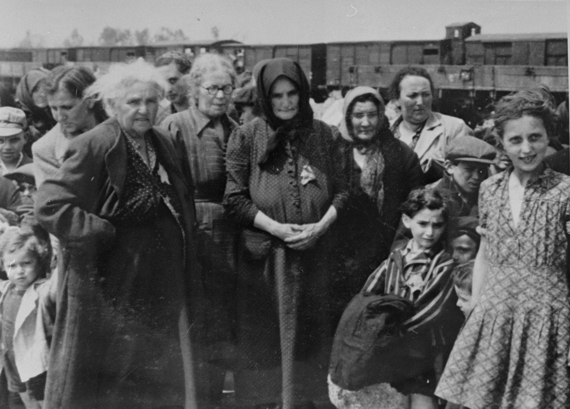 Photo courtesy from US Holocaust Memorial Museum
Jewish women and children from Subcarpathian Ruthenia await selection on the ramp at Auschwitz-Birkenau. The girl on the right has been identified as Bella Lebovic from Tacovo.
The image is one Lebovic, who now lives in Boston, had seen dozens of times. It's an archival photograph that is part of what's known as the Auschwitz Album, now in the collection of Yad Vashem, Israel's Holocaust memorial and museum in Jerusalem. Taken by SS photographers in May or early June, 1944, the photographs documented the Jewish inmates from Carpatho-Ruthenia, then part of Hungary. More than 400,000 Jews from Hungary were deported to Auschwitz, according to Yad Vashem.
But it was not until January, when Lebovic returned to the images of the Auschwitz Album and took a closer look that he knew that the young girl caught in one photo, smiling off camera, away from the photographer, was his beloved Bubbe.
"When I came upon the impish looking girl with the gap in her teeth and a grin, it clicked in me that it was her, the girl I had looked at before as an odd ball but too young and sort of too small to be my grandmother. It was an intense revelation of something that I had sought for decades, that had passed in front of me unrecognized a few times before, and ... now I had captured it," he said.
"It was the hugest aha moment I've ever had," Lebovic added, noting that he'd spent 30 years "really being obsessed with this topic."
Lebovic recalled his father's reaction. "He was thrilled. He looked at it and said,, 'That's Mommy.' He knew right away."
After reaching out to both Yad Vashem and the United States Holocaust Memorial Museum, Bella Lebovic's name was added to the photograph's caption. Lebovic learned that over the years, some 70 percent of the people in the photographs have been identified.
It's gratifying every time the USHMM is able to add a name to a photo, according to Judith Cohen, the museum's chief acquisitions curator. In an email, Cohen wrote,
"The United States Holocaust Memorial Museum is precisely that -- both a museum and a memorial.  Though the photos stand alone for purposes of exhibition to illustrate the arrival of Hungarian Jews at Auschwitz, it is only by adding names that we fulfill our memorial function to document the experiences of individual survivors and victims."
Bella was born in 1927 in the Czechoslovakian town of Tacovo, one of eight children born to Leah and Meyer Solomonova (later Solomon.) The small farming town is now in Ukraine and known as Tyachiv. In May, 1944, the Jews of Tacovo were forced into the Jewish ghetto in Munkacs. In a matter of weeks, they were transported to Auschwitz-Birkenau, where on arrival, they were lined up for selection. Bella and two of her sisters were separated from the rest of her family. It was the last time she ever saw them, Matt Lebovic recounted.
"Her father and her mother and five of her siblings were killed," Lebovic said.
Just months before liberation, Bella and her sisters were transported from Auschwitz to slave labor camps. After liberation, at a displaced persons camp, Bella met Martin Lebovic, a man from her home town. In the mid-1950s, they resettled in Israel, where they married and had two children. Mark, Matt's father, was their first born.
In 1959, the young Lebovic family immigrated to the U.S., settling in the Bronx, NY, where they raised their children and lived out the rest of their lives.
"They had lots of survivor friends," Lebovic recalled "He [Martin] did hard manual labor all his life. She [Bella] became a practical nurse. She was the epitome of the woman who does it all and doesn't get credit and whose story I never heard."

The road to discovery

It was not until late in their life, after some persuasion from their son Mark, that Martin and Bella Lebovic revealed the ordeals of their lives during the Holocaust, agreeing to be interviewed by the USC Shoah Foundation. Since its founding by Steven Spielberg in 1994 the Institute has collected more than 53,000 video testimonies of survivors and witnesses.
Martin died in 2002, Bella died in 2007. It was from their testimonies that Matt Lebovic eventually learned their stories.
"It was key I listened to her Shoah Foundation testimony, because that - more than anything - put me in the mindset to know what I was looking for," Lebovic said. "She is in the photo just as she describes herself in the testimony -- poking around, posing in clothes that she loved showing off, a rebel with no star on or jacket in sight."

Despite being well-versed in the Holocaust, Lebovic resisted visiting the Auschwitz-Birkenau Memorial Museum in Poland. But in the last few years, he's traveled there twice. Last November, Lebovic, associate director of campus services at the Combined Jewish Philanthropies of Greater Boston, led a group of students from Boston on a visit to the museum. On some level, he believed those visits paved the path for him to recognize his grandmother in the photo, which happened only a few months after his last visit. He used the Yiddish term, bashert, meant to happen.


Courtesy Matt Lebovic..Matt Lebovic on the ramp at the entrance to the Auschwitz-Birkenau Memorial Museum
Lebovic is at work on a book, Under Mengele's Gaze, that weaves together his grandmother's story with an exploration of the archeology of the Holocaust. He's fascinated by the artifacts that reveal the stories of people's everyday lives - and the people who embrace this work to deeper the world's understanding of the Holocaust.
The bittersweet discovery of the photo was personally gratifying to Lebovic. There are striking physical familial similarities, he pointed out.
"It's like I found myself amidst all these hundreds of books I've read. It's the same space between my teeth; the same expression."
Lebovic is uncertain of how his Bubbe would have reacted to seeing the photo, speculating that at the end of her life, it may have been traumatic. But he hopes she would have been pleased to see her young self as she remembered.
"Can you imagine if I could have shown her that photo?" Lebovic pondered. "It's a dream."
Calling all HuffPost superfans!
Sign up for membership to become a founding member and help shape HuffPost's next chapter