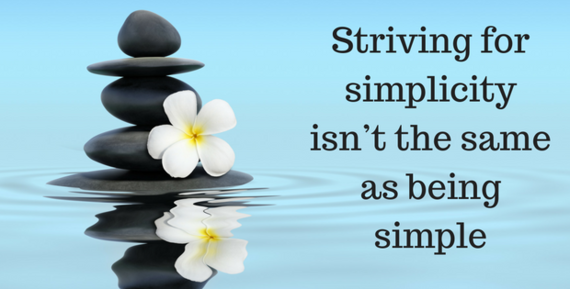 I'm an aspiring minimalist.
Here's how they describe minimalism:
Minimalism is a lifestyle that helps people question what things add value to their lives. By clearing the clutter from life's path, we can all make room for the most important aspects of life: health, relationships, passion, growth, and contribution.
It was the middle of a recession, and my business definitely took a hit. Who didn't? To survive, I streamlined as much of my business as I could, and eliminated everything necessary. I felt like we were failing because we had to cut back.
But when I started reading about minimalism, I could see that streamlining wasn't the same as failure. And when things started to turn around, I didn't want to go back to spending money on fluff.
My minimalism isn't the same as yours. Joshua & Ryan describe how minimalism is different for everyone:
There are many flavors of minimalism: a 20-year-old single guy's minimalist lifestyle looks different from a 45-year-old mother's minimalist life. Even though everyone embraces minimalism differently, each path leads to the same place: a life with more time, more money, and more freedom to live a more meaningful life.
That means that everyone can define their own version of minimalism. It's not about giving up all your possessions and living out of a suitcase. It's a philosophy and mindset that can be applied to any business. It's figuring out how to run your business efficiently, effectively and affordably. It's bootstrapping at it's best. It's understanding that striving for simplicity isn't the same as being simple.
Becoming A Business Minimalist
Like The Minimalists said, my version of minimalism isn't the same as yours. But our goals are the same. To cut out anything unnecessary, freeing more time to spend on our priorities. We didn't start our businesses to spend time on tasks we hate.
We started our businesses so we could spend our days doing what we love. Striving for business minimalism lets us clear out the stuff that's holding us back, and allows us to focus on what really matters.
And isn't that why we started our business in the first place?
REAL LIFE. REAL NEWS. REAL VOICES.
Help us tell more of the stories that matter from voices that too often remain unheard.