Common Ground 191 is poised to become an icon to the one thing all people on the planet share, life on the surface of the soil, a peaceful and stoic platform beyond borderlines, upon which human beings carry on their many and varied fomentations.
Artist Gary Simpson's enlightened, historically significant and beautiful conceptual art project, Common Ground 191, has reached a turning point. With the help of hundreds of volunteers, Simpson, who since 2001 has devoted more than 12,000 hours to realize his vision, has collected soil from all but one of the 191 countries of the United Nations.
Phase I of his work will be complete with the addition of that last soil sample from North Korea, DPRK. This combined earthly medium will then be placed in a 196-panel fresco measuring 50 feet by 50 feet early next year. "I have been seeking governmental approval for the visit to North Korea for several years and just recently received permission to do so for the purpose of the soil collection. Now I need community support to finance travel expenses, estimated at $8,000, to go and collect this final, challenging soil," says Simpson.
The trip to North Korea is planned for the end of August 2011. Interested persons may go to the fundraising website to make contributions to this historic project.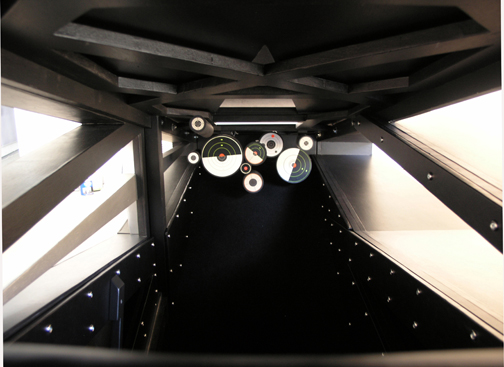 Keith Walsh: Stealth Space | Walsh, whose exhibition includes a life-size metaspace vehicle, sculptures, collages, and drawings created from the fragments collected during his interspatial wanderings, best describes the exhibition in the following way:
"The Stealth Space exhibition engages the dialectic between the near and far, and what is mediated versus seen and experienced through the body. Stealth Space is about different perceptions of space and time mediated by the inhabitable Stealth Vehicle sculpture and its related two-dimensional work within the gallery context. The conceptual premise of the Stealth Vehicle sculpture is that any space existing beyond its own physical limits is deemed as 'outer space'-- hence positioning itself in relation to the sensibility of the gallery as a 'non-site.' The gallery, along with a participant's engagement, acts as an instrument to facilitating connections to the beyond. Stealth Space is grounded in American secular progressivism of the 1960s, Marshall McLuhan's sensibilities of mediated consciousness, and Space Age adventurism."
Decompositions | Sound is invisible, but the process of creating it should not be. The advent of electronic instruments has mystified the sound creation process. Electronic musicians often hide behind their equipment, creating a wall between themselves and the audience. Unfortunately, this has become the norm in recent years, and thus we are often met with cold, expressionless performances. Decompositions attempts to bring materiality back into the sonic equation. Gil Kuno of unsound.com has curated a selection of sound artists that actively explore the physicality of sound. Gil is an audio-visual artist active in both US and Japanese art scenes.
Featured artists, GX Jupitter-Larsen (The Haters) and Gil Kuno, amplify and treat the sound of an aerosol can to create a live soundscape. The image of the can discharging is projected behind the performers to deliver the audiovisual articulations of erosion and entropy. The performance begins when the gas in the aerosol is released and ends when the can is empty.
Other sound artists include Crank Sturgeon and Styrofoam Sanchez, with a special welcome performance by Tiffany Trenda.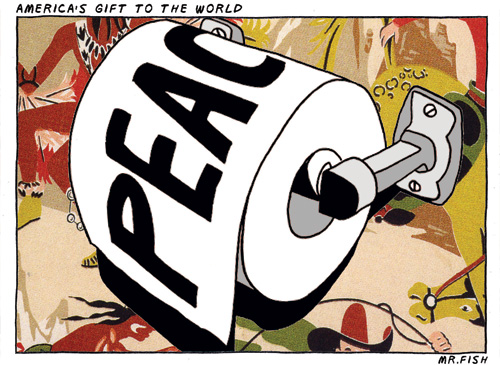 Go Fish: Mr. Fish | This is the first show of original drawings and unique multiples of Dwayne Booth, aka Mr. Fish, political cartoonist and author of GO FISH (how to win contempt and influence people).
In his book, Mr. Fish dissects the journalistic responsibility he faces as a cartoonist to make it make sense. It being his raw emotional output in response to a given stimuli (government, society, et al) manifesting itself via pen on paper without regard to the cleverly pointed punchline that will accompany and ultimately define it. In his inaugural gallery show, he eschews that responsibility; the political cartoons hanging vulnerably on the walls in their original illustrated state, stripped of any captioning and absolute clarity. If the objective of a political cartoonist is to speak clearly than the goal of this exhibition is to express freely. The drawings are a celebration of the technical mastery and unbridled emotional truth of Dwayne Booth - the Clark Kent to Superman's Mr. Fish.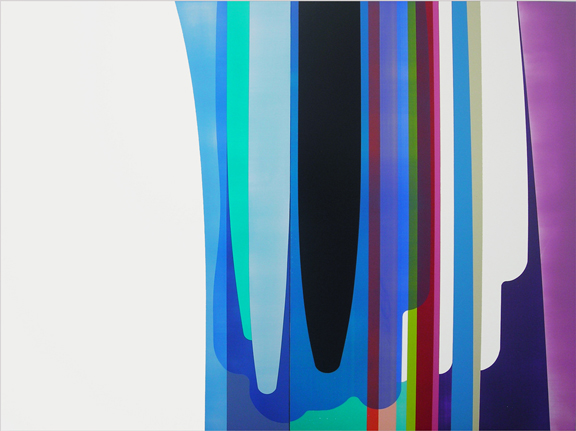 Dion Johnson: New Paintings | Using bold planes of color, Johnson reaffirms the tradition of Southern California hard edge painting for this millennium. Aware of predecessors such as Karl Benjamin, and John McLaughlin, and their interest in landscape and the environment, the artist moves hard edge towards a more Pop language; flat planes of intense color merging and moving against another, shifting stratas of atmosphere and light echo the intersections of urban culture and nature. His influences are historic, from Matisse to Howard Hodgkin to Jeremy Blake's videos.
Los Angeles' miasma of roadside billboards and architecture inspire his use of commercial color, blending the synthetic cityscape into abstract forms; our social artifice transformed in to an optical aesthetic. The paintings are composed on the computer and conversely drawn and made by hand. His flat radiant colors recall the 1960's work of Lorser Feitelson and many of Johnson's dynamic compositions bring to mind Morris Louis' pour paintings from the same era. Most profoundly, Johnson's use of color exemplifies the sensation of life in Southern California; an eternal summer, not as cliché, but as experience; a vivid clarity, a richness of life, a balance of sweet and sour, in complete abundance.
For a complete calendar of openings and exhibitions throughout Los Angeles go to Artweek.LA.
Related
Popular in the Community