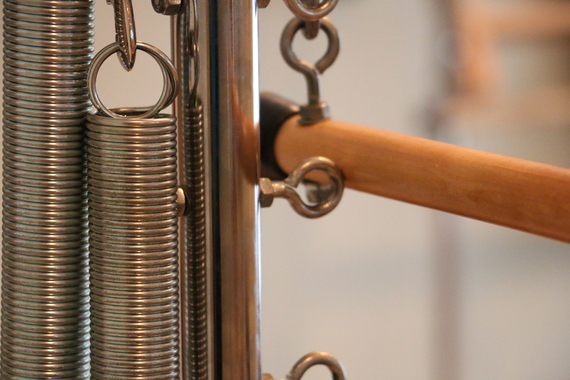 Concentration... How do we find the moments to concentrate and be fully present in today's plague of multitasking? There is so much stimuli darted at us in nanosecond speed. We are then expected to process and respond in the same. This allows very little opportunity to pause and concentrate on what matters the most, which can lead to stress, poor performance and oftentimes depression.
"The only unchanging rules you must conscientiously obey is that you must always faithfully and without deviation follow the instructions accompanying the exercises and always keep your mind wholly concentrated on the purpose of the exercises as you perform them." -- Joseph Pilates
Concentration is one of the key principles of Pilates. It is my opinion that we must be able to master concentration in order to achieve all other principles of the Pilates practice. When we allow ourselves to be fully present in the moment of movement, it is surprising how the body responds favorably.
"A study by Kirk Brown found that people high on a mindfulness scale were more aware of their unconscious processes. Additionally these people had more cognitive control, and a greater ability to shape what they do and what they say, than people lower on the mindfulness scale." David Rock, Psychology Today Oct. 2009
When we take steps toward bettering our health, we must find the ability to concentrate on how our body moves, where we are going and what our goal is. This is mindfulness movement. The more we hone in on concentration, the more present we will be in our body, mind and soul.
I have been juggling so much over the past several months and my ability to slow down long enough to catch my breath has been challenged beyond words. We all have seasons of change and growth that can influence and test our ability to concentrate. When I find myself overstimulated, over stressed and unable to focus I have routine to which I established to help cope. Firstly, I stop what I am doing. I say a gratitude prayer. I get my box of essential oils to find the one that will work with the feeling I am experiencing. I give myself a moment to breathe and then I am ready to move.
Here are some of my favorite oils and how to use them:
Oils for Focus: Brain Power, Lavender, Gathering, Believe, Clarity, Surrender, Vetiver
Being Overwhelmed: Acceptance, Hope, Release, Valor, Geranium
For energy and focus: apply to feet, wrists, temples, back of neck, crown
For Stress: Apply to feet, wrists, behind ears, temples, crown
You can always use a home diffuser.
Now it's time to do a quick five-minute Pilates routine that will help to re-center and stir up the blood flow to oxygenate the bloodstream. Joseph Pilates called this the "internal shower." This always makes a huge difference in how I feel. There is no secret that mindfulness movement like Pilates will have a very positive impact on a sluggish mind and body.
We often think we don't have time or we don't give ourselves permission to take the time to pause for 15 minutes to shake off a negative emotion. This is where we need to shift. We are doing ourselves, and those around us, a total disservice if we do not take care of ourselves. The problems will continue to grow. So, as hard as it may be, make yourself stop when your concentration is lost. Build a simple routine that will help you re-center and focus then move your body. By taking this time, you will not only make yourself feel better and have you feel more present, but those around you will enjoy you much more!
I would love to hear from you! Let me know if you found a routine that works for you. Or, if I can help you create a routine.
"Physical fitness is the first requisite of happiness." -- Joseph Pilates