One day it dawned on me: I could go anywhere. I didn't have anyone to tell me "no" except myself. That realization sparked the enormous boost of self-confidence I had needed to kick fear in the teeth and finally travel abroad. My adventurous spirit was alive and well. I no longer had to wait for all the stars to align to travel, because "waiting for the perfect time" wasn't a real option. I manifested the most perfect situation for me to take a leap of faith. I was brave. I was ready.
I decided to throw fear out the window and start doing my own thing. I was starting with Australia.
When I arrived on the other side of the world, by myself, backpack on, all I could think as I headed into the warm, February air was "I did it."
I took a bus to King's Cross in Sydney and checked into my hostel. From there, I didn't immediately fall asleep because I was so wired from the 18 hour plane ride. I took to the streets, camera in hand, and started to get a better idea of what Australia was all about.
A few hours later, I collapsed into bed. The next morning offered a pleasant surprise: befriending other travelers. A girl from Belgium and I hit it off right away and decided on a day excursion to one of Sydney's most beautiful beaches, Bondi Beach. As we walked along the coast to Coogee Beach, stopping along the way for a dip or a taste of gelato, I was in awe at my "luck." How did I end up here? I wondered.
Behind my eyes were such beautiful sites, so many generous, kind people. Is this what I had been afraid of? Having an amazing time? Meeting people from halfway around the globe who shared similar interests as me? It all seemed so silly now. It's certainly true that nature loves courage.
From Sydney I continued my travels north to Brisbane. I stayed with a lovely young couple, their daughter, and a French exchange couple. In the few weeks I stayed there, I learned about Australian gardening, canoed, went on a day trip to the Gold Coast to watch some of the world's best surfers and saw the first of many kangaroos.
After my stint in Brisbane, I craved more. I took a flight up north to Cairns. I wanted to see and snorkel the Great Barrier Reef. I wanted to be the only person I knew personally to witness one of the Seven Wonders of the World. My thought was, "If not me, then who?"
I also wanted to take my bravery a step further and do something I saw people online in the travel writing circle seemed to do with ease: couchsurf.
I wrote a few couchsurfing requests from a hostel in Cairns and was accepted by Nevan, a 20-something world-traveler and aspiring skydiving instructor. He took me in for 10 days it was one of the safest, most sincere encounters of my life.
While staying with Nevan, we cooked, went to the beach and explored the rainforest village of Kuranda together. I had the freedom to come and go as I pleased and was during the time I was able to have one of the best days of my life snorkeling with sharks and various precious sea species in the Great Barrier Reef.
During my stay with Nevan, he also hosted Linnea, a fellow traveler from Germany. She and I became close in the short time we had together and she even joined me on a rainforest tour of Cape Tribulation. The day ended with a giant rainstorm where we played in the rain and jumped in puddles. It was the quintessential carefree moment. I loved the way Linnea was always humbled and pleased by life's "real" moments by exclaiming, "This is life!" or "This is really living!" It's not every day you hear that.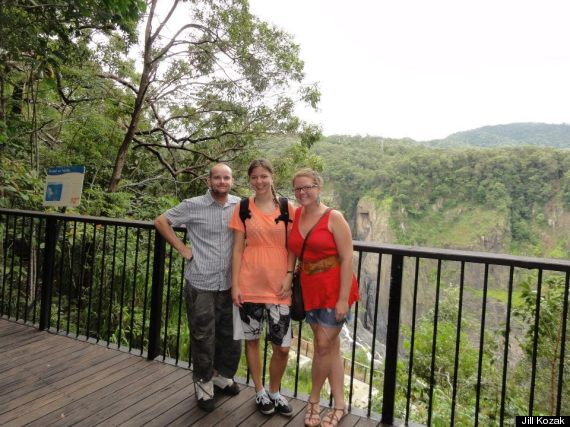 Posing with my couchsurfing host Nevan and fellow traveler Linnea at Baron Gorge Falls in Kuranda Village, just outside of Cairns in Northern Queensland, Australia
When I finally left Australia a month later, I already felt like a seasoned traveler. Nevan told me to bring one thing back to America with me -- a message to other fellow travelers. He asked me to be an ambassador of international travel to my friends, family and anyone who will listen. He said, "For so long, the world has been looking at America. Now it's time for America to look at the world."
Had an unforgettable travel experience that changed the way you look at the world? Tell us your story! Submit your 500 - 800 word blogpost to travel-next@huffingtonpost.com.