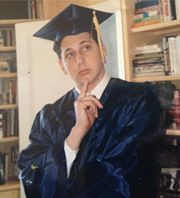 I'm writing this on a computer with a cracked screen. I refuse to buy a new one, because this computer was around when my brother, Danny, was alive. Maybe the crack is tangible evidence of how I feel on the inside. Maybe it reminds me of Danny himself and the destruction he couldn't help but leave in his wake. You see, Danny was bipolar, and he lost his battle with mental illness on October 29, 2012. The morning of Hurricane Sandy. While chaos from the storm enveloped the city that day, time stopped for my family.
Danny's death was sudden and violent, and it left us, his family, reeling in confusion and pain. For months after, my parents and I would gather together in the den at night, trying hard to put the pieces of Danny's life back together. As if by searching his past we could find the moment that led to his death, and magically reverse this unfathomable, horrendous outcome. Eventually, the ruminating subsided. What emerged was the picture of a grand, talented, compassionate, loving man whose life was derailed by drugs and mental illness.
Going through boxes of family pictures during the days after Danny's passing felt almost like a form of communication with him from the beyond. One picture that kept popping up was of Danny in his cap and gown at his high school graduation. Danny looked so proud. Finding that picture was like a sign he wanted me to remember him that way. It wasn't an easy road for Danny to get to that moment, but the reasons go deeper than his illness. Danny needed to find a community in which he belonged. It was only when he found the perfect fit that he was able to flourish and achieve academic success.
Danny's education started at Dalton, a prestigious private school on Manhattan's Upper East Side. He entered in Kindergarten and by middle school he had discovered his acting talents, starring in school plays. His charisma and comedic talent earned the respect and admiration of his schoolmates. This was a double edged sword. His answer to his deep sense of difference was to act out the role of class clown. He was hilarious. Yet his energy, though creative and original, was manic. It was like a runaway train he couldn't control.
The year Danny turned fifteen, he could no longer stay in line. By his own account, he rebelled heavily, was disruptive in class and antagonized the teachers. A psychiatrist my parents sent him to rendered a diagnosis of bipolar disease. In the middle of his junior year, Danny's mental illness joined forces with drug addiction in the form of pot. This both exacerbated and masked his symptoms of bipolar disorder. In the weeks before spring break, the headmaster came to our home. Sitting with my parents and Danny in the living room, he said Danny had to leave school. He explained that Danny's teachers had said: "It is him or us."
Everything changed for Danny that fall when he enrolled in The Professional Children's School in Manhattan. There, his teachers gave him the kind of understanding he had yearned for. They saw all of Danny, and embraced the creative energy that went along with his mania. They instilled in him the confidence to follow his passion. His peers, including musicians, ballerinas, opera singers, were all as dedicated to their vocation as he was. He had found his community, and they had found him. The day Danny graduated he stood as tall as I had ever seen him stand, all 6' of him.
Danny left New York University after one semester, but he had excelled. He chose to leave because he got his first movie role and wanted to act full time. After acting in several feature films, television and off-Broadway, Danny's illness suddenly took a turn for the worse. He went to rehabs for addiction and to mental health institutions. He managed to maintain sobriety and wellness for a period of time. Struggling with the depression that comes with the lows of bipolar disorder, Danny no longer had it in him to audition. Danny often wondered then if he should return to college. He needed to regroup, however, and there wasn't a non-clinical place where he could go and meet people like himself. He needed to be with other young adults who understood what it was like to live with mental illness, who valued their education, and would not let their disease impede the progress of their lives. I believe that had such a place existed, Danny would have found his way back to college.
Shortly after Danny's death, Fountain House told me about an initiative they intended to launch in 2014, called The College Re-entry Program. It would provide a place and program that would help those whose educations had been interrupted by mental illness find their way back to school. It was as if someone had read my thoughts, and made one of my dreams come true.
The College-Reentry program is housed in a beautiful townhouse in mid-Manhattan. Each light filled room serves a different purpose. There is a lounge where students can meet and hang out, a conference room, a computer room, a courtyard, a kitchen. It allows the students a flexible schedule which enables them to pursue their education. They learn the tools of holistic wellness. There is no other program like this anywhere, despite the fact that the mental health crisis within the college community continues to grow. The College Re-entry program provides a community to a group of people who can see in each other not just the diagnosis, but the person beyond it. Like Danny who had felt reduced to the funny guy until he found his place, these young adults are given the chance to look beyond their illness, and see in themselves and each other the gifts they have to offer the world.
*As I was writing this article, I learned about the suicide of Robin Williams. He was a hero of Danny's. In fact, a great memory for my father is when Danny took him to Carnegie Hall to see Robin Williams perform. I can only hope that the discourse Robin Williams' death has spurred continues, and more research and light is shed on mental illness and drug addiction, and the co-morbidity of both.