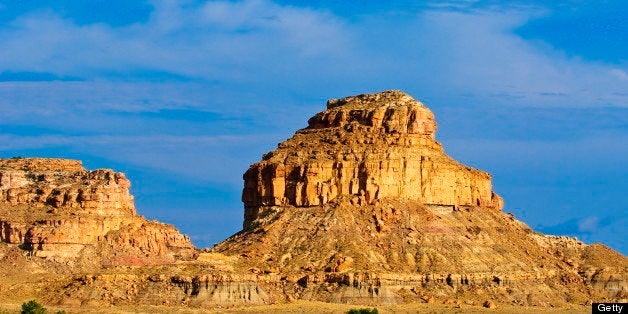 From atop of a mesa above Chaco Culture National Historical Park, my family and I watched as a monsoon quickly made its way toward us. As the sky began to open up and the rain soaked us, we made our way down and ran to the car. Back under shelter, and a skinned knee later, I realized that my family experienced the best 10-day trip of our lives and that everyone should have that opportunity.
When we set out, our goal was to introduce Latinos to new destinations and show them how accessible, secure and enjoyable these places could be, while emphasizing the role they could play in preserving these natural wonders. But what we discovered was that each of these parks was under a much greater threat than we originally thought.
The Bureau of Land Management has continued its effort to lease public lands in close proximity -- even bordering -- these national parks for oil and gas development. For instance, a lease for oil and gas development was proposed on land next to the visitor's center at Dinosaur National Monument. Public outcry and concern from the National Park Service has thwarted these efforts so far, but efforts to reoffer the leases are in the works.
Secretary of the Interior Sally Jewell has the opportunity to implement a "smart from the start" approach to drilling. Already armed with reforms, such as Master Leasing Plans, which address and resolve conflicts with national parks and other important resources in advance of leasing and development. She can help balance the needs for American energy, while elevating conservation, which drives economies around the west as well.
In fact, a new report called "Blueprint for Balance" from a collective of environmental groups recommends that federal agency should fully account for the economic benefits of recreation and protected public lands in decisions about whether and where to approve drilling. The report also details that the leasing of public lands for oil and gas development is occurring more than 2.5 times faster than the government is protecting them as national parks, wilderness and national monuments. On top of that, for the first time since World War II the last Congress failed to protect a single acre of public land while in session. Prioritizing drilling projects away from national parks and other sensitive areas will help minimize impact on land and water resources.
But, it's important to point out that the objection isn't to the need to explore for gas and oil. No, this is more about the need to explore so close to these national parks. We need to put conservation on equal ground with oil and gas drilling. If we don't have a balanced approach to energy development, future generations will not be able to enjoy the beauty of these parks as they stand today.
So, what role could Latinos play?
Latinos are a growing force in this country; the population is expected to double to more than 100 million by 2050. And Latinos are extremely passionate about their public lands. A Colorado College poll found that 79 percent of Latino voters believe public lands in their state support the economy, provide recreation opportunities and enhance quality of life.
Between 2004 and 2008, the number of Latino voters grew by 28 percent, while the total number of voters increased by only four percent. Ask any political analyst how significant or influential Latino voters were in the 2012 election and the answer will be tremendous. A record number of Latinos went to the polls, and that trend isn't going away anytime soon.
During the trip, my sons Luke (18) and Noah (16) became energized about the essential protection these parks need so that their future children and grandchildren will be able to experience what they experienced. Since returning to Virginia, they have continued to brainstorm ways to be involved and engage others.
My boys are an example of how people, not just Latinos, can develop a connection with these places. With Latinos, their passion for the outdoors underscores the roles they can play in the preservation of these natural landmarks. As more and more Latinos visit these parks and develop those connections, the demand for conservation will strengthen.
Each park provided its own unique experience. And if we don't step up to protect the sanctity of these locations -- encourage our government to lease land for oil and gas development in areas away from our national parks -- future generations won't have these same opportunities we do today.
To view all 10 chapters of the 4 Stops, 1 Destination tour, visit the HAF YouTube page.
Calling all HuffPost superfans!
Sign up for membership to become a founding member and help shape HuffPost's next chapter