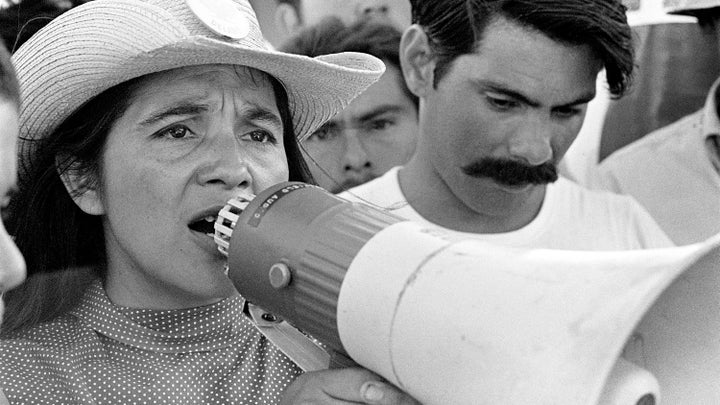 Dolores Huerta. Hers is a name left out of our high school textbooks, but a name that still lingers like a whisper in our history. She is one of the most riveting activists, not only in Latino history, but also in our nation's history. Co-founder of the first farm workers union, all the while raising 11 children, Dolores relentlessly fought and continues to fight for social and labor justice for all.
Watching the story of her life in the intimate film "Dolores" sparked the question: how has leadership in the Latino movement shifted? The film showed how Dolores's ferocity inspired people to mobilize and fight for equality. Throughout the film, high-profile activists and leaders such as Angela Davis and Gloria Steinem raved about Dolores and what she meant to the movement.
With technology ― particularly, social media ― a surge of young Latino activists are more connected than ever before, making it easier for us spread action and awareness. What did not come with this surge was a face to the movement. Faces like Dolores Huerta and Cesar Chavez.
It's not hard to recognize powerhouses within the black community such as Representative Maxine Waters, commentator Angela Rye, former NFL player Colin Kaepernick, Shaun King and Van Jones to name a few. And let us not forget the cream of the crop: the Obamas.
Which begs the question: does our community of 57 million Latinos need to have highly-publicized figures in order to make progress?
Although there aren't many Latinos who are popular within mainstream media it does not mean we don't have leadership within our community.
That leadership is in Jorge Ramos, one of the most trusted journalists of all time, broadcasting our stories for decades into the homes of millions across the United States and around the world.
It's in San Juan Mayor Carmen Yulín Cruz Soto for standing up to the president and demanding relief for our people (American citizens might I add) who were affected by Hurricane Maria, all the while wading through sewage and searching for survivors.
It's in the 800,000 Dreamers tirelessly fighting for their right to not only to stay in this country that they call their home, but also to be respected as human beings.
It's in Undocumedia, a platform that uses digital and social media to highlight the stories of undocumented immigrants and raised money to cover over a hundred DACA renewal applications.
It's in Carmen Perez, the national co-chair of the Women's March, which was one of the largest marches in American history and drew in over five million people across the globe.
It's in the Latino who bravely pushes through their career in a new city to carve a space for other Latinos to follow and feel more comfortable than they did themselves.
It's in the first-generation college student who is pulling all-nighters to study, trying to become the first in their family to graduate with a degree.
That leader is within you and me.
A movement relies on more than one person. Even Dolores Huerta had the entire pueblo rallying behind her. All we need to do is look within ourselves to lead our movement.
Popular in the Community