I've just returned from an unforgettable family vacation in Fiji with my sister, my woman child and my sister's six-year-old daughter. There is so much to love about this place but for us, a trip aboard the Tui Tai made for the adventure of a lifetime. It's a cruise ship with a difference.
Not being the seafaring type, I wasn't convinced the Tui Tai trip was for me, but my three traveling companions — who jumped at the chance to drop anchor and snorkel, swim and scuba dive in stunning secluded bays — assured me there would be plenty of other things to do and enjoy.
I felt no shame in staying on board to read my book in the shade of a cabana after a massage, while my tribe learned the ins and outs of scuba gear. I have never felt more relaxed and content.
The food is superb, including the best vegetable stir fry with noodles I've ever tasted, fish cooked on the grill with delicious vegetables and salads and impossible-to-resist desserts. Even my woman child, who claims not to like coconut, couldn't resist the passion fruit ice-cream covered in dried coconut. And I still wake up dreaming of the chef's lemon pudding.
Meals on the Tui Tai are eaten at one long communal table. Lots of meals. Cold breakfast at 7 a.m., hot breakfast at 9, lunch at 1 p.m., tea and homemade cake at 4 and a three-course dinner at 7. After all those activities, we were always ready for the next meal. Our shipmates Lisa and her niece, Carrie, go on adventures around the world together every year and agreed this was their best trip ever. We have become real friends — and even Facebook friends.
Diving instructors Sam and Gemma, a Brit and an Aussie, have dived just about everywhere and insist these waters are the most incredible, with pristine coral reefs and diverse marine life. Apart from these two, the rest of the 16-strong crew are Fijians who know this part of the south Pacific better than anyone. Our diving master, Isoa, knew exactly where to find manta ray. I didn't get in the water, but I watched with excitement and wonder from the tender as we followed these strangely beautiful creatures.
I didn't jump off the side of the Tui Tai either, and I was fine with that, despite everyone's coaxing. I kayaked for the first time in my life and felt joy in my heart. I hiked up to the spectacular Bouma Falls and was so proud that I didn't scream when we met a big blue crab en route. And I was ready in case we met a spider the size of a dinner plate, safe in the knowledge that none of the creepie crawlies here are poisonous.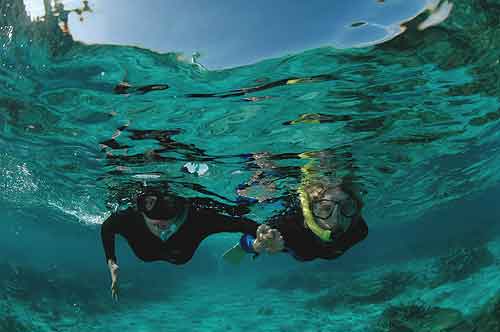 The great thing about this adventure is there's something for everyone with diverse interests and adventure levels. Anyone can come on this trip and do as much (or as little) as they want and certainly more than they would have imagined.
I was especially impressed how patient and accommodating the crew was with our six-year-old who tried and thoroughly enjoyed all the activities apart from the scuba diving. When she was tired, which wasn't often, Sam took her shell collecting or pulled her along on a boogie board. Or she'd just lay back under a cabana to read or color. If you don't like kids, you can request not to vacation at the same time as a family with children.
The highlight of the trip for me was visiting the island of Rabi, pronounced "Rambi," where local schoolchildren put on a breathtaking song and dance display for us. A European charity re-built two classrooms that were destroyed by Cyclone Thomas in 2010. The classroom walls were covered in better work than I've seen in many western schools. One of the pupils played brilliantly a set of drums donated by a previous Tui Tai passenger. These kids were so happy and healthy. We have much to learn from other cultures.
This culture is actually preserved and enriched by the Tui Tai, since the operation is committed to eco-tourism, having funded schools, purchased medical supplies and sponsored community development projects. By taking part in this adventure, you make a contribution to raise the standard of living in the more remote islands of Fiji.
See and hear for yourself what a fantastic time we had. As well as being the diving supervisor, Gemma is the Tui Tai's photographer and videographer who makes personal films for every family, in case we needed reminding how amazing the trip was.
Five-day Tui Tai expedition cruises start at $2,567 per person for a double room, $3,851 for single occupancy. The ship takes up to 22 passengers per trip in seven cabins and four staterooms. Rates are valid through March 31, 2012.