"Happiness is the consequence of personal effort. You fight for it, strive for it, insist upon it, and sometimes even travel around the world looking for it. You have to participate relentlessly in the manifestations of your own blessings. And once you have achieved a state of happiness, you must never become lax about maintaining it. You must make a mighty effort to keep swimming upward into that happiness forever, to stay afloat on top of it." - Elizabeth Gilbert, Eat, Pray, Love
Happiness is hard to come by these days, isn't it? Here in the Midwest and across much of the United States we're facing the worst winter in a century. Our ground has been covered in snow for well over a month now and with the Chicago area expecting another round of winter weather this weekend, I believe it will be quite some time before we see any sort of green.
The skies above are gray and the ground below is white. The days are short and dark. My lips are chapped and my skin is dry. My emotional palette is desperately in need of some more vibrant hues to lighten my mood right now.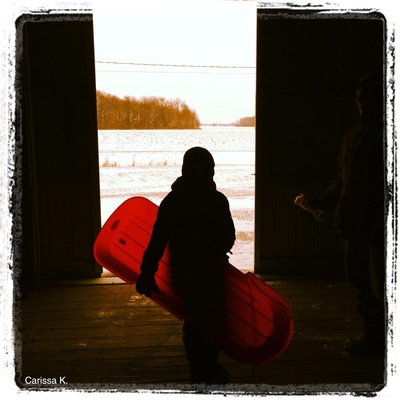 Adding insult to injury is a giant lack of routine. We're now squarely four to five weeks into 2014, yet I feel like I haven't caught any sort of traction. With a polar vortex two times over and resulting school cancellations, these weeks have felt like one big scramble to schedule and reschedule meetings, travels, appointments and activities.
As for any sort of New Year plan for self-improvement, just forget about it. While I didn't formally commit to a New Year's resolution, I had a few things I had hoped to up my game on this year, physically, emotionally and organizationally.
So as the first month of 2014 comes to a close, I'm feeling a bit blah. Actually a lot blah! But before I get too carried away in my blah and one negative thought leads to another, I need to stop myself and adhere to one of my favorite quotes, listed at the top of this post. I need to insist on happiness.
Knowing that one of the things that's bugging me the most is the feeling that I didn't accomplish anything in January, I'm making myself stop and take note of the past 31 days so I can celebrate a bit of productivity in each. While I spent many of those days feeling sloppy in a big black, puffy parka, I need to prove to myself that I didn't waste those days.
Highlights of the month included renewing my driver's license (with a 6-year-old and 3-year-old in tow while I took the written exam), celebrating my son's 10th birthday with grandparents and adventures around the city such as taking him and a friend to see Blue Man Group and a family outing to the Field Museum. At the same time, I celebrated my own birthday and a decade of motherhood.
Although not as much as I hoped, I did write a bit, submitted a bit and logged a few miles on a treadmill this month. I've helped a friend or two, or three, as they are going through tough times and celebrated with others as they either announced their pregnancies or were showered for a baby about to arrive. A closet has been cleaned and a donation to Goodwill made. Our church installed a new pastor, our school committed to a day to raise food allergy awareness, and our neighbors gathered to work in a food pantry. We participated in an initiative to celebrate an important program at our hospital that helps bereaved families after a stillbirth or death of an infant.
I signed each child up for a new round of activities and projects at school. Each and every one of those events was interrupted and upset the choreography of our calendar when various winter weather hit. When stuck inside with the kids during cold days we did some creative science experiments and games involving a straw, a cotton ball and painter's tape. And while stuck inside with the kids on cold days, I yelled at them more than I should have and let them watch TV more than they should have. Either way, we all survived and came out mostly laughing (OK, true confession: I cried a little when the fourth snow day call came in).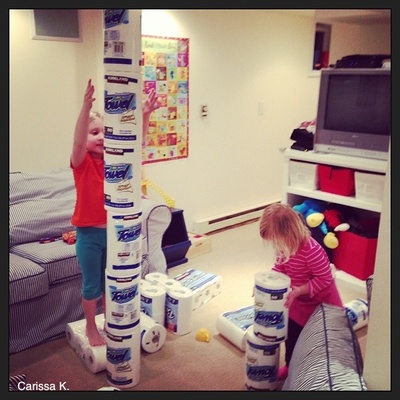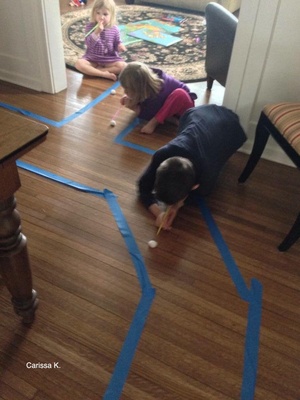 Our house is 94 years old and held up pretty well in the coldest temperatures it's ever known. Our pipes froze, but didn't burst. Most importantly, we had shelter and heat. Our car didn't start one morning, and then it did. And as long as I'm celebrating achievements, I should take note of the inches upon inches of snow that my husband and I removed from our walks over the past few weeks.
Many of my accomplishments of the past month may seem relatively small. And some were a bit more involved. I had a medical scare requiring a biopsy and for those few days while awaiting the results my mind spun as anyone's would. When the results came back as benign, I steadied myself against the wave of emotion and relief which overtook me while knowing that others were receiving a different phone call. I was again reminded of this perspective when just a week or so later in the month we spent the day being humbled and grateful at Lurie Children's Hospital as our daughter had a relatively minor outpatient procedure.
So what if at the end of this very long and very cold month I didn't get to that daily plank challenge or completely cleanse myself of caffeine? My book club finally had a holiday dinner and I saw some of the Oscar-nominated films. My husband and I binge watched Orange is the New Black, and then peacefully settled into the start of Downton Abbey.... oh, and I am hooked on The Bachelor again after a five-year hiatus (thanks in part to the polar vortex, and in part to Juan Pablo).
Certainly those 31 days of January lacked any sort of color or natural hue from the great outdoors, but each and every one of those days was vibrant and rich in its own way. And whether I spent them wearing lipstick or chapstick, in a pair of snow shoes or slippers, every day of the first month of 2014 was well lived because each of those days was a gift. Making this list made me appreciate and see light in these gray days. I needed to know that I used those gifts and in ways I didn't realize.
If you're feeling down at this time of the year, make a quick mental list of how you spent your January. Go ahead and let yourself acknowledge the little and mundane right along with the big and fantastic. Whether you've made a major life-changing resolution, or made it through the coldest day in a decade. You stopped eating sugar, you fed your baby squash for the first time or you simply got those holiday returns back to Old Navy. Either way, high-five to you! High-five to us! We're doing it! We're surviving this winter.
After all, I'm just enormously satisfied that I was able to spend a morning at the DMV, with kids in tow. And if that's what it takes to insist on my happiness, so be it.
Please note that if you're feeling something more severe, contact a professional. I don't want to imply that it is as simple as making a list.