Upon moving out of my parents' house and into my New York City apartment, I plunged into adulthood in more ways than one. While I was prepared for certain challenges, like paying rent and learning how to cook, I wasn't prepared for the day I'd get a phone call from my mom with news of my godmother's death or the way my stomach would sink in tandem with my head hitting the pillow on the first night in my apartment. Over the past three months I've come to terms with the reality of adulthood--an acceptance of instability and constant redefinition of home.
Whether you're starting your independent life out in San Francisco or central Pennsylvania, we all face the challenge of redefining home. Life doesn't slow down or give you time to catch your breath but rather continues to pound its drums, reminding you of its relentless flux. For 23 years, home had been a fixed place with an abundance of love and routine all packaged up into the Dutch Colonial peeking behind the grass island. Adulthood is a departure from our foundation, yet wherever we go we bring with us a piece of that foundation, molding it into something that becomes distinctly ours.
After growing accustomed to college life over four years, we're thrown into the boxing ring of corporate America like a handful of crumbs to a flock of hungry crows. It's not long before we experience the 'two-year itch' and realize it's time to return to the drawing board. As Millennials, we're eager for the next challenge and overly ambitious, expecting a VP title after year one. After spending two years at my first job in the town where I grew up, my restlessness kicked in; I dreamt of a place where I could share a sidewalk with the inventors, the creators, and the leaders, a place where it wasn't unheard of to find yourself in line at Whole Foods behind Jennifer Aniston. While it's easy for me to look back and scold myself for not leaving six months earlier, my concept of home was very different two years ago and perhaps I wasn't quite ready for the breakaway.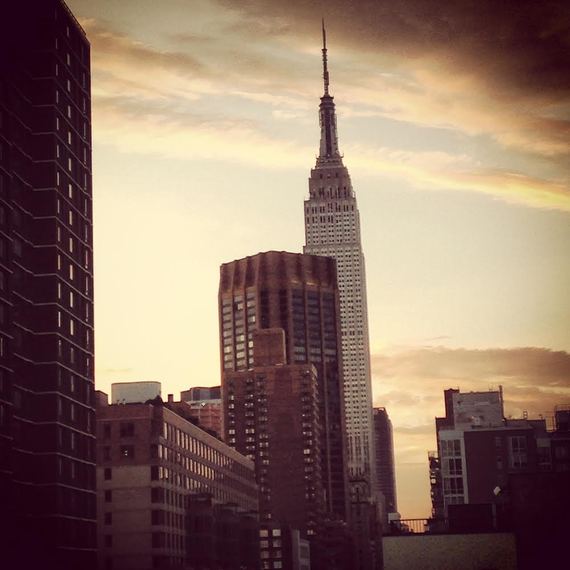 For the first time last weekend I felt relieved by my growing familiarity with New York City's most intricate offerings: the five-star restaurants, trendiest clubs, and the best sample sales. As I navigated the historically industrial Meatpacking District, watching cars weave in and out of non-existent lanes and women standing in Louboutin stilettos outside the bar, I found comfort in the congestion. A city of eight million people was beginning to feel bite-sized.
As the years after college graduation pass, I look around and find my friends quitting their jobs to backpack around Greece or pursue opportunities in entirely new industries and wonder, how are they going to make it? How will they find home in a strange new place? Somehow, though, they always do. As you compare yourself to your peers who fled the nest as soon as they flung their graduation caps into the air, remind yourself that you're not behind--you're simply paving your own way home.
REAL LIFE. REAL NEWS. REAL VOICES.
Help us tell more of the stories that matter from voices that too often remain unheard.