Johor, Malaysia, May 25, 2015 - After four hours of driving through continuous rows of oil palm plantations, you begin to wonder.
I joined the WCS Malaysia team on a trek recently through the rainforest of Endau-Rompin, a state park in the southern part of Johor on Peninsular Malaysia. To get to this remote rainforest, you drive many hours past acre after acre of oil palm, through a forest reserve, and then you are there.
The oil palm plantations seem endless. Malaysia, which began industrial planting of oil palm in the early 1900's, today produces about 39 percent of all the world's supply. According to the Malaysian Palm Oil Council, about 4.49 million hectares of land in this Southeast Asian nation are planted with oil palm, producing 17.73 million tonnes of palm oil and 2.13 tonnes of palm kernel oil annually.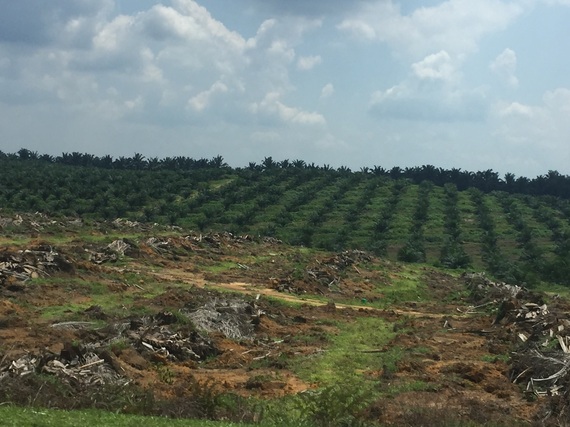 Roughly 4.49 million hectares of land in Malaysia are planted with oil palm. Photo: Cristián Samper ©WCS.
Between the rows of oil palm, water buffalo take mud baths; owl houses have been positioned to attract and provide a home for this flying predator to naturally weed out the rats; and now and then, you spot a kingfisher, a jungle fowl, or water monitor.
WCS works with Kulim (Malaysia) Berhad, one of the largest palm oil producers. Since some of the roads cutting through its plantations border Endau-Rompin and are the entrance way into it, Kulim guards the roads leading into the forest, helping to ensure poachers and illegal loggers are deterred or stopped. Each car passing through is inspected and registered.
Once in Endau-Rompin, it is a very different world from the oil palm plantations. It's wildlife forever. The sounds and the life of the thick rainforest astound you. This is the home for some of Malaysia's most iconic wildlife and a good example of this nation taking serious steps to protect its rainforest.
Pig-tailed and long-tailed macaques swing through the forest in what seems to be a constant mode of playfulness. The banded langur are their closest competition when it comes to acrobatics. The white handed gibbon calls out from afar, always seemingly saying to humans, You can hear me but you'll have to get really lucky to see me!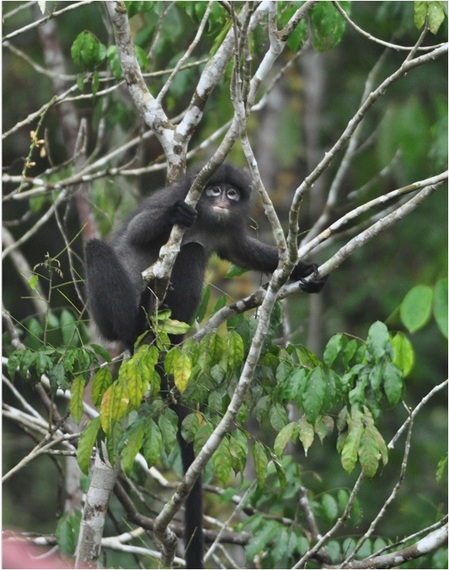 The banded langur swings through the forest in a vivid display of acrobatics. Photo: Daniel Kong ©WCS.
The rhinoceros hornbill, Malaysia's national bird, flies to the top of a towering tree - with all its awkwardness due to its huge beak but in pure majesty. Down in a ravine, bearded pigs scamper back into the forest after being startled.
Blue-winged green leafbirds, fish eagle, rufous-crowned babblers, buff-vented bulbul, changeable hawk eagles, the green imperial pigeon, little green pigeons, tailor birds, black hornbill, wreathed hornbill, and crimson sun birds are spotted throughout the park.
On one day here, we trekked up the Janing Barat, bordering the Jasin River. We climbed through the lush forest for four hours, hearing the trumpet of an elephant, eyeing patches of the carnivorous plants (Nepenthes rafflesiana) and catching glimpses of a long list of birds.
On another day, we waded across the Jasin River and hiked up the Kinchin Trail, an ex-logging road. It has not been logged here for three decades and the forest has proven it can make a big comeback. Elephants and tigers have re-claimed their habitat, as have the golden cats and leopards -- both the melanistic (commonly known as the black panther) and the common spotted form.
And that's the lesson of Endau-Rompin: nature can come back when protected from hunters, illegal logging, and industrial planting of oil palm and rubber trees. It can soar again as patrols stopping illegal logging and poaching intensify and as NGOs partner with the government and local communities on a range of conservation issues, including education about the proper ways to mitigate elephant-human conflict.
With all these approaches, we have seen in Endau-Rompin a clear recovery of tigers and a stabilization of its elephant population. Here, the indigenous Jakun orang asli also play a key role in protecting their homeland's natural heritage, especially if they embrace conservation in their own community.
The transformation of the lands across Malaysia remain a serious threat here, as oil palm and rubber are seen as important parts of Southeast Asia's economy and as illegal loggers continue to make their way into parks and forests.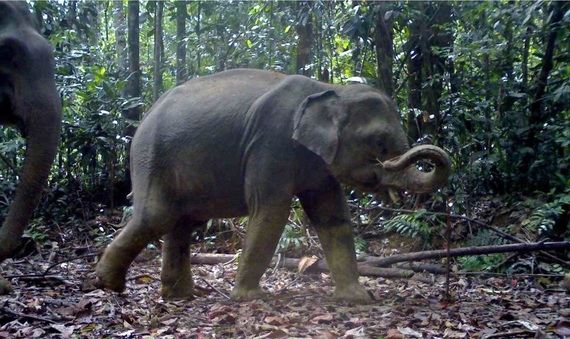 Endau-Rompin has in recent years seen a stabilization of its elephant population. Photo ©JNPC/DWNP/WCS.
Satellite mapping is helping to identify such illegally transformed lands and when enforcement is implemented immediately, it can stop these land conversions in their tracks. For this to happen, satellite maps need to be updated much faster, especially for those that depend on Google Earth images and are not able to render much more sophisticated landsat data.
In Malaysia, the federal government has devised a plan called the National Physical Plan, commonly known as the Central Forest Spine, which would stretch at least 40,000 square kilometers through four main states on Peninsular Malaysia - Johor, Pahang, Kelantan, and Perak - and thus connecting Jorhor north to Thailand.
This pathway for wildlife was proposed in the mid-2000s but it should bring us all hope that there is serious, ongoing planning taking place here to protect wildlife and its habitats. The hope is even greater in the states that want to maintain the connectivity.
Such an approach is a model for other nations around the world as they consider improving on landscape planning and management - something that had been promoted by the Global Tiger Initiative, an international alliance of organizations and governments led by the tiger range states.
Other hopeful signs here that were evident included oil palm leaders genuinely partnering with conservation NGOs, the government's commitment to enforcement patrols in parks, and the education efforts underway by WCS and others concerning animal-human conflict and hunting.
Malaysia needs to hold the line if it is to show conservation leadership to the many other nations around the globe facing similar issues. As I left Endau-Rompin -- very reluctantly as the spotting of birds was magical -- I couldn't stop wondering.
-----------------------------------------------------------------
Follow Cristian on Twitter at: @CristianSamper.
Popular in the Community