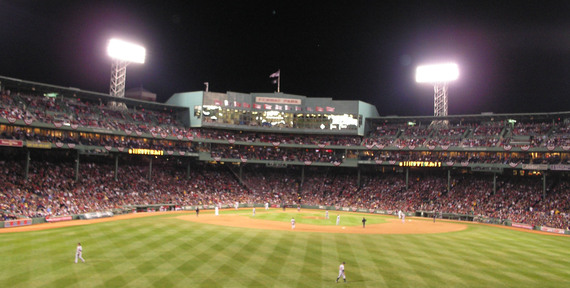 As baseball season starts up again, I am forcefully reminded that marrying a Boston Sports Fan can sometimes be a challenge.
A lot (seriously, a lot!) of your time is suddenly spent watching games, watching news about games, listening to updates about teams and players... I, the casual "fan," didn't get it at first. While I was dating my husband (then my boyfriend) as an undergraduate student in Boston, I found the activity of watching games live or on TV to be fun. But I didn't get all the fuss. It felt like way too much time spent on sports.
I only began to truly understand the scale of it all after we got married two years ago. There always (always!) seemed to be a game on. I was surprised to discover just how many TV networks are dedicated to every imaginable sport. I realized that my husband is just one of millions of fans who follow their favorite sport or team.
Why did they give it so much time? And when teams are losing so badly or it becomes a painful endeavor, why do people give so much of their energy to the baseball season or the NFL playoffs? Why is the Superbowl one of the most-watched events in the world?
I slowly began to understand the thing about sports because of a unique sports bar in the Los Angeles area. My husband and I moved to Santa Monica, California as newlyweds in the summer of 2012. By pure chance, though devoted sports fans would call it serendipity, we came across the Boston sports bar Sonny McLean's. We went there one Sunday in September to watch a New England Patriots game, and upon arriving 10 minutes before the game (at 10am), we couldn't find a single place to sit. So, we stood for three hours. I marveled at my surroundings.
When you open the door, you leave California and enter Boston. It is like travelling across the country every Sunday. Boston accents abound. Everyone is dressed in Patriots or Red Sox (or Bruins or Celtics) gear. You see many of the same faces each week. The owner sits at the same spot on the bar every football game. The servers begin to know and recognize you every Sunday -- and from season to season.
At first, I couldn't fathom why we gave up three-plus hours each Sunday, but I went along with it, as all of us spouses and partners of Boston sports fans must do. (It's in the wedding vows). I would read the newspaper on my phone or catch up on emails. By November, the mood in the bar became infectious. I started to put my phone down and watch. I began to understand how the game worked, what first downs are, learn some of the players' names besides Tom Brady.
At Christmas, when Sonny McLean's put up a Christmas Tree and we were there one cold Sunday afternoon, I got my first true glimpse of the community that came with it all. In a world that is only getting more and more disconnected offline (the more "connected" it gets online) random strangers come together in this one bar each week, for the same purpose -- it feels like a thing from the past, old TV shows like Cheers. Then, the season came to a disappointing end, and I found myself disappointed to lose our weekly trip to Sonny's, to Boston every Sunday.
A couple of months later, the 2013 baseball season began, and Boston fans were given a great gift by the Red Sox, who seemed ignited by the horrific and tragic Boston Marathon bombings last April. The team became a focal point for a mourning city; the players were looked to for leadership and guidance. The games went on and through them a city -- and a city's fans across the country -- went on as well.
It culminated in one Grand Slam in October. I remember it so clearly. That moment is when I realized what it was all about: the hope.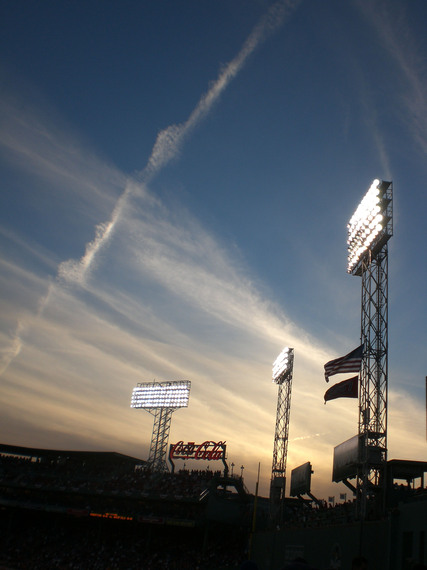 I was in the car listening to the Red Sox play against Detroit. They were down in the eighth inning, likely to lose the series. I had started watching the game with my husband at home, and out of curiosity, and a little solidarity, listened to it on the radio when I had to drop a friend off at the airport. Then came Big Papi's Grand Slam.
Pop. Roars. Cheers. I started screaming in my car. I remember exactly where I was on a street corner in Santa Monica, beyond uplifted at what had happened across the country in Fenway Park.
So progressed the remainder of October. Comeback after comeback from the resilient bearded men, and with each comeback I was uplifted, as a whole city reportedly was.
During that time, we had returned to Sonny McLean's for our weekly Patriots game. I learned from watching TV commentary alongside my husband that it was a tough season. At the bar, I overheard the devoted fans talking about the challenge for the team, with scandal and injuries. (I also overheard, often, people saying things like, "Oh yeah, I'm here all the time. It's like a home away from home.")
The Patriots players couldn't hear the cheers they got when they appeared on the screen. I became moved by the applause Tom Brady would receive from the bar when he'd get on the field. I started to feel it: the group would move as one: cheers, groans, applause, highs, and lows. And in a season of comebacks, I felt it too: that moment of pure joy when the team comes back from behind during the last quarter to win a game everyone thought they would lose.
I too jumped off my seat when Tom Brady and the receivers seemed to perform miracles just by throwing or catching or running the ball -- or when the defense would get a key interception that would change the outcome of the game. And there it was, that feeling of anticipation and possibility in each game.
For three hours, often more, in a fast-paced age dominated by stress and scattered attention spans, I was fully there, in the moment, filled with, well often dread, but also hopeful, joyful, and inspired -- sharing these emotions with a room filled with around two hundred people all focused on the exact same thing -- and I know what I felt was nothing compared to the truest and most devoted fans there, like my husband. Even though the season sadly didn't end in victory for the Patriots as it had for the Red Sox, it certainly had its moments. When it ended, I found myself looking forward to the next season with anticipation. Maybe, just maybe, they can do it then.
And there I understood that sports, and following along, and giving a team so much of your time, is an ultimate act of optimism and faith in the chance -- no matter how small -- of good things happening. A game itself may not be directly significant. Players may not be directly contributing to solving world problems, but in so many important ways, when they are heroes, we all, even if for a fleeting moment, are heroes too.
REAL LIFE. REAL NEWS. REAL VOICES.
Help us tell more of the stories that matter from voices that too often remain unheard.