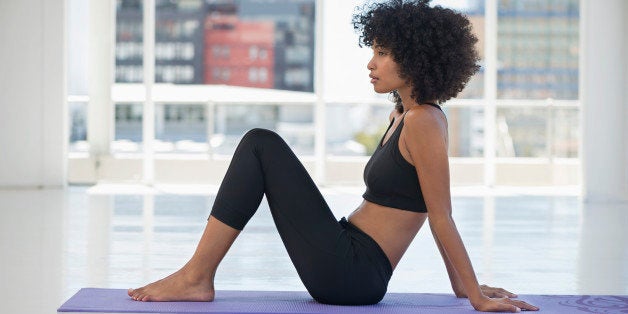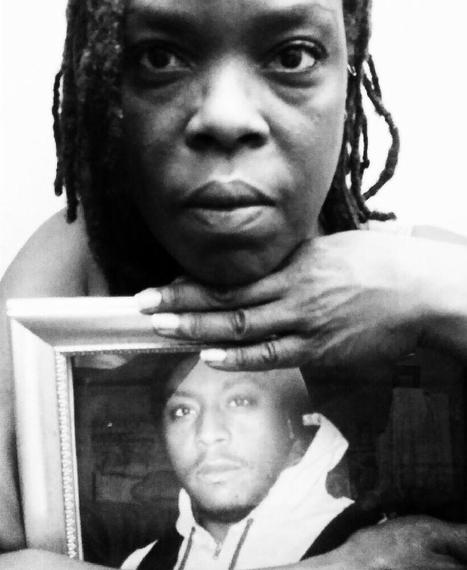 The day after 36-year-old MacArthur Harrell was killed in a drive-by shooting, his distraught mother, Daphne Ivory, knew she needed a therapeutic outlet to help her deal with the tragedy. She credits vinyasa yoga with helping her find solace and stay centered.

"I went to yoga because I didn't know where else to go. I didn't know what to do with my feelings," says Daphne, 53. "I put MacArthur's photo on my yoga mat because this was my new norm; I had to learn to live without my oldest son."

MacArthur--a single father who had just gained custody of his six children and secured an apartment that would accommodate his entire family--was fatally shot by an unidentified gunman at a Cleveland gas station on July 9, 2015. "I keep a photo of him living and one [of him] in his casket, because that's the reality I live with," says Daphne. "He is not here. As much as I would like for him to be, it's just final."

Daphne was first introduced to yoga three years ago by a friend as a way to cope with her mother's failing health and subsequent death. "I had tried a lot of other types of mentally calming things like going to church, counseling, self-help books, and talking to my friends," she says. "Yoga seemed like it would work because I didn't see anything else working." Daphne soon discovered that yoga had its
advantages.

"I lost a couple of inches. It was fun. I met a lot of nice people, and I just kept going," she explains. "One thing about yoga that I found to be calming was that you could be in a room full of people, but you didn't have to say anything. That was comforting because I wasn't alone, but I was alone--just able to focus on the [yoga] movements and really enjoy the practice."
"When my son was gunned down, that made me have to put everything in front of me," Daphne recalls. "It tried every belief system I had ever known. I was going, 'Where is God? Where is Jesus? Where is Buddha? Where is Confucius? Where are all the spiritualists? Where are my friends?'"

"Even though my friends were there, I was lost and alone. It was indescribable. With my son being dead, I had to learn how to live my life a day at a time, which is extremely hard. But yoga made me go inside of myself to find all the answers. You can talk until you're blue in the face, but you actually have to do something different. Yoga allowed me to focus and be able to act. Yoga made me have to stop and search my own strengths and weaknesses, and it brought both of those things to light: emotional pain and joy. Everything came to the surface, where I had to stop and take a look at it. Yoga was like a mirror for me. It put everything about me in front of me. I've had to learn how to relate to this person, who was standing in front of me. I had to learn how to live with her, so to speak."
"I practice yoga every day" says Daphne. "I practice alone and in a class, because yoga is not a destination. It literally is a practice. It's something that you do, and it's strictly for you. It's not for anyone else. The more you do, the better you get. The physical fitness through yoga is actually a by-product of the emotional calmness and the focus you gain just by listening to your instructor, listening to your body, listening to the breathing, paying attention to yourself, going inward to get the power that you need, and yet having a power greater than yourself, even focusing in on the God that you serve. You know, whatever is greater than you. All of this focus is necessary just to be able to put one foot in front of the other."
"Even just two or five minutes of yoga in the morning can make all the difference. You can do a walking yoga, or simply stand still somewhere. There's this one pose that's called Tadasana. It is the foundation, of all the poses; you stand straight with your feet planted on the ground, and your hands are either by your side or over your head. Just being able to stand up, that's a yoga pose. Stand tall, with the ground beneath you and the sky above you. And that's it. Some days that's all I can do is stand up, and that's okay."
Getting Started With Yoga
"I would recommend that you go to your local beginner's class. Just go. And recognize everybody is practicing. Don't be afraid. Leave your ego at the door, because there will always be someone who can do a pose that you can't do."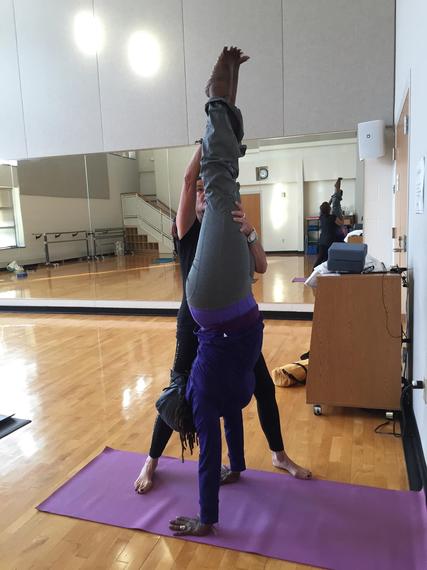 "Remember: Everyone is not in the room for the same reasons. Some people really want to be the 'yoga model.' That's not everybody's goal. Some people are there because they just want to get their head together. Some people are there because they had a physical injury. Go in with your own purpose in mind. Go in with an open mind. Listen to your instructor and listen to your body. And, don't stop going because you aren't able to touch your toes. None of the beginners could when they first got there. And after a while, they got a little bit better and a little bit better and a little bit better. And, no, you don't have to go every day. Just go."
"I was really traumatized when my son was killed. I am still not 100 percent. But, I can walk among people and listen to what they say, pay attention, and know that I am not the only one, even though I sometimes feel like I'm the only one. I am even able to help other people, just by being able to listen to them."

"Yoga helped me to have the patience to do all those things, to let people be where they are. You know, some days are better than others. And, I learned that through yoga, as well. Some days you can do a full pigeon pose, and some days you can't--and that's just how life is. Be like a buoy in the water, and just go with the waves. Just go with it. It's okay, there is another side. Yoga allowed me to be still long enough to even say, 'I can feel my feelings. And it's not going to kill me. They're feelings.' I now can look at life and go, 'Let's just roll with it.' I can make a decision now and stand on it. And I understand that life has its ups and downs, and I can take it one day at a time and allow myself to feel whatever I'm feeling. Everything just becomes a new normal."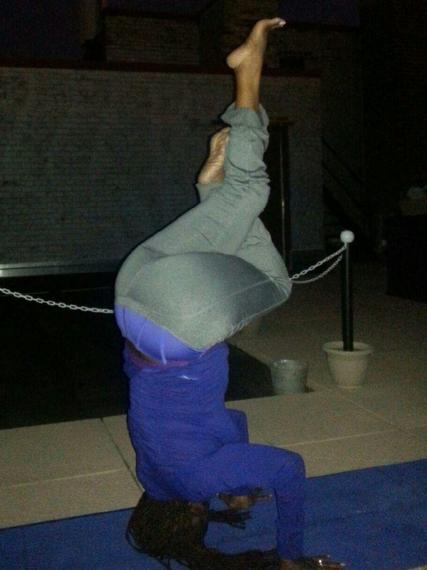 A Message for Those Who Have Lost a Loved One to Gun Violence

"To my brothers and sisters who have just lost family members or friends, go inside yourself, because that's where the inner calm lives, that's where peace lives. That's definitely all there. Reach out to whatever it is that you believe in. Then go inside to make it make sense."
According to the Gun Violence Archive, everyday an average of 36 Americans are killed by guns. Guns now kill just as many people as car accidents, at a rate of 10.3 deaths per 100,000 people. In 2015, over 13,000 people lost their lives to gun violence.

Daphne Ivory is a long-time resident and native of Cleveland, Ohio, where she works as a Housing Authority sustainability coordinator. She can be found practicing yoga in nature or at Abide Yoga studio.
Popular in the Community