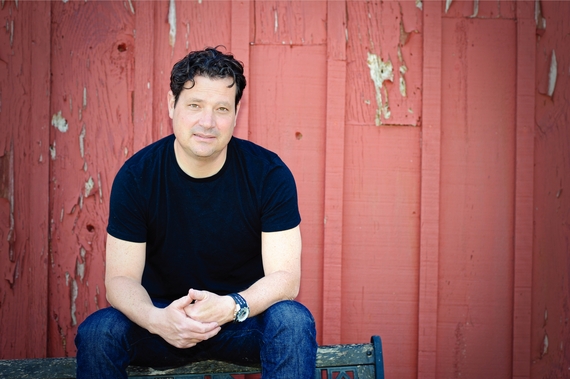 Photo: Kerry Harrison Photography
Bryan Reardon is a freelance writer specializing in medical communications. He holds a degree in psychology from Notre Dame.
Finding Jake, Brian Reardon's debut novel, is told from the perspective of Simon Connolly, a stay-at-home father who is raising his children, Jake and Laney, while his wife, Rachel, works as an attorney. After a mass shooting at the school Jake attends, Simon learns Jake is unaccounted for. Adding to his shock and horror is an eyewitness report of Jake's leaving the school after the event; and his son's blood is found where the shootings occurred. Jake is one of two prime suspects. Disbelieving, yet uncertain, Simon second-guesses himself about his son's childhood, and the mistakes he may have made raising the boy. Did Simon miss signs of impending disaster? Did he not truly know his son? The suspense builds inexorably as Simon struggles to find his child, while clinging to the belief his son is not a cold-blooded killer.
Was there a specific event that led to your writing Finding Jake?
There were two. The first was the decision to leave my full-time job and stay home with the kids, when they were about six months old. During eight years of my being a stay-at-home dad, various stories built up in my head, which partially led to this novel.
The second was reading Dave Cullen's book, Columbine. The book made a lasting impression, and I thought about the horror the Klebold family must have gone through. Cullen looked at all sides of what happened at Columbine. I thought I would write a book from the perspective of a stay-at-home father, and the framework for the novel evolved after I read Columbine.
How long did it take to write the novel?
The first draft took about four months. When Finding Jake was taken on by the publisher, the manuscript went back and forth between the editor and me. I had to revise the characters, softening some of them, strengthening others. It forced me to look more deeply at my characters, and they became more real. I used to write and not revise. Now, I've learned that revision is essential; and I know it's improved my writing. Sometimes, when you write something, you think it's great until other people read it. I also learned not to fall in love with my own words. The end of the novel is now shorter than it was in the original version. It was difficult for me to accept it needed editing because I felt very strongly about the conclusion. But after cutting it down, I have to admit it has much better pacing now than before.
In Finding Jake, Simon Connolly struggles with the role of being a primary homemaker while his wife works. I understand there are parallels to that in your own life.
There are many parallels. I didn't write exactly what happened in my life. I had many of the thoughts and feelings Simon Connolly has in the novel, but I fictionalized scenes from my own life. I frequently thought of scenarios I experienced as a stay-at-home dad, and used them, but in a fictional way.
The novel captures beautifully the social intricacies of being a parent in suburbia. Will you talk about that?
I worried after I wrote the book that people in my community would see themselves in the novel. I wrote from the father's perspective. It described a good deal of what I went through--feeling like an outsider--because being the primary homemaker is such a change in gender roles for a man. I tried to describe Simon's perceptions of living in that community as opposed to what was actually going on. A lot of what happens to Simon is of his own making. Feeling like an outsider, he doesn't quite know how to communicate with the mothers, and ends up misinterpreting many things.
Being a stay-at-home dad also showed me the many ways childhood and parenting have changed since I was a kid. The other day, I was driving with my son who stopped playing baseball some years ago. As we passed a baseball field, he said, "Dad, I retired from baseball in third grade." It struck me: I hadn't even started playing baseball in the third grade. Kids today grow up so fast and in such a different way. Everything seems to happen earlier, and in suburban communities, it's structured, intense and controlled.
Finding Jake is written in a lyrical and heart-wrenching way. Are there any authors who influenced your writing style?
Some authors amaze me by their writing. One is Donna Tartt, who makes you feel her characters are real, living and breathing people. They seem to jump off the pages. Another writer I admire is Michael Chabon. I read Gillian Flynn's Gone Girl shortly before I began writing Finding Jake. Her style inspired me. She grabs you and makes you want to keep reading until the last word. To me, writing is about entertaining the reader. I'm always looking for a book I can get lost in, one I can't put down. If I hear someone say that about Finding Jake, it's the greatest compliment I can receive.
Which authors did you read as a youngster?
When I was about fifteen, I got pretty sick and was almost homebound for a couple of years. Reading became an escape for me. I read nonstop. I loved books like Watership Down, Of Mice and Men, and many others. That's partly why I feel strongly about writing to entertain people. If I can do that for other people, it's as though I'm healing myself.
Are you still involved in medical writing?
Yes. I write medical communications and training material for pharmaceutical companies. But now, I'm also writing fiction.
If you could have dinner with five people from any walk of life, living or dead, who would they be?
Three seats would be taken by my wife and two kids. And my kids would probably pressure me about the other two. But to answer that question, I'll have to move away from my family, which is hard to do when you have kids.
What fascinates me most is finding a purpose in life. So, I'd love to sit down with Stephen Hawking. The concept of formulating one equation that explains everything seems so much simpler than dealing with all the questions we have to face every day. I'd love to invite Brian Boru, an ancient Irish king. My fathers' mother's name is O'Brian, so I tell my kids they're related to a king. I think I'd like to have my great-grandparents there; they came over from Ireland. And I'd love to have any one of the authors of the Gospels.
What coming next from Bryan Reardon?
What's next is the stress of writing a second book. I guess it's the typical sophomore dilemma. I spent ten years and countless rejections with earlier novels to get to this point. Now, I've submitted a second manuscript to my agent. The novel takes another look at the concept of not really knowing who you think you know.
Congratulations on penning Finding Jake, a beautifully written and gripping psychological suspense novel, plumbing the depths of the most pressing issues facing parents.
Popular in the Community