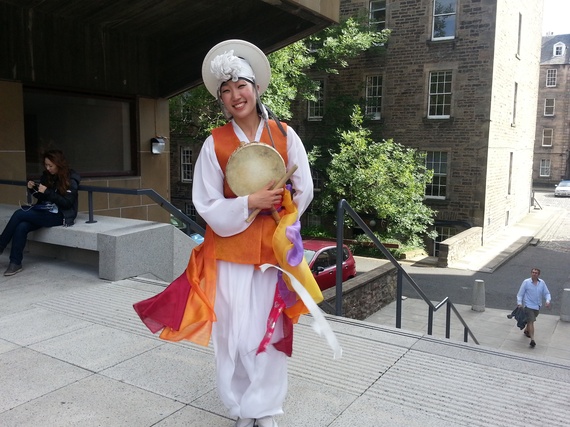 To my astonishment, the traditional cultural Korean show Leodo: The Paradise , which played as part of the Edinburgh Fringe Festival, was unexpectedly mesmerizing. My two girls couldn't take their eyes off the performers and the unbridled energy was magnetic. The rhythmic drumming coursed through my veins and enveloped the audience with the performers' enthusiasm. I could feel myself tapping along.
Leodo: The Paradise was full of high-octane drumming and energetic dance. The name Leodo is an imaginary fantasy island where the drowned dead dwell in paradise for eternity. The female drummer Yoo Jeong Oh kicked butt and was crazier than any heavy-metal rocker with her spectacular speed and showmanship. She owned the janggu (a two-sided traditional Korean drum) like no other.
Based on the ethnic folk tale of saying goodbye to the dead on the island of Jeju, off the coast of South Korea, the physicality of the dance involved handmade Korean hats with ribbons that unfurled from the top and spun in every which direction painting a beautiful visual image. It made the Olympic sport of ribbon gymnastics pale in comparison in terms of athleticism.

The Korean shamanistic dance ritual is called "Kut," which means "deep sorrow." It bears a resemblance to the traditional whirling dervish dances I watched in Istanbul, Turkey, except the Korean version we watched was joyous and celebratory more than seriously spiritual. The sadness is taken away the uplifting power of art, called "Shinmyung." Unhappiness disappears as the dancers, musicians and spectators rejoice in an elevated sense of nirvana. Funeral processions in Taiwan, where I was born, involves marching bands and dancers so it seems Asian funeral rites are much less somber than Western ones, which isn't a bad thing.
As part of the inaugural Korean season at the Edinburgh Fringe Festival, Leodo: The Paradise was brought to Scotland by Maro, the Korean Performing Arts Development Group. They've performed in New York City and the United Kingdom. Normally, they perform regularly on Jeju at a folk museum. If you get a chance to catch the traditional Korean performance on a tour or even in Korea, it's a dance and music ritual worth seeing in your lifetime.
In the morning, we watched a satirical kids' comedy poking fun at British propriety in a show called The Tiger Goes Wild. I thought the points were hilarious like having to dutifully wait, possibly until tomorrow, to cut into a chocolate cake just because the uppity moose couldn't find the proper utensil: a cake knife. It was a funny parody of Judith Kerr's classic, The Tiger Who Came to Tea. I can understand the subtle points of satire may be lost upon my children, and I'm kind of glad they're still too young to be sarcastic.
Calling all HuffPost superfans!
Sign up for membership to become a founding member and help shape HuffPost's next chapter