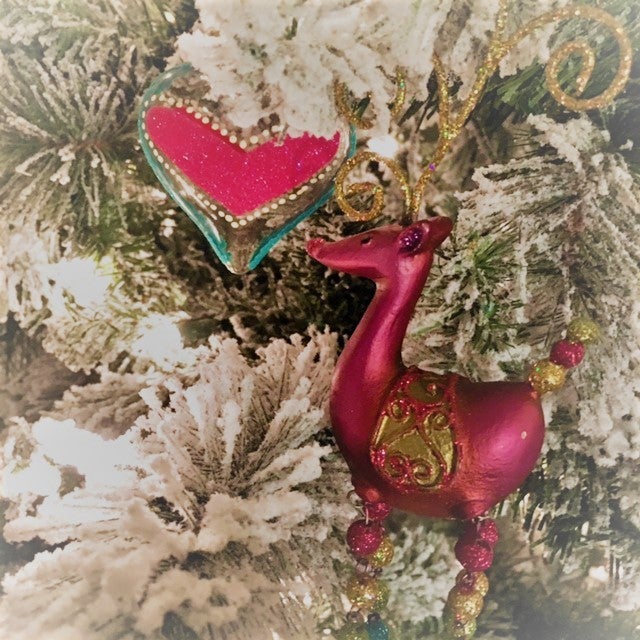 When I brought the boxes of Christmas decorations down from their crawl space hideaway a few weeks back, they felt heavier than ever before. I hadn't added anything new to the collection this past year, but it's the first Christmas since my husband and I decided to divorce, and my fear of renewed grief weighed on me.
I recalled last Christmas, when things began to unravel, as a two-man parade of grimacing smiles while we kept up the façade of happiness, a rictus holiday card for our daughter's sake.
Opening the ornament box this year seemed like a mistake. On top of the collection was my handwritten key to two decades of keepsakes: little drawings of each ornament with the year purchased and the location we found it. The wooden partridge from our first holiday…the bizarre Parisian jellyfish from our tenth…the Hawaiian dolphin from our 20th. It was our entire story in miniature.
Tears streaming down my cheeks, I closed the box, thinking, I'll never be able to do this.
But a surprising thing happened. When tree-decorating night actually came, my eyes were dry. My daughter immediately located her favorite ornament (a pink and gold reindeer with dangly legs), so that she could hang it first like always, and I was right behind her, adding red felt mice from my grandparents' Christmas tree.
Holiday music played in loops (heavy on the Kelly Clarkson and Ella Fitzgerald) and soon the room was aglow. At one point, my daughter broke a brittle glass peacock, and then insisted on hot-gluing it back together; the resulting frankenbird was hilarious, and she gave it a prominent spot on the front of the tree.
Just like that, we had a story to tell from our new life.
While my husband wasn't there, he was still present. Lily and l both spotted ornaments that seemed like they should be his, and she chose a decoration or two to save for his place.
He and I texted back and forth: Do you want the fox? Keep the felt fish! I can wrap up the octopus. Reaching out felt completely right. Loss doesn't have to mean erasure and, even split, we still have a shared language.
Later, when I finally curled up on the couch to revel in the magic of tree light, I experienced a moment of gratitude, and a clear realization: I can do this.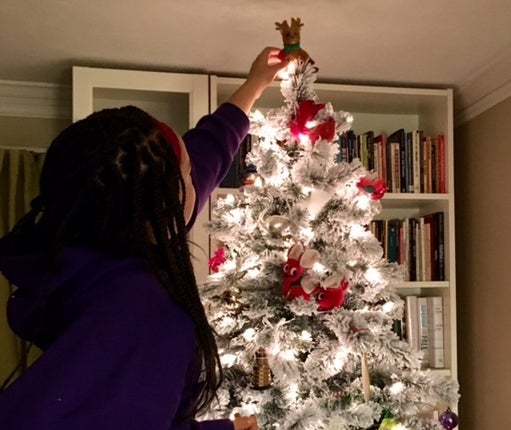 My warring emotional impulses, just days apart, were both valid, reminding me of the twin lessons I keep learning in this year of upheaval: to navigate loss, you have to allow yourself room to grieve and give yourself permission be joyful.
It sounds so simple but it can be confoundingly hard in any period of painful change, whether from death, divorce, unemployment or the end of a friendship.
It's easy to try and deny grief the space it needs. There's a desire to not burden others who might worry, a wish to show your strength and fortitude. Every month that passes, you feel more keenly the weight of expectation: the impatient voice in your head saying, Aren't you over it yet?
But bouts of renewed grieving (eventually less and less profound) can provide the body with physical catharsis, while offering the soul a reminder that is bittersweet but crucial: You can't have a loss without first having enjoyed a blessing.
On the flip side, as the emotional tides ebb and flow, and the intervals between waves of grief go longer and longer, it can still be easy to resist fully giving into joy. There's a kind of once-burned effect where trusting the pleasure of a moment feels risky.
But the biggest hurdle, paradoxically, can be facing the reality that life really does go on. The more you loved something, the harder it is to fully accept that you can indeed live without it. That's not a repudiation of your old life, but the first tentative embrace of the next.
More importantly, joy both sustains and then feeds more joy. It rewards your senses, even if briefly, lifting you into a state of being you may have thought wouldn't return for a long while. It's a reminder that you have not used up your allotted reserves; the well isn't dry.
Will there be more tears over the holidays? Sure. Will there be happiness? Absolutely. And I won't resist either—though I'm doubling down on the joy.
Case in point: My daughter wanted us both to wear unicorn onesies on our Christmas card. My first fatigued thought was that this was ridiculous and perhaps a little too jolly after the year we'd had. But she was firing on all dimples as she explained her idea, so I decided to go with it. (Happily, finding an adult male unicorn onesie in December was not difficult at all. Thank you, internet.)
Our Christmas card doesn't change the past; it leans forward with the optimism of the sparkling girl who suggested it. The smile on her face just glows, lighting the way ahead.