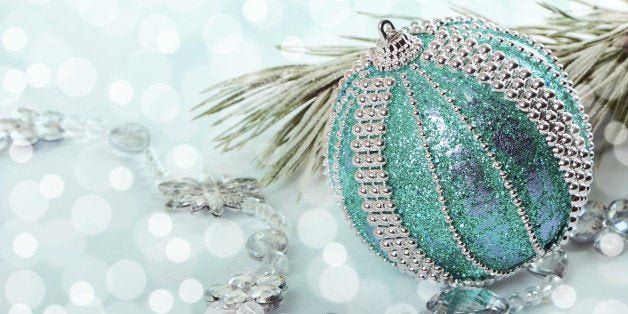 It's mid-December and I'm feeling the crunch and burn of the holiday season. My calendar and reminders are on overdrive, and I think it's possible that I've been to a grocery store every day this week. I'm balancing performance review time at work with holiday baking, present wrapping and shopping. I'm feeling a lot less joyful and a lot more frenetic, harried and stressed. I love the holiday season but simultaneously dread the uptick in my "to do" items.

So I'm trying to find these little moments of joy throughout the process. To keep me present and mindful of the joy of the season, I'm sharing my own list that gets me through (though I admit it's heavy on the Christmas holiday rather than Hanukkah or Kwanzaa):
Play a holiday movie (or music) when you're wrapping presents
Relive past memories when you're hanging ornaments. I send a quick text to a friend or family member when I see an ornament that reminds me of him/her. It makes me smile.
Turn off the lights and let the Christmas tree lights be the only illumination in the room. It helps me remember the reason for the season.
Plan out the week ahead and figure out when you'll have a little "me" time - yoga, reading, meditation, working out.
Stop at a coffee shop or teahouse when you're shopping. Sit and enjoy your drink for a couple of minutes. Great people watching too.
Take a bath with seasonal smelly good stuff
Light a candle. I love the smell of pine so there is usually one going in my house during the holidays.
Look for surprises. The other day I was on the Metro and suddenly a man started singing "O Little Town of Bethlehem." It was unexpected, and surprisingly, welcomed by all of us on the train. It made us all pause and enjoy the moment.
Plug in your headphones and listen to holiday music on your phone while you're standing in an obnoxious line.
Watch a holiday TV special virtually with a loved one. For example, my brother and I don't live in the same city and often watch A Charlie Brown Christmas or Rudolph at our respective houses. We text each other the lines before they're spoken, and it brings us back to when we were kids watching these together.
Sit by the fireplace and sip a cup of tea or glass of wine. Fire is mesmerizing and relaxing (well, a contained fire, that is).
Stream Christmas music and sing along in your kitchen while you make dinner.
Give -- your time or an item-- to a person or organization that needs it. You really do make a difference, and it makes you realize what is really important and how much you do have during the holidays.
So when it all gets real crazy in December, find those moments in the season that bring you joy. It helps you slow down, even momentarily, to remember what this time of year is about and how to enjoy the wild ride of December.