As the first week of 2010 is in full swing and online dating site memberships are at an all-time high, let's talk about the phenomenon of falling in love with a little help from Facebook. With over 350 million members on the number one social networking site, I have a feeling more of these stories will be coming to the surface. Facebook members sometimes turn into crushes. Singles have embraced the popular relationship status feature where they go from "Single" to "In a Relationship" to "Engaged" and then to "Married." We have to hope that in between we don't see "It's Complicated" when there's a bump on the road. Friends and virtual friends enjoy commenting online as they cheer you on with each status change.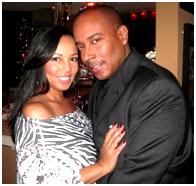 This week, I'm pleased to introduce you to another couple that have become a Facebook Love Story. Meet pop-star Tyler Collins and author and radio show host Alan Roger Currie, featured today as the Cyber Love Story of the Week. Alan's 20-year crush on Tyler Collins started years before he even had an email address. He watched her on TV and his heart went pitter-patter.
"I'm glad my first exposure to Tyler was her answering questions," said Alan. "Otherwise, I would have just emphasized her gorgeous looks and sex appeal. Instead, because of the interview scenario, I was immediately smitten by how intelligent, articulate and down-to-earth she seemed. She was my first true 'celebrity crush' from that point forward," added Alan.
Later, in 1995, Alan worked in Beverly Hills, California with a friend named Robert whose girlfriend, Tamar, just happened to be best friends with Tyler. Robert offered Alan the opportunity for a formal introduction, but Alan respectfully declined when Robert informed him that Tyler was already romantically involved with another gentlemen.
Fast forward to 2009. Alan noticed Tyler on the "friends" list of an acquaintance on Facebook. Alan sent Tyler a friend request, and Tyler accepted. Once again though, Tyler was categorized as "in a relationship." To Alan's surprise, her relationship status changed to "single" approximately two months later, and Alan did not waste any time expressing his interest and attraction for Tyler. After exchanging phone numbers, the romantic chemistry between Alan and Tyler took off immediately.
After close to six months of constant phone conversations and endless emails, Alan and Tyler finally met face-to-face on December 29, 2009. The two shared their now solidified love affair with all their Facebook friends and changed their status to "In a Relationship" on the very same day.
Even though the new couple is maintaining a long-distance relationship for the time being (Alan resides in Northwest Indiana while Tyler lives in Southern California), the two plan on being together permanently before 2010 comes to an end! According to Alan, marriage is in their future.
For Tyler and Alan, it's proof-positive that sometimes the best things in life are worth waiting decades for.
Finding long lost loves or cultivating new ones is not new to Facebook. Last year's big Facebook love story was Kelly and Kelly Hildebrandt, who tied the knot in October of 2009. This story warmed everyone's hearts. It started when a girl named Kelly Hildebrandt who resided in Florida, contacted the boy named Kelly Hildebrandt who resided in Texas. She found his name when she typed in her own in a search. Surprised that she found someone with both her same first and last name, she contacted him and a friendship started that turned into love.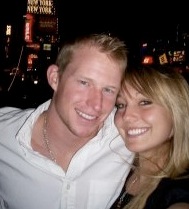 After interviewing the Kellys, I decided to type in my name on Facebook and found a now-defunct Cadbury candy bar with my namesake. Lucky for me, the chocolate temptation to buy the entire stock abruptly ended and a Facebook love affair didn't blossom. However, I did join their Facebook group along with over 600 other fans.

Curiosity for those connecting on Facebook will continue to grow. Old flames will reconnect and friendships going back to nursery school may get rekindled.
This week, I received an email from a man in Los Angeles asking if we were related. We had the same last name and he found me via Facebook. Together, we tried to trace our heritage back to Ellis Island to see if indeed there was a bloodline involved. It created an instant connection and I now have a new friend. While there was no love or romance involved, I found out that both of our cars were being serviced at the same dealership on the same day. In error, I received his car instead of mine due to us having the same last name. The magic of Facebook allowed us to share that story together.
If you are inclined to take it a step further from doing a simple search, there are numerous dating applications on Facebook that will expedite your search for finding love online.
If you have a Facebook love story to share, I'd like to hear from you. Spreading good news about finding love through social dating and online dating gives hope to singles that one day, they too, may become the next Cyber Love Story of the Week.