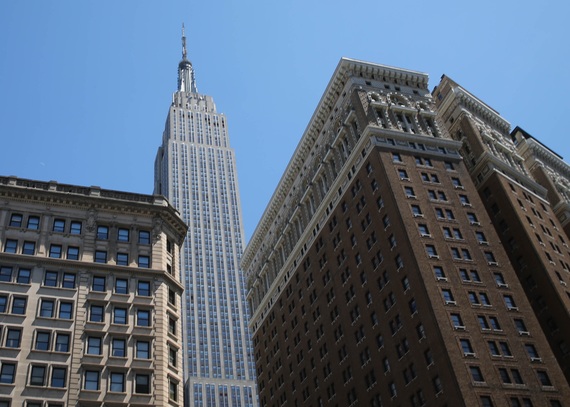 Remember the original Ghostbusters? It's been a generation since that blockbuster showed us a spookier side of New York City.
With the third sequel only a few days from being unleashed on the world, we had to return to Manhattan to revisit those haunts and to educate our kids (who, ahem, weren't even alive in the 80s) on Ghostbuster lore.
Confession time: I'm a super fan. I still have the complete set of Ghostbusters and Ghostbusters 2 trading cards.
To bring my kids, ages 9, 11 and 14, up to speed, we showed them the first two films. As we watched, I paused intermittently to make notes of the locations. (Yes, the kids were annoyed, but I got some great information.) Then we created a Google map with all the major filming locations from the 1984 film for our big weekend.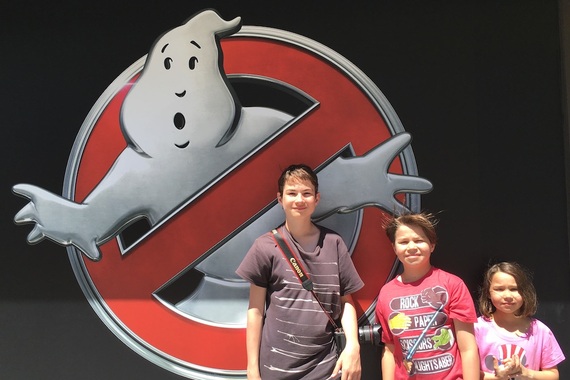 Based on the map and our plans, we booked a room at the Marriott Residence Inn New York Manhattan Midtown East. Not only was it centrally located but we wanted to stay in a place with a full kitchen that looked like an apartment for a very special scene reenactment. When we checked in we found out that our high-level suite had the added bonus of a balcony that overlooked East 48th Street and several roof-top patios.
Marshmallows in the Temple of Gozer
On our way to 55 Central Park West, where characters Louis Tully and Dana Barrett kept apartments in the film, we followed the path of the Stay Puft marshmallow man. Who can forget the movie's sweet-faced climactic villain?
I'm not sure how it happened but my kids convinced us that we needed to carry marshmallows in honor of the journey.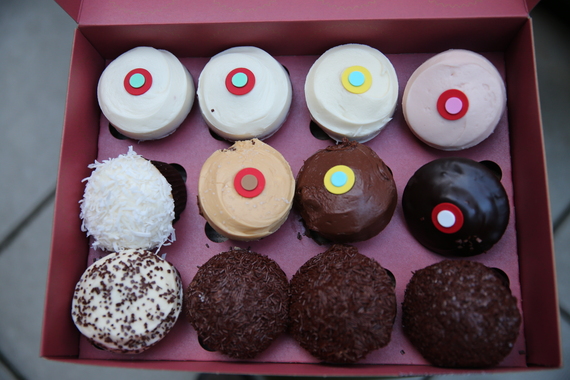 Sprinkles on Lexington had a collection of cupcakes with marshmallows as a main ingredient. And hey, they kind of look like marshmallows, sitting in the box. It'll do.
We're secretly hoping that in an upcoming film ghosts will emerge from Sprinkles' one-of-a-kind cupcake ATM. The thought of decorative mini-cakes floating up and down the street while carried by invisible ghosts had the kids in stitches as we made our way to the Upper West Side.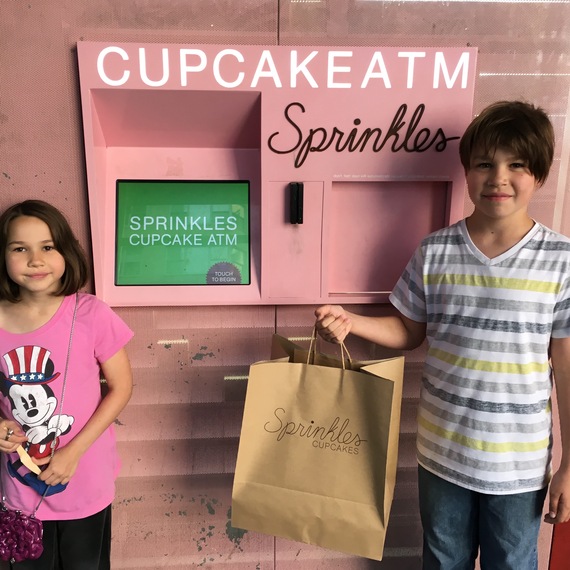 Somewhere between Rockefeller Plaza, Times Square and the New York Public Library the kids started to complain about needing "real" food. (What, cupcakes aren't enough for you? Gettoutahere.)
Then I remembered a scene where Slimer escapes the Ecto Containment Unit and gorges himself on hot dogs from a cart. So in honor of our ectoplasmic glutton I found a place for hot dogs near Grand Central Station.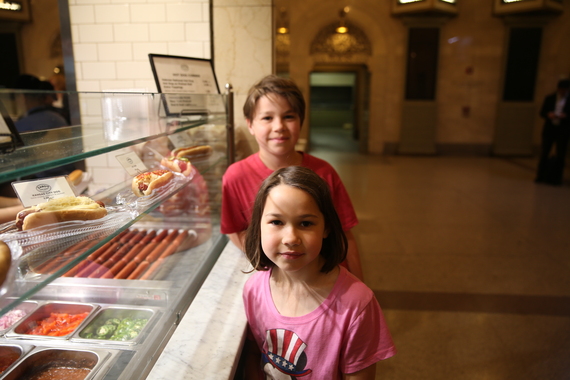 Turns out there's a whole bunch of places that serve hot dogs here. It's a thing. After looking over the competition, I began to wonder why there aren't any scenes in this historic railstop. We had a fantastic time exploring each level and walking down the smooth marble steps into the underground food concourse.
Zaro's Bakery is off in a far corner but they have a decent selection of specialty dogs and most importantly plenty of seating nearby. As we waited for our feast, the kids shared stories about our Ghostbuster pilgrimage with anyone who would listen. Too soon we left with one of each selection from the menu to settled down for lunch. We weren't as messy as the spudhead, but we definitely ate enough.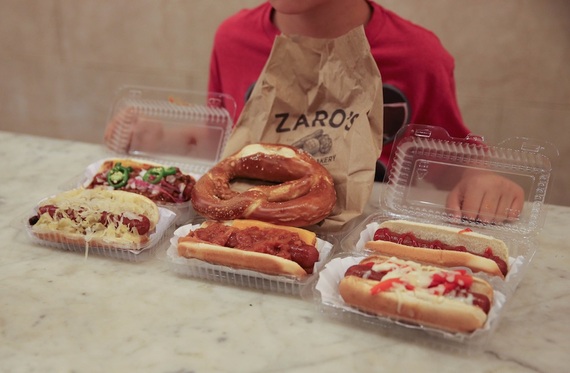 Zuul the Gatekeeper of Gozer
At the end of a long day wandering the streets of Manhattan from Columbia University to City Hall, we picked up a few supplies for our scene reenactments. I think this was the kids favorite part. It was a little messy but we all had a good time.
On that evening, we tried to recreate Louis Tully's party in our hotel room (sorry, Marriott!). We were sure to include smoked salmon from Nova Scotia and brie. The kids were a little disappointed that Vinz Clortho, the Keymaster, didn't emerge from the bedroom.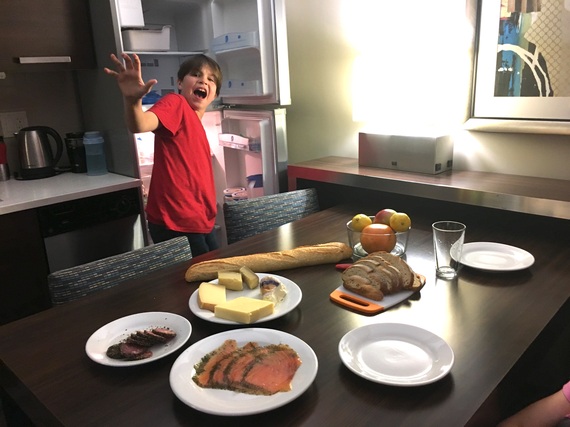 Our next scenes were set in the kitchen of Dana Barrett. You may remember when Dana returns with groceries and objects start to levitate in her kitchen. It's the scene when she is chosen to be the host for Zuul. The eggs we tossed on the counter cracked but none of them fried. I'm afraid we're lacking in ghostly powers, to the relief of the hotel's housekeeping staff.
In a later scene in the movie, Barrett is sucked into a refrigerator while seated in a white chair. We used the wheeled desk seat to zip around the kitchen but no one was chosen by Zuul. That's probably for the best.
Now that we've had our fun in New York, we're looking forward to watching the new reboot. We hear that many of the scenes were filmed in Maine. Sounds like another road trip to me.