I guess you could say the entrepreneurship bug bit me back in 2011 when I started freelancing in graphic, web design and digital marketing. I always considered it more of a hobby because I work full time in business development. Designing helped me stay creative in a different way than working in sales did, and provided me with a balance. Some people do yoga, I do digital marketing and design. So with all my free time, I poured my energies into that.
Fast forward to winter 2015 and I found free time is no longer in my vocabulary. We relocated our family from Florida (back) to Minnesota, my husband's work was taking him overseas for extended trips; we have two beautiful girls under the age of three, and a massive home renovation taking place. I find myself now working in the role of Director of Business Development at a talented technology firm in the twin cities. Yep, doing all of the above, feeling incredible "mom guilt" for never being good enough (whatever that is), and unknowingly maxing myself out in the process. Does any of that sound relatable?
I finally hit a wall late spring and was forced to stop examine my life. I think many mothers can say that at some point in the journey of parenthood that they feel like they have lost themselves. Actually, I think many folks in general can say this. Having so much to be thankful and happy for, but for some reason internally not feeling the same.
After a lot of searching, it hit me. I needed to do something for me and only me. So slowly, I started to change my way of thinking through cognitive behavioral therapy and one majorly supportive husband. I purposely started to carve out time to write and design again. I started practicing and reading up on kindness (I think I am not the first to admit it does not always come naturally). Suddenly I found myself re-energized about life. I began blogging for The Huffington Post and revamping the "dusty" website I had sitting around, www.MilaMarieOnline.com. Funny how a change in attitude and some better time management can put new ideas and opportunities in front of you.
So back to the whole reason I am writing this. When my first daughter was born, I created Mila Marie Online as an e-commerce site with the thought that I would sell other manufactures children's apparel. It never took off because it had no focus or life behind it. Coming back to it this spring, I decided I did not want to rely on others to do what I am capable of. I dove into learning about what it takes to launch your own apparel line. Yep, pretty blind decision now that I look back on what I have learned the past six months, but I went for it and am still going for it and learning a ton.
It was easy to pin point what the concept and focus behind the line would be because it was what
brought me back to the site in the first place, finding internal happiness and shedding light on the quiet conversation of anxiety and depression that so many struggle with. How spreading kindness and uplifting others can play a huge role in this conversation. With that in mind I started playing around with typography (fun) to going through the UPC and SKU process (not fun) and everything in between. No matter how tedious or time consuming these various roles in starting the line have been, it was all me which brought back that spark I felt I had been missing for so long.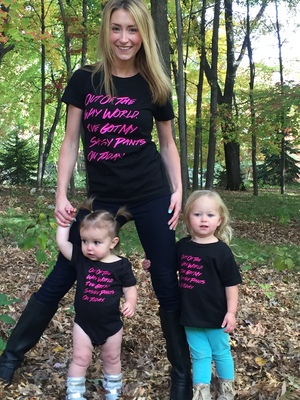 My girls and I sporting matching apparel from the Mila Marie line.
Some people use the word momtrepreneur to describe me starting a business, but I stop them because simply entrepreneur will do. Yes, being a Mom is a title that brings me extreme happiness, but it is only one title that identifies me. I know that having it encapsulate my entire being and platform for happiness will ultimately not lead to complete internal happiness. We live in a society where internal happiness is literally at your fingertips if you just know where to look to re-spark your flame and have the courage to move forward with your (sometimes unknown) passions and move beyond your current titles in life.
Have you ever felt this way as a mother? How do you distinguish between the various titles you carry and carve out to enjoy your personal hobbies that keep you you?
Related