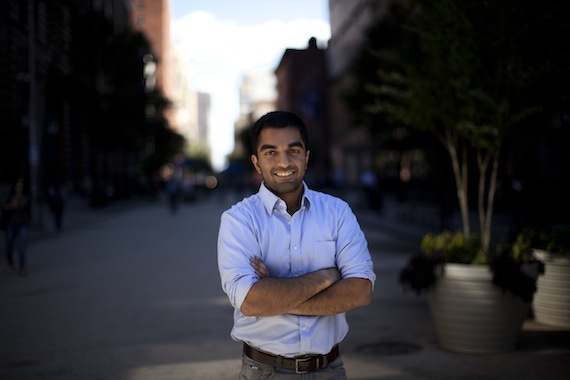 Usman Hameedi, photo courtesy of Julie Hassett-Sutton/Frantic Studio via Global Kids
My family immigrated to the United States from Pakistan. I was born in Brooklyn, New York soon after.
In high school, one of my teachers asked some of the older students to take me along to the Global Kids Citywide program that met every Friday in Manhattan. There were kids from all over New York City. We had different ideas and perspectives, but one guideline we learned was One Mic, meaning, one person speaks at a time. If I'm talking or if another person is talking, then the rest of the group would listen. It's important to know when to speak, but also to know when to listen. This is one of the ways Global Kids gets people comfortable enough to share their stories. It can be difficult when you think no one is going to respect your ideas or no one is going to care.
Before Global Kids, I had a fear about what would happen if I opened my mouth. Would I get myself in trouble? Would I get my family in trouble? Global Kids taught us that what we have to say is important and that it can contribute to the discussions at hand.
Through some writing workshops led by Global Kids staff, I was ultimately able to come to terms with the anger, frustration, and deep sadness that I harbored. The root of these emotions was September 11th. On that day, my friend, my brother Salman Hamdani lost his life. He was a first responder and went to Ground Zero to fulfill his duties. He never returned home.
Having to deal with his death as an 11-year-old was overwhelming. Having to deal with my Muslim and Pakistani identity added an additional layer of complexity. I had problems that people my age, or people with complexions unlike mine, didn't have to face.
So Global Kids was a sanctuary. Global Kids helped me feel confident enough to share my story. The power of poetry is creation out of the ethereal. Using language, we can take our ideas and experiences and present them in a form that is accessible to audiences. In this way, our stories can help others grow and sometimes even heal.
Global Kids combined what I was already doing -- becoming more of an extrovert through these workshops -- and channeled it into an art form. I started writing poems very young, but it wasn't anything serious. I just enjoyed putting words together. This family gave me a great place to develop and helped me uncover a gift.
Global Kids was a tremendous part of my high school education. I was valedictorian of Benjamin Banneker Academy and, with the help of Global Kids, I was able to get the Posse Foundation scholarship to Brandeis University.
At Brandeis, I was initially intimated by the privileges of the people I met. But I never forgot the lessons from GK. I knew I should not shy away from conversations if I have value to contribute.
Currently, I am pursuing a Masters in Biomedical Sciences at Mt. Sinai. I will be applying to both M.D. and M.D./Ph.D. programs in the near future. The dedication that Salman had to medicine, scientific research and human life will be the standard by which I will practice in my own career.
I am truly thankful I went to Global Kids' Citywide program that evening. It built so much of my character and gave me a new, positive direction. Global Kids showed me that our stories and the experiences that carve them always matter and are needed to be heard.
Popular in the Community