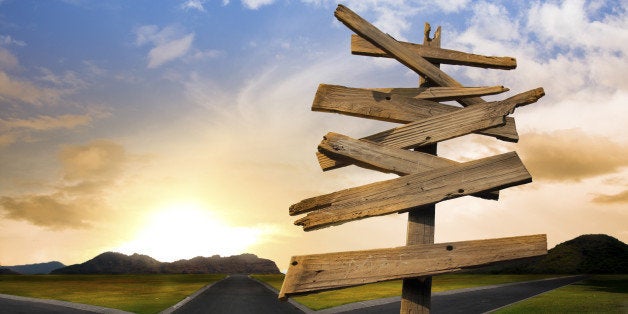 I had a strong sense of self before my first pregnancy two years ago, but throughout the process of growing my son, the only certainty I possessed was that my entire identity was not, "Mommy," yet I felt, and continue to feel, this exclusivity thrust on me because I fail to report into a corporation and adhere to a schedule determined by an outside, faceless entity.
Newly unemployed throughout my pregnancy, I kept myself busy with volunteering opportunities that were not all that engaging, but they engulfed time, and I had the freedom to waste my time as I saw fit. I decided that I would pursue part-time employment because that is what every mother who has the option should choose, right? Because I wasn't already working somewhere I loved, considering full-time work carried my personal judgment that I would be a terrible person if I made such a choice; we don't need what would amount to my paltry income when staying at home was the more appropriate, noble choice. Mind you, I don't have such a judgment of other women who choose full-time work for any reason; perhaps it was because I was so ambivalent about having my own children for so long that choosing a role as primary caregiver would convince others and myself that I was invested.
Time trudged; my son was born, and the first year of Mommying was spent with moment to moment things. The gods of good social fortune blessed me with valuable friendships through that time. I organized a new mom social group and waited; for what I still can't say.
Staying at home has a strange internal clock. No longer could I say there was a blur of infant tasks to accomplish that absorbed every ounce of brain power I possessed. My little man was growing, and I eventually exhibited coherent thought that couldn't be denied by anyone...mostly. The times were changing. My friends and I stopped meeting quite so frequently as they experienced similar personal drives.
In some respects my future is a blank slate, which is horrifying or at least unsettling despite the envy of some for the liberating possibilities, even if they aren't entirely limitless. It occurred to me recently that my personal endeavors outside of raising my wonderful 18-month-old boy are not as vacant as I've managed to convince myself all this time, and it has been, and will likely continue to evolve as all dynamic things do.
I think part of the problem with how I've considered my personal pursuits are that I label them as needing to fulfill requirements I've made up, but have no real bearing on anything real. For so much time I only considered my work legitimate if it adhered to a specific schedule outside the home and I was receiving monetary compensation for my toiling. If I ever decide to run for a political office, no one can say that I'm not an American... But, if I stop minimizing my fairly recent accomplishments and look through a larger lens, I've managed to meet much of my need for independence while living an example that make me proud that I am a human with the capacity to help improve the world in my small way, as well as enjoy and challenge myself regardless of the lolls that inevitably transpire throughout this process.
With the chronicle of my experience in a personal blog I've found a voice that I've never particularly had, and that has value... and witnesses, as I've surprised myself with a slow, but steadily growing readership. Even if my following never flourishes from here, why can't I consider this pursuit a success? Along a similar vein, a few months ago I started writing short stories and submitting them to contests. I've had dreams of having something published since college, but I never had the determination nor courage to set finger to key. And, true, my chances are probably slim in winning one of these literary magazine contests, but an editor sent me a very kind unsolicited rejection. I did not make the finals, but she liked my story quite a bit.
Then there are my longtime, consistent passions. For a couple of years now I've been an educational consultant and advocate for disadvantaged families, and even though I've had several cases, I have difficulty claiming it as an occupation because I don't accept payment. Perhaps it is strange to dismiss my work because there is no financial gain, merely a human one. I've had the privilege of helping struggling families form clarity and a plan that is in the best interest of their child. So when people ask what I do, why can't I tell them that? I don't know.
Even more recently I've started volunteering through an agency that provides pschoeducational groups and educational classes/tutoring for the Department of Corrections. My work with the agency started as one thing, and has rapidly changed course at a vertigo inducing rate. At this juncture I've written a few different group and class curricula, one, a literacy class, I may begin teaching this summer. Additionally, I am building and coordinating a multi-tiered tutoring program that prepares inmates for successful completion of our state's high school equivalency exam. As coordinator my responsibilities will include supporting tutors, creating curricula, and program development. If I am successful, this small pilot program will likely be implemented in other institutions.
All of this in roughly the last nine months, so why do I torment myself with the fallacy of personal stagnation outside of Mommying? Admittedly, this isn't ideal on every count, but my next pursuit is to give myself permission to enjoy the fruits of quite a bit of labor and the patience to know that nothing is an end unless I determine it is.