A child's most valuable asset is unquestionably their imagination. Untainted and innocent, their imagination is not restricted to what society considers to be normal, weird, or impossible. As adults, it's our responsibility to never take that away. It's our responsibility to let them dream as big as the sky, as deep as the ocean. To do whatever it takes to help build that ladder, canon, or rocket ship that will get them there.
Finding Neverland on Broadway partnered with Canon and The Situation Project to bring a group of students from MS 343 in the South Bronx to photograph the show - a first for a Broadway production - and today, the students' photos are being officially released for the world to see.
Broadway's smash hit musical Finding Neverland tells the enchanting story of how Peter became Pan. "Finding Neverland is about the power of creativity and seeing the world through the eyes of a child. So it was thrilling to watch the MS 343 students tap into their own imaginations at our rehearsal," said Finding Neverland producer Harvey Weinstein.
Canon provided the tools for the students to unleash their imagination through their photography. Middle schoolers from MS 343, District 7, were each given a Canon Rebel T6i to use, learning how to navigate what is has to offer with the help of Canon employees on site. These lessons ranged from types of lenses to best practices for capturing that perfect moment. Senior Marketing Specialist, Canon U.S.A., Inc. Paige Michaels explained, "The music and arts programs are the first to be cut in school districts. We [Canon] want to allow the students to explore their own creativity. They're the future generation and we want to show them how important photography is and all that you can do with it."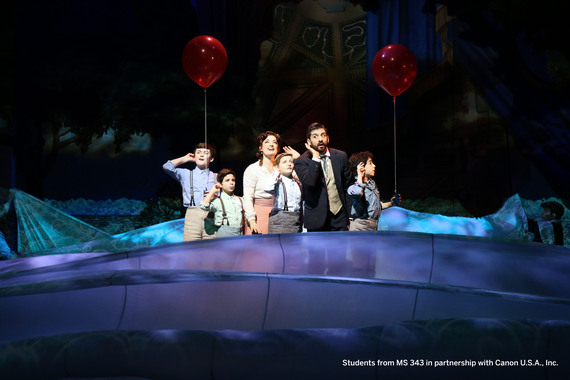 Over the last five years, The Situation Project has helped provide over 10,000 experiences in the arts. "We believe the world is a better place when people are doing things rather than having things. My whole career has been based on the idea of empowering experiences in people's lives," said The Situation Project founder Damian Bazadona.
This was the first time Finding Neverland performed a dress rehearsal in front of any type of audience. Principal of MS 343 Vincent Gassetto explained, "The students got to see the director stop the rehearsal, and make a correction. They saw professional actors make mistakes, which they didn't expect to see. The students learned that no matter where you are in life, you make mistakes, continue to work hard, and always practice."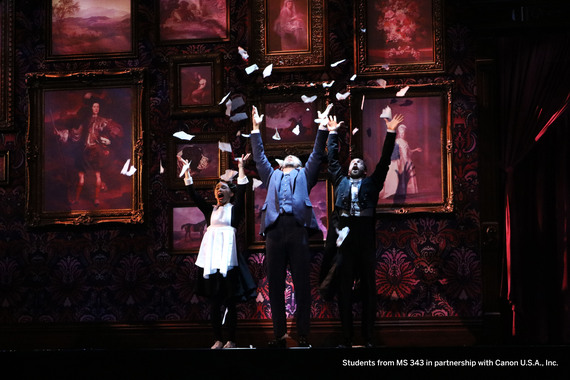 The passion from each partner to help these students and to give them this never been done before experience is instrumental. "You take a group of kids that are doing really remarkable things with a fair amount of odds stacked against them and you're showing that you care. That sense of care has so much value. They're remarkably talented," Bazadona explained.
Canon was involved every step of the way in this partnership. From teaching the students how to use the products to sending two cameras back to their school to evolve their skills, Canon truly cares. They didn't just slap their logo on this partnership. Michaels added, "You could tell the students weren't forced to be there. It made me realize that we [Canon] need to be doing more programs like this in the future."
Photos and a behind-the-scenes video of the students' experience at the event, which took place on Friday, January 22, 2016 at the Lunt-Fontanne Theatre in New York City, can be viewed here: www.FindingNeverlandTheMusical.com/imagination.
Related
Popular in the Community