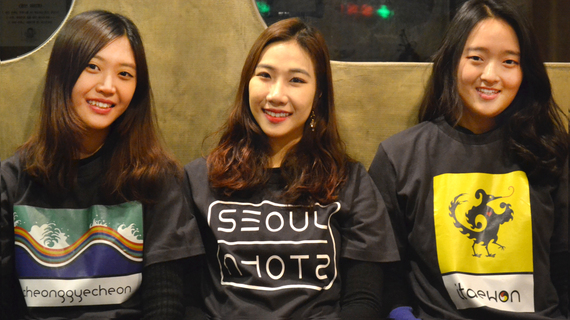 The Korean Wave swept Asia a decade ago and put Seoul on the map as a cultural epicenter that no one had imagined was possible. But for all the success of the TV series about the palace kitchen Dae Jang Geum and Psy's "Gangnam Style" there is an increasing cultural entropy in Korea and commercialization of cultural contents that has undermined the cultural creativity that so many have held high expectations for.
Jin Yong Lee is a young artist in Seoul who has actively set out to imagine a different potential in Korea and has pounded the pavement seeking out people who support his vision. He envisions a cultural metamorphosis that will shake Korea out of this torpid motif of rapid industrialization that dominates its received tradition.
Jin Yong refers to himself as an "Imagineer" (Image + Pioneer), someone who wants to move beyond the limited concept of "branding" which dominates Korean thinking about Korea's cultural value. "Culture is about aesthetics, philosophy and literature, not 'branding' a soft drink. We need to create a transformative civilization, not a new commercial fad," Jin Yong explains.
Jin Yong grew up in Korea, Taiwan and the United States and went on to study illustration at the Rhode Island School of Design. He came back to Korea with a clear vision for what he wanted to achieve. His concept of a cultural renaissance in Korea dates back to his studies with art historian Pascale Rihouet and digital media critic Richard Gann. He came to see the nature of material culture as the determining factor in true innovation, as opposed to "innovation as a show."
Jin Yong has taken the first steps towards realizing a cultural Renaissance in Korea that reinterprets traditional culture and combines it with the potential of emerging technologies to create a compelling paradigm shift.
Jin Yong argues that Korea can become the center for a new civilization not because of its strengths in the automotive sector, or even its domination in popular music, but rather by affirming its traditional ethical values and aesthetics. He notes that Korea's tradition of "universal benefit" (hongik Ingan) and of the "compassionate intellectual" (seonbi) is something the world seeks desperately if we want to create a globalism that is not alienating, but rather promotes collaboration and cultural diversity.
Jin Yong explains, "Often Korean philosophy is overlooked by Koreans because it seems old fashioned. Koreans felt compelled to conform to international standards and downplay traditional culture. We Koreans have not lost our identity, but we have lost our confidence in Korean culture's universal value."
I met Jin Yong Lee two years ago in Seoul and learned of his big plans to revive Korean culture. I immediately invited him to join the Asia Institute and to contribute to our artistic efforts.
We launched together a project to promote Seoul's culture and encourage pride among citizens in the history and culture of neighborhoods. In fact, I wrote a book about the cultures of Seoul in which I stress the importance of neighborhood cultures. I previously designed a T-shirt and a mug cup with a logo for the city of Daejeon that drew its inspiration from the city's ecosystem.
We decided to create a series of logos for neighborhoods in Seoul that play on cultural and historical themes. We have released so far three T-shirts for the public and we have plans for at least five more T-shirts in the near future.
One T-shirt features "Seoul" in both Korean and Roman letters in a stylized form. There is also a T-shirt for Itaewon featuring Sam Jok-o, the three legged phoenix accompanied by the triskelion that is a universal symbol for balance and eternity, and a T-shirt for the Cheonggyecheon River which flows through downtown Seoul which uses traditional Korean color patterns.
We believe that this new emphasis on the cultural identity of neighborhoods will give a new pride to Koreans and draw attention to cultural complexity in Korea. Korean culture is often presented as a homogeneous whole made up of kimchi and bulgogi. We want to make it clear that towns and neighborhoods have their own spirits. That is so obvious in Europe, but in Korea it is a revolutionary idea.
Calling all HuffPost superfans!
Sign up for membership to become a founding member and help shape HuffPost's next chapter