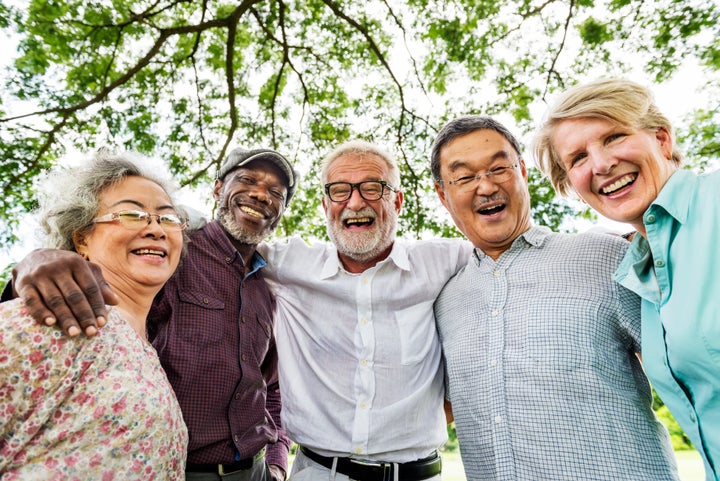 "I feel like a petunia in an onion patch," Douglas* says one day during a visit. Douglas lives in a single bedroom covered in pictures and memorabilia in a nursing home. "Do you think there are any other gay residents here? I mean, there have to be, right? But I've never met any." He says he's not sure who he can share his sexual identity with, because he's not sure who will and won't accept him. He often spends time in his room, a place that he has made a safe haven, and confides in select people, like his social worker or music therapist.
Douglas is not alone in his feelings. It is estimated that there are over 2.4 million older adults in the United States who identify as Lesbian Gay Bisexual & Transgender (LGBT) with numbers expected to increase by the year 2030. However, the challenge with these numbers is finding accurate counts of the older adult LGBT population, as many surveys do not ask about sexual orientation or gender identity, and therefore have incomplete data. In addition, many older adults are not as open with their sexuality as it is only relatively recently that society has become more accepting of the community. LGBT elderly may also experience this fear when entering a nursing home, as living in a facility can bring back feelings of a time when sexual orientation was considered pathology. Individuals either feel safer going back into the closet or have never come out. The need for safe spaces in their community is vital, as many fear that their care will be compromised if they are open with their sexuality or gender identity.
Meeting with Douglas, we realized that creating that safe space with a group of other residents at the Hebrew Home could help him and others feel more comfortable. We brainstormed with Douglas ideas for a group and put up flyers for a first meeting. We began to see that just as we had hoped and assumed, there were other LGBT people here in the nursing home! We discovered that there were people who were allies — ready to support the LGBT community vocally, whether because of family or friend identified as such, or simply because they felt it was important. Both of these groups wanted a space to feel accepted and to advocate for others.
We started meeting in a shared library space and decided what we wanted the group to be. While being LGBT or an ally may have certainly brought people to the group, no one who joins has any obligation to identify their sexual or gender preference unless they feel comfortable doing so. The only things they must do are agree to the group's shared rules and values, which ensure that everyone will be treated with respect and feel comfortable to speak in the group, knowing that what they say will not be shared outside of the room. We may discuss LGBT issues in the news, learn more about the spectrum of gender identities, or share experiences from our own lives.
People were drawn to join the group for many reasons. Sylvia, a lifelong advocate for others, was looking for a place where she could speak to the topics that felt important to her. As someone who was a part of many organizations and causes, she recalls her younger years as "protesting whatever made me angry" and remembering the AIDS crisis. Susan wanted a place where she could truly be herself and share even more deeply than in her art studio programs. And Arthur came, moved after the Orlando shootings, feeling that he needed to do something. As we continued to meet, watching videos about Stonewall, inviting a transgender speaker, and sharing our own stories, the group members began to share things they hadn't before. Douglas shared that he had been in the closet for most of his life, an elementary school teacher scared for his job if he came out. He said being in this group was the first time in 85 years of his life when he could truly be himself.
As the group continued to meet, a stronger feeling of advocacy grew. June was around the corner and everyone wanted to celebrate Pride month. After talk of trying to get on a Pride float, Arthur said, "Going to the parade would be great, but we should start here, do something at our home." It led the group to the idea of hosting a table to bring awareness, share information and bring Pride to the Hebrew Home! The residents were very enthusiastic about the idea, but also concerned about the possibility of a negative reaction from others, being aware of past reactions to LGBT, both historically and in the current political climate. Sylvia stated in a blunt, matter-of-fact way, "Just tell them, 'Thanks for sharing, have a [Hershey's] kiss.'" Yes, we were ready.
It turned out, however, that sassy retorts were unnecessary. The day of the Pride Table, we were overwhelmed by the positive response of the staff, families, and residents of the home. Residents came and stayed for hours (with a lunch break, of course), wearing hats with rainbow stickers on them, with one resident calling out to people, "Step up and find out more about the LGBT!" Douglas came to the table and stayed almost the whole day, offering stickers to staff, volunteers, and other residents. Sitting next to him, we saw him smile each time that someone accepted a sticker, or shared a story of pride, or said they were so excited to go to the parade tomorrow. For 85 years, he had been too afraid to be fully himself. Now, at a nursing home, he finally could be fully Douglas. Sitting at the table with him, we were struck by how important this group had become to the members. Sylvia had rekindled her youthful protesting fire, Arthur knew he was doing something to make a difference in his own home, and Susan had a place where she could truly be herself. Many people have ideas about the ways older people are and behave, but Arthur lets everyone know, "Don't underestimate us."
Looking over at Douglas as we cleaned up the table, watching him talk to his fellow protesters, supporters, and group members, we could see he was no longer the only petunia. He had found his patch.
The LGBT and Allies group is run twice a month by music therapist Liisa Murray, MT-BC, LCAT, and Olivia Cohen MT-BC, LCAT, music therapist and manager of therapeutic arts and enrichment programs at the Hebrew Home at Riverdale, a non-profit nursing home in the Bronx.
*Names have been changed upon the request of the individuals
REAL LIFE. REAL NEWS. REAL VOICES.
Help us tell more of the stories that matter from voices that too often remain unheard.