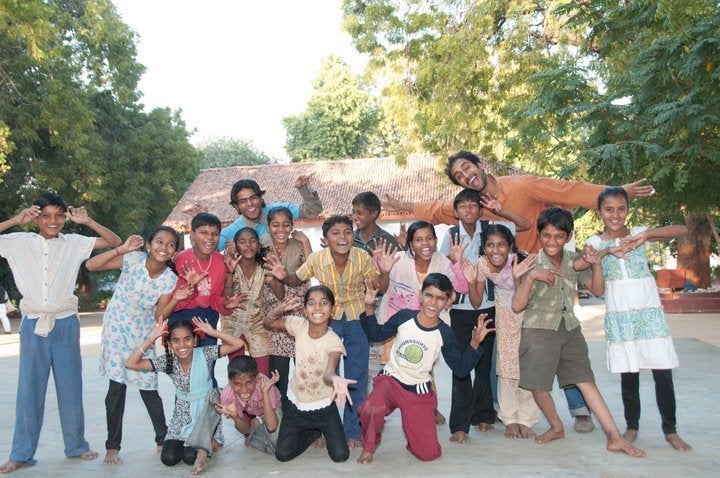 Fame and fortune crowned this gifted artist early on. He rocketed to stardom barely into his twenties. But Nimo remembers the dark despair of lying awake at 2 AM with a searing question: "Is this it?" In the eyes of the world he was living the dream but, "I was not at peace, not content. I began wondering, where does this all go, where does this end?"
How to Find Your Purpose and Do What You Love
The Power of Self Compassion
177 Messages Of Kindness

Nimesh Patel, better known as "Nimo" to friends and fans, was drawn to music straight from childhood. His casual classroom raps eventually evolved into full-blown songs and in college, along with a few friends he started the groundbreaking band Karmacy. Much to their own surprise, Karmacy's hip-hop rap fused with thoughtful, bi-lingual lyrics struck a deep chord. Their popularity caught and spread like wildfire. The road to glittering success entangled Nimo in a world of oversized egos, superficial connections and banal pastimes. All of which led to the existential crisis of his 2AM wakeup call: "Is this it?"

Fortunately, it wasn't. Not for Nimo, and not by a long shot.

The Show That Changed Everything

"In 2002, I was in NY living it up when a friend from LA called me up to say that I had to go see this show in New Jersey!" Nimo recalls, adding with wry humor "Folks in Manhattan don't typically get jazzed about shows in New Jersey, but something pulled me there."

EKTA, the show he saw that night, would ultimately change the course of his life.

The performers were 14 interfaith children from the slums of India. They had trained for a year and a half to bring to life a dazzling performance centered on the values of 'ekta' (unity) championed by Gandhi and Martin Luther King, Jr .
Witnessing them in action Nimo was transfixed. " As I sat there at the peak of my 24 years of material gains, and achievements, my mold was completely shattered. In front of me were 14 of the most materially underprivileged beings in our world…. and yet, they were the ones shining, teaching, sharing, smiling … they redefined for me what it means to be rich."

And just like that, a seed was planted in his heart that would quietly conduct a tremendous blossoming.

Finding Nimo
Over the next decade, Nimo's path took a series of unexpected twists and turns. He faced a punishing Repetitive Stress Injury that forced him to rethink his lifestyle. Disillusioned with the industry, he gave up all forms of music (including listening to it) altogether for a year. On a quest for deeper truths, he began seriously meditating for the first time. He radically simplified his life, his diet and his mindset. In place of the next big idea, he focused on doing small acts of service. He moved to the Gandhi Ashram in India with a new purpose: "Giving back and growing internally."
After meditating in the Himalayas, Nimo contacted the co-founders of Manav Sadhna, the non-profit that housed EKTA's journey, to see if they were up for doing round two. They were. To Nimo the focus wasn't a world tour. "I wanted to learn how to be like those kids," he says.

Nimo dived deep into the slum community and slowly identified and built up a team of 16 committed children and families. He got to know all of them and their families intimately. Dharmaji's father used to transport loads on the backs of donkeys to support his family. Asha is one of five children of a rickshaw-puller. Nitesh's entire family lives in 6x8 room with three walls. While Sanjay spends his days rag-picking to help his family survive, while his Dad is a shoe cobbler. These are some of the real-life stories behind the dollar-a-day statistics in UN reports. Typically, the stories end there with a plea for donation. Not this time.

A New Definition of Family
Nimo and the kids spent two years conceiving and perfecting a 90 minute show celebrating humanity's fundamental interconnection. They dubbed it 'Ekatva' -- a Sanskrit word that means Oneness. They performed several dozen shows to standing room only, across India.

It's not that these are the most gifted kids on the block. Their talent is real but their draw far transcends individual skill. "Inspire, not impress," Nimo eloquently quips. It's a mindset that elevates the playing field entirely -- to one of compassion, community and oneness.
Nimo's relationship with the children runs deep. He laughed and played with them, while also modeling discipline, and becoming an older brother to each one. Countless ripples would follow. When a local well-wisher gave the children money for a shopping spree, young Vishal returned declaring that he didn't need anything that was in the market. True simplicity. When Dharmaji found a thousand rupees on the streets he asked Nimo to help locate the owner. Deep integrity. Collectively, they co-created many traditions, like praying for and burying the dead animals often found in their communities. Intuitive compassion. Their parents, skeptical at first, witnessed the transformation in their children and their own lives. Their definition of 'family' expanded.

Ekatva Meets the World
Scores of people urged Ekatva to bring its message to the west. Modest amounts of money were donated on a 'KickStarter' project; a foundation stepped in with a matching grant; a legal firm offered up pro-bono support for securing travel visas. It all added up to exactly enough. On April 29th, 2012 16 children from the slums and 9 coordinators left the shores of India on a journey across the world. The majority of Ekatva's troupe had never been on a plane before.
Here came a twinkle-toed band of children, rising out of unthinkable circumstances on the wings of love, with a wisdom that has people around the world, laughing, crying and ultimately bowing down before the unquenchable spirit of humanity.There is a breathtaking lack of agenda in all of this, and a startling degree of trust. Somewhere along his inimitable journey, Nimo broke his music fast when a friend casually handed him an album. Track 7 on that obscure Daniel Nahmod CD goes like this:

Whatever grows will grow, Whatever dies will die, Whatever works will work, Whatever flies will fly, Whatever fails will fail, What's meant to soar will soar -- We are planting seeds, nothing more.

Planting seeds, nothing more. And yet ... everything more.

On the children's first day in Chicago last week they walked by a yard where a stranger named Bob was mowing his front lawn. These kids had never seen such a vast green expanse of grass before, much less a lawn mower. Not only did they end up befriending "Uncle Bob", but they mowed his lawn for him. It was an act of kindness, but it was impossible to identify the giver and receiver. It felt like an inspired gesture of Oneness ---connecting each of us, leaving no one out.

Nothing more.
To learn more about Ekatva, visit their website here.
Related
Popular in the Community