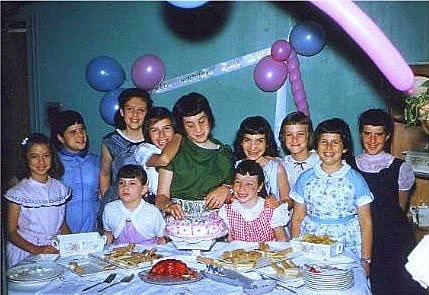 Dedicated to my dear friend Jana.
Can you remember the very best friend that you met in the third grade? I certainly can. Being an only child, she was the sister that I never had. We lived in Philadelphia and we shared every moment of our lives together. Lunches were times to spend at her home or mine and there is where I learned the secret ingredient for making egg salad ... Yellow Mustard.
We loved Elvis and shared a passion for Rock and Roll music. We danced with each other as was the style then in Philadelphia and we were glued to American Bandstand and knew all the "Regulars" by their first names.
Then it happened! In the middle of seventh grade we had an innocent girl's disagreement. I had lost my "sister" to another friend. Not long after that both of our lives took separate turns.
So many times through the years I have thought of her fondly. I have relived the happy memories and times we shared. She knew and loved my parents and I loved hers. There are so few people in my life today that can say that.
In today's world we have the ability to locate just about anybody. One day a couple of months ago I went in search of my long lost friend. Would she even remember me? Would she even care about this best friendship that happened so long ago? I went to Facebook and searched. I was in disbelief. I found a person by the same name but could it be her? I looked at the photos and saw my friend. She had posted her high school graduation photo! There was a picture of her 10th birthday party and I saw myself there. Could this possibly happen? Could we reunite and see where our lives had taken us?
A few days later I did it the old fashioned way. I called information and knowing where she lived, courtesy of Facebook, they gave me her phone number. The next morning I settled down with a cup of coffee and dialed expecting to leave a voicemail.
I heard her say hello. I told her that I was a voice from her past ... her long lost past. She said that she recognized the voice but to please give her my name. All I voiced was my first name. She knew me instantly! She was excited! She was thrilled! I was so happy and we settled down for a chat.
We spoke for a long time. We spoke about our friendship, our grade school, our parents. We moved on to just a fraction of the stories that made up these many years. It was just like always ... best friends again.
Since then, just a few days ago, we have shared pictures old and new. We are just at the very beginning of our future adventures together. She said that she could see my Mom's face in front of her. I told stories of how I could see her Dad and the fun we had. The memories came to life! This is just the beginning!
Have you ever reached out to someone you lost years ago? Have you ever wished for a long lost friend to come back into you life? Take the leap and try!
You say you can't go home again? Yes You Can!
PHOTO GALLERY
7 Ways To Make Friends Post 50
Calling all HuffPost superfans!
Sign up for membership to become a founding member and help shape HuffPost's next chapter