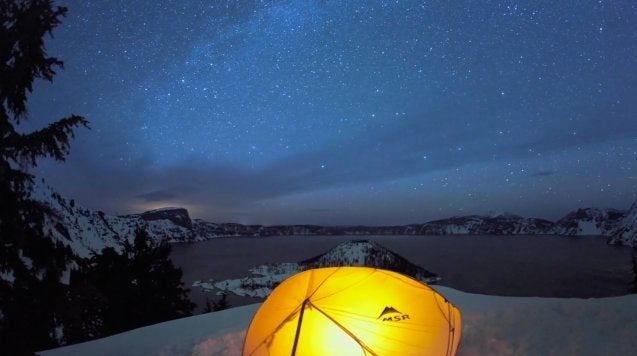 An exclusive interview with Uncage the Soul photographer Ben Canales on his new timelapse, Finding Oregon.
Sometimes we need reminders of who we are and what is important. Finding Oregon is one of those reminders. Shot in Oregon, and produced by Uncage the Soul Productions, the video is a composite of timelapses, giving us an intimate look at the day and night sky in some of the most remote places in this western state known for its natural resources and beauty.
This video is a fresh respite from our everyday, overloaded, technology dependent, lives. It reminds us of the natural rhythms that we have almost become unaccustomed to, reintroducing us to the power and routine of nature.
Photographer and Uncage the Soul team member Ben Canales knows a thing or two about timelapses, and in this EcoSalon exclusive behind-the-scenes he shares his inspiration and process, giving us a look into the reality of creating a magical 3 minutes.
How long did you film for?
About 70 percent of the time-lapse sequences were shot in one intense, week-long road trip going to all four of the furthest corners of Oregon, but the remainder was filmed throughout 2010-2011.
How long did a typical shot take?
This is a great question, because we ourselves, didn't realize just how much work is involved until we got serious about this project. It is shocking how much energy, time, and equipment goes into getting one, six second video clip. For instance, a glowing tent clip from Crater Lake demanded a dedicated three day trip out of town, location scouting in the day to find the perfect spot for the night, a three-mile trek through the snow with all the equipment to the spot, setup for an hour and then wait for nightfall.
The actual filming takes 2-4 hours to record a good night time-lapse of the stars moving, and then pack up, hike out, and drive home the next day. That is only the work done in the field! Then there are hours and hours of processing, editing, and polishing the final video sequence to get only six seconds of final video.
It is not an exaggeration to say one short, final clip may represent 20-30 hours of planning, driving, hiking, shooting, and processing -- all that for mere seconds of video playback. It is a ridiculous labor of love.
Read the rest of the interview here.
Calling all HuffPost superfans!
Sign up for membership to become a founding member and help shape HuffPost's next chapter