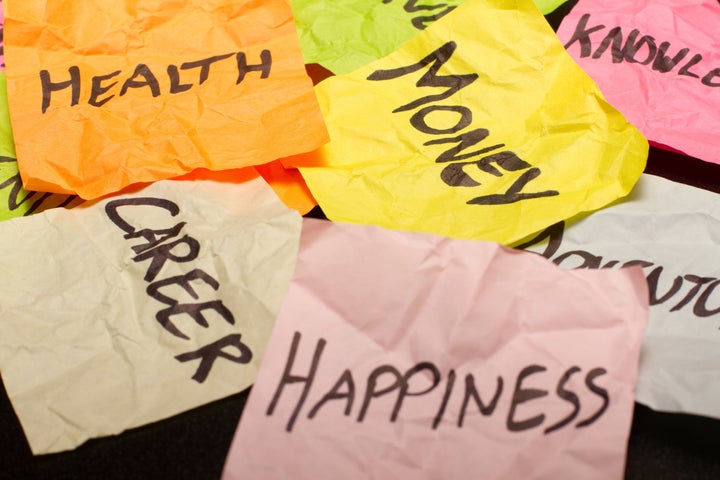 This is the second of a four-part series on death, life and decisions we face going forward into our final 20 or so years. As Baby Boomers we have led the way all of our lives. Now, we will lead each other to the end of our days, like it or not. We need to talk about it, hard as it is, because talking together may help us to become enlightened as we head into the tunnel.
Just as the first 60 years of our lives were devoted to robust development and energetic achievements, the last 20 years may find us looking longingly at neutral. Stasis, that word we once used in describing situations and people who were stuck, is now a concept we could wrap our arms around. For the most part, we'd like to stay pretty much as we are now, assuming we are reasonably healthy and intellectually coherent. The color beige never looked so good, the sunrise never so bright. Let it continue, we sigh.
But we know it won't. And so we feel a sense of urgency about deciding how to spend the years we have left. The good news is, we have lots of choices. We have choices about our health, our travel, our kids, our friends, our communities, our work, our food, our hobbies, our finances and every aspect of our daily lives. For what may be the first time in our lives, we can decide how the day goes. The simple question is: Where do we begin?
One of the first choices we may have to make is to fully retire from the work we used to do. The transition from a fully-engaged work life to a fully-engaged retirement life takes physical and mental time. I can tell you it takes a few minutes to honestly do that.
It takes time to stop talking about what you did in your career. It takes time to stop asking others what they did in their careers (so that they will ask you the same question). It takes time to accept that when you talk to friends still in the field, they don't need your opinion because you are not cutting edge anymore. It takes time to know that you must do something else.
The great part about old and new friends is that they don't really care what you did in your career. They want to know who you are now, how your mind works, what you are thinking about. Hopefully, you feel the same way about them. The important first step is to go boldly into the reality of retirement, knowing we never were our careers in the first place. It was just an illusion we created to define ourselves. It's what we do with the years left to us that will define who we truly are, because now we have a choice to do and be what we value most. Your essence will show, your real value system will be exposed. This is good news.
Freedom takes thought and action. It was a positively eerie feeling to wake up that first morning of retirement and ask myself, "What will I do today?" Being a planner, I decided to make a list of what was important to me. Not a bucket list, just a simple list of what is important. My fingers couldn't write fast enough: family, friends, animals, food, cooking, reading, writing, piano, singing, socializing, exercising, meditating, needlework, some travel (mainly to see the kids), tucking in when it rains, putting on the fire when it snows.
Some of my friends say they find themselves happy just to putter around, stare out of the dining room window, eat dinner on a TV tray, get to bed early, stay up till dawn or sleep late for the first time in decades. Still others are running marathons, tackling miles of road on their bicycles, playing pickle ball until their thighs ache, writing memoirs and histories for their children and taking daily care of their grandchildren. No matter what it is for you, it's important to identify those things that make you happiest now.
Give yourself a break: It's perfectly all right to be selfish. We Baby Boomers have been called selfish for most of our lives. I'm not even partly convinced that it's true, but I do know I feel great being selfish at this point in my life. Something I hear a lot these days, and I fully understand it: "I'm over 60 now and I know who I am. I can say and do what I want at this point. I am totally me now." (That typically precedes someone telling me why they disagree with something, but that's all right). The important thing is, do what you want to do. If you don't feel like going, say, no, to the invitation. If you don't want to listen to another political speech, close it down. It's all right to do what you want. This is the last chance you'll have.
It is possible to grow old and like it. We may long for stasis, but atrophy is tip-toeing into our lives with every tick of the clock. It is nothing new. Since the day we were born we've been in a state of deterioration, diminution, and decline. It's completely undeniable at this point as these aging eyes wink at seventy.
How we treat the aches and pains, the slower pace, the forgotten messages and the coming of the dark is our choice. As always, it's all about perspective. If we choose to whine and moan (and some days that may be a darn good choice) we will be whiners and moaners in the minutes we are given. If we choose to center on the goodness of our bodies, the wholeness of our lives, the possibilities of our minds, then we will be full of goodness, wholeness and possibilities. Just decide how you want to roll. We all have to.
Coming in Part 3: Staying the course when our lives dramatically change. Having those hard talks with family and friends when we are ill. Coping with lives changed by illness and death.
Martha Nelson is an award-winning journalist and a former educator, nonprofit executive, chef, and musician. Her first novel, Black Chokeberry, was published in April 2012 and is available on Amazon.com. She currently is at work on a collection of short, and short-short stories, a children's series about the adventures of Lulu, Bart, and Charlie, her beloved dogs, and has started a new novel.