As we round the corner and see him, ever vigilant, but ignoring his pet seagull, "Pengui," and scanning both his staff for anything less than magnificent service -- and around the marina for potential customers -- Chema spots us for the first time in a year. His crisply starched shirt is, as ever, azul as is the cloudless, sunny Mediterranean sky above. He immediately belts out for all to hear, "Dos cafè con leches, dos zumo naranja y dos pan tostada, con tomate!" Our Andalucía vacation has now begun!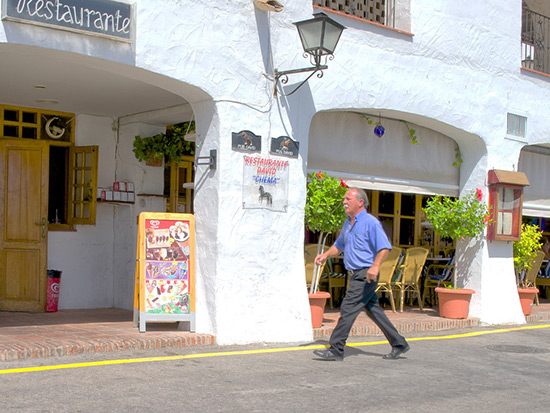 Soon arrives sizzling hot and perfectly brewed coffee, just squeezed local orange juice and homemade bread toasted with a deliciously simple spread of fresh, local tomato paste. A sublimely tranquilo vibe sets in and it will remain that way for the next few weeks until we once again face the challenge of trying to capture that vibe and bring it back home to Philadelphia.
Our charming village is nestled on a perfect two miles across semi-circle of a bay at the base of the foothills of the Sierra Nevada, which by the time you reach Granada and the Alhambra soar to over 12,000 feet. Within those 40 miles is an entire universe to explore. There are times for exploration and adventure and there are times for restoration, reflection and total relaxation. This particular journey is more about those three R's.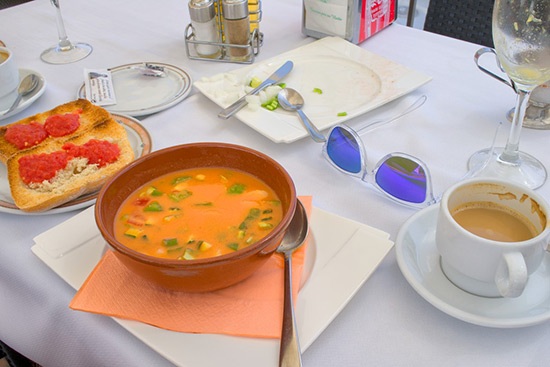 Chema is the consummate waiter, always gracious and entertaining, in perpetual motion -- the very definition of ADHD, but he is also, remarkably, the owner of this wonderful restaurant-cafe. There for years my wife Suzie and I have started each day with the coffee we consider the finest anywhere -- Chema's, whenever on holiday in our little fishing village La Herradura, due south of Granada, but far from the overdeveloped frenzy of the Costa del Sol, hours further down the coast to the southwest. These timeless mornings are the essence of our Andalucía experience. Perfect weather -- everyday (82, dry, crystal clear) unhurried, salt in the air, mountains above, the sweet aroma of gambas pil-pil, (the local take on shrimp scampi, but vastly better) wafting on the perpetual gentle breeze and the easy give and take of Chema's good natured musings as a backdrop.
As we reflect, we usually spend at least an hour over our simple breakfast and always have a second café con leche, although Suzie usually opts then for a manchiatta -- literally a "stain" of coffee in a lot of milk. Chema's is perched right smack on an infrequently used road that passes through a marina on the other side of a peninsula from the main village. Very quiet. There are tables inside but we always sit out across the little street in a row of tables overlooking the water. "Always sunny and clear, si? ... That' s Spain," he banters in his Andalucian Spanish" Es mejor!!" ( better). Hard to disagree. In case we have forgotten, he will soon remind us of Spain's preeminence depending on the year, in futbol, tennis, formula one racing and of course, cycling. In some years, of course, Spain has won the major championships all of these and more, he will add. Of course, we do not discuss the economy. Chema is thriving regardless. Suzie and I quickly retreat to a world where we have long uninterrupted conversations about whatever and the only agenda is when to order that precious second cup.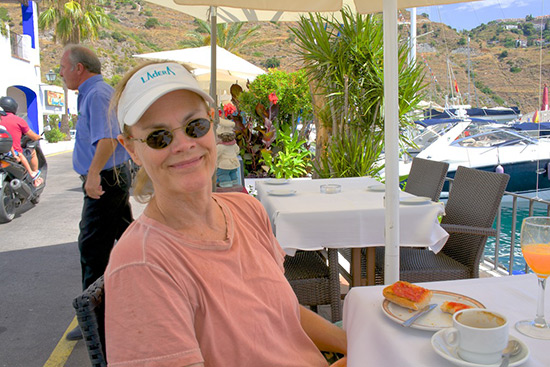 In my business of customizing educational travel for families and school groups, we design very active expeditions in collaboration with our clients. We pay close attention to pace and carved out time for reflection and chilling out, which only enhances the intense activities. Certainly my 25 years of having the good fortune to experience Chema's has informed my approach to all travel, whatever the purpose. Pace is always important and it is surprising how frequently it is neglected by both amateurs and professionals who ought to know better. Finding a comparably magical place, with the ambience and a Master of Ceremonies to leverage the experience as Chema does is a tall order. Chema sets a high bar, but when you become intentional about prioritizing such a routine, magical things can and do happen. If you really master this, you figure out how to incorporate such a priority into your daily life at home. Needless to say, we are still working on that...but we have gotten much better at it! Thanks, Chema!