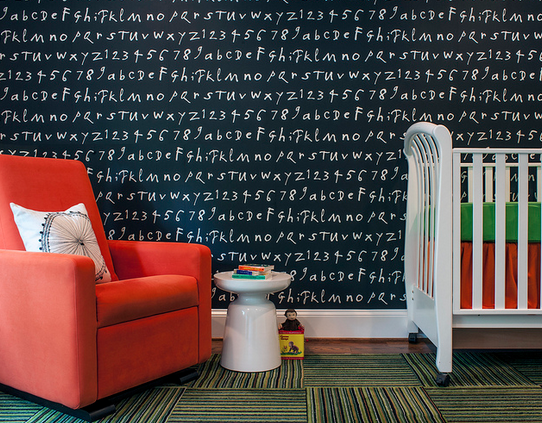 Do repetitive prints of cabbage roses give you chills? Floral striped swags from floor to ceiling make you feel faint? You might be suffering from what interior designer, Annie Elliott diagnoses as a 1980's Waverly wallpaper hangover. The good news? There's a cure.
"I think a lot of people haven't used wallpaper [in decades]," says Elliott, owner of Bossy Color in Washington D.C., "because for years everything was just this explosion of flowers room after room...and I think today when people hear "wallpaper" that's what they envision and they're appropriately afraid."
The treatment? Hair of the dog. "There are several ways to dip your toe into wallpaper," says the wallpaper fan and color expert, "one is to use wall covering that is a texture rather than a pattern...such as a grass cloth or faux silk...to add a level of depth that paint can't always create."
Elliott admits she is a big fan of Phillip Jeffries, who she calls the king of grass cloth wallpaper; and favors Cowton & Tout for their subtly striped faux silk patterns called, striae (pronounced 'stree-yay'). "You can cover walls with a tone-on-tone striae from Farrow and Ball that's really rich in color but might not feel as scary as painting a room dark blue."
Another solution: start small. "One of my New Year's Resolutions was to leave no powder room unwallpapered," says Elliot. "I think powder rooms are the perfect place to start because they don't have to relate to anything...you can really have fun with a powder room -I love it when you open the door to the powder room and it's a real surprise."
Wallpapering a single wall, especially in a bedroom, is another clever way to test drive a new wall treatment. To achieve this look, use a large wall uninterrupted by doors or windows. "You can wallpaper that wall, place the bed against it...and it essentially serves as a headboard," says Elliott. Wallpapering the private space within a bedroom is also a safe way for nervous newbies to experiment without jeopardizing the design flow of the rest of the house.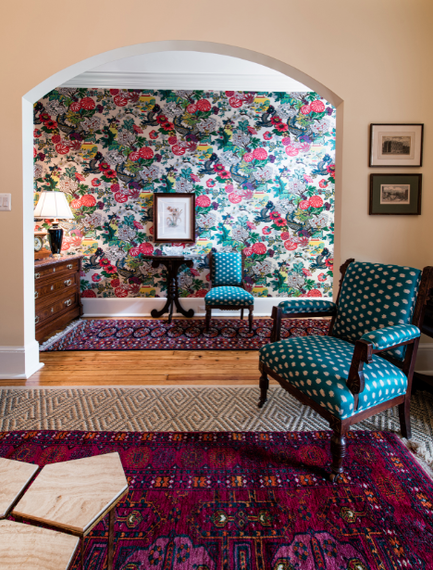 Of course, once you have designated a space the next step is selecting the design. Although hiring a designer is one way to edit through a vast sea of options, for a DIY approach Elliott suggests befriending the professionals on staff at your local wallpaper retailer. "Say: Listen, I've never used wallpaper before and I'd like to try. I'm thinking of using something in the blue family, but my taste is really contemporary (or whatever), which manufacturer should I be looking at?" suggests Elliott. "The people who work in these stores generally know their product, and if you walk into a store and there is just wall after wall, or row after row of wallpaper you are going to be overwhelmed. The first thing you need to do is narrow your field. Tell the sales associate the color palette you're interested in and what style you're thinking of," she advises. Tell them, "My house is very traditional; or, I'd really like to take some risks, or try something fun."
Elliott says figuring out which manufacturers offer styles that suit your taste will save time and frustration.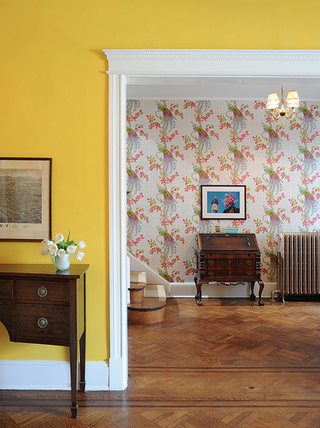 Once you are headed in the right direction, Elliott has this advice for determining the size and scale of your design: "You do not have to use a small, ditzy pattern in a small space -that's thing one." She clarifies, "If you're talking about a really small space and you want it to look charming, and maybe a little bit country, definitely go with a smaller, tighter pattern maybe a little stripe or flowers in a stripey pattern -but some people think you absolutely have to use a small pattern and you don't."
On the flip side, she cautions that using a too-small print in a big room can leave it looking dated. "I think that's another hold-over from decades past."
Instead, Elliott recommends thinking big. "You can embrace big wallpaper in a small space," she enthuses. "You can use a David Hicks wallpaper that has a great big, gigantic pattern...I think it packs such a wallop and there's a fun impact when you walk into a room that has a giant scale wallpaper. I think having a large scale [design] distracts you from the fact that the room is quite small.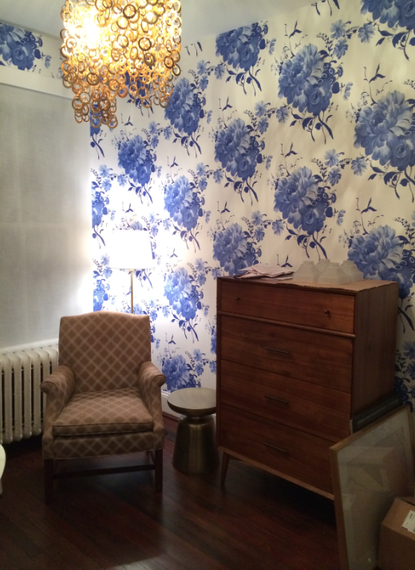 Elliott says using a geometric design with a regular repeat in the pattern works well in a small room too and may feel less scary than putting up a more zany, loose design. "I think a large scale, loose pattern is hard to pull off in a small room."
Bottom line, don't be afraid to make mistakes. Yes, it does mean losing a small investment, however, it doesn't mean you have to live with a design misfire til death do you part. "A lot of people still think wallpaper is irreversible, and once you put it up you're going to have to use steamers and scrapers and it will be a nightmare to take off --and that's simply not the case anymore," says Elliott. "It goes up easily and comes down easily these days."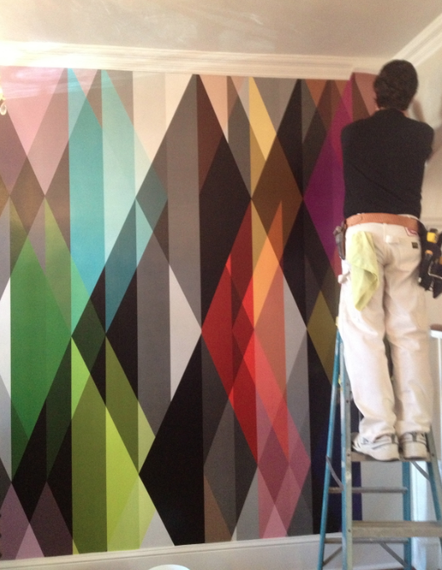 Have a wallpaper story of your own? Share it in the comments below!
All photography courtesy of Annie Elliott and Bossy Color.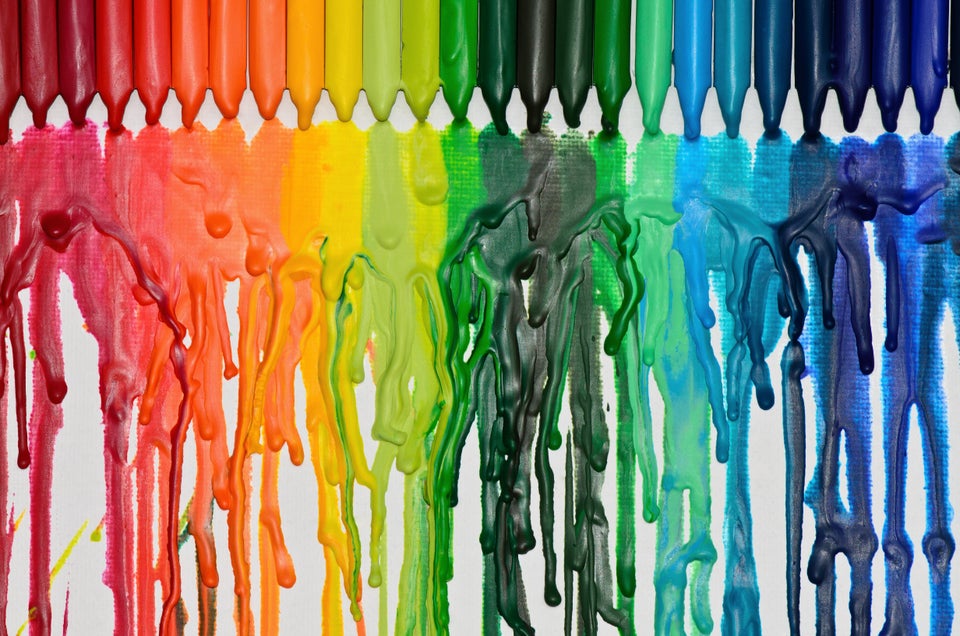 12 Original DIY Wall Art Ideas
Related
Before You Go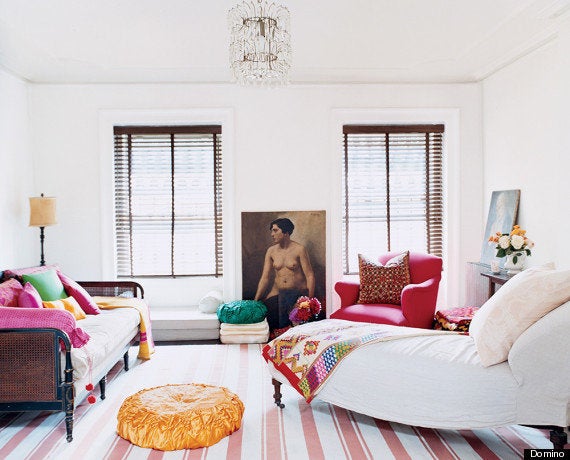 6 New Ways To Use Art (Without Hanging It On A Wall)