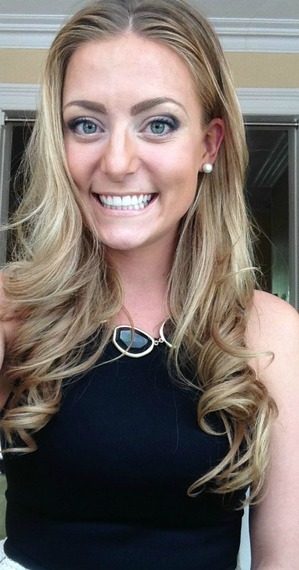 So many people let their past define them and keep them a victim. It's when you choose to rise above your life story that your life begins to change. Your story becomes the inspiration you need to find your purpose in life.
Trisha Wiles is the founder and CEO of iamafighter, a social network that offers free and anonymous support groups in an array of areas including mental health, addiction, and trauma recovery, to name a few.
Once a high-achieving student and athlete during her years in school, Wiles was accepted into Ohio State University's prestigious Politics, Society & Law Scholars program, but then, her life took a turn when she fell victim to severe Internet bullying.
It was a time in her life that included various addictions. Wiles overcame her struggles and is now on the other side, expanding the iamafighter recovery network.
Wiles stops by to share about her journey and the mission behind iamafighter.
JB: Tell us about iamafighter and the inspiring mission behind this amazing recovery movement.
TW: iamafighter is an uplifting new social networking platform for those affected by mental illness, trauma, or other various diagnoses and struggles. We have over 25 color-coded support groups that fighters can join to connect with others going through or recovering from similar situations.
Our groups range in topic from depression to anxiety, cancer to bullying, including obesity, loss of a loved one, physical disability, various forms of abuse, PTSD, addictions and many more.
Our mission at iamafighter is to provide a free, anonymous and unbiased platform for focused conversations about recovery, health/wellness and support in a convenient way for instance, in the palm of your hand through our mobile app.
Through word-of-mouth alone, our community has spread into a dozen different countries so far, with new fighters joining every day. It's been really tremendous to see.
JB: How did you come up with the idea for iamafighter?
TW: We all go through struggles in life, and I am no different than anybody else. Through my experience being Internet-bullied, I saw that people would say things behind a computer and an alias that they would never say in real life. I just figured that if such a mentality applied in a negative way, then it would also apply in a positive way and for example someone who has never spoken up about being abused would be willing to reach out from behind a computer and an alias, to seek help and support from people who share similar experiences.
As far as the culture within iamafighter, my family stuck by me through my darkest times and I feel very fortunate for that. We sought to create a very supportive and protective family-like culture on iamafighter. I believe that that is part of why we have achieved the success we have so far. We joke that we're less like a social network and more like a family... minus the dysfunction.
JB: How does someone become a member of iamafighter? How does the website work?
TW: Joining iamafighter is really simple: Install our free mobile app or visit iamafighter.com. From there, it's a quick registration, confirming that you're aged 13 or above, selecting a username, the basics. Recovery is hard enough without adding a bunch of hoops to jump through. As a company, we believe in the power of keeping things simple, so we made access to and the registration for iamafighter as easy as possible.
The network itself, is run by colors: Each support group is given its own color, based on a group's distinct needs and the scientific data on the psychological effects that different colors have on the human brain, also known as "color psychology." For example, common symptoms of depression include a lack of energy and hopelessness. Vibrant orange has a very energizing and positive effect on people who see it, so the Depression group's color is vibrant orange.
A fighter's profile will display their group memberships in the form of little circular color bubbles and fighters post "thoughts," tagging them with the applicable color bubbles, as well as using traditional hashtags. For instance, a thought written about eating disorder recovery would be tagged with the Eating Disorder group's teal color bubble, as well as maybe #bodypositive and #iamafighter.
Clicking any color bubble on iamafighter will take you to that respective group's color feed, where everybody is talking about that particular issue. It's a very engaging experience.
Our system is currently patent-pending, and sample screenshots are available to preview in the app stores, on iamafighter.com, and on our recently launched Kickstarter campaign.
JB: When working through issues like addiction, depression, and anxiety, how important is it be a part of a community free of judgment?
TW: In my opinion, a compassionate environment is paramount. Where there is compassion for others, there can be no judgment. iamafighter's culture is the right blend of compassion and pragmatism.
Stigma, judgment and "enabling" often hold people back from seeking help and achieving progress in recovery. We believe that our culture of compassion, pragmatism and anonymity answers all these needs and provides a healthy, well-balanced environment within which people connect in truly meaningful ways.
JB: As a survivor of childhood sexual abuse, I understand the trauma and shame that one carries. My abuse impacted my life well into my adult years. How do you feel having access to a safe community of people that you can talk with about what you have been through impacts the healing process?
TW: Trauma's reverberating effects in life are irrefutable. I, at times, still struggle with moments of social anxiety.
Regarding your question, connecting with another person can heal us so much more than anything else, I believe.
When a teenager who is being bullied opens the iamafighter app, they have instant access to other fighters being bullied, in addition to fighters like myself who have been there and made it through that experience. By connecting with other teens being bullied, they feel less alone, and connecting with others who have made it through that experience provides a tremendous amount of perspective, advice and, above all, hope.
JB: Since launching in December 2013, iamafighter has gained nearly 2,000 fighters throughout the world. Were you surprised by the fast growth of the community?
TW: We are consistently humbled by people's responses to iamafighter. When international fighters began trickling in during our first month of operation, we caught a glimpse of the kind of social movement that iamafighter could become. Even more amazing than our growth, however, are the stories coming out of iamafighter: We've seen fighters successfully exit abusive romantic relationships, enter into eating disorder and addiction rehabilitations, and heal previously toxic family relationships. One fighter in our Self-Harm/Cutting group shared that, through the support they've gained from iamafighter, they are now over six months free from self-harm. So many powerful examples in a dozen different countries... It's a really beautiful thing to be a part of.
JB: Tell us about the mobile apps that iamafighter launched to help provide more support for the members.
TW: We had so many fighters asking when the apps were coming out that we published our mobile apps less than two months after launching the website. It was months earlier than we had planned, but every day, we would get teenage fighters on the website messaging us, demanding to know when the iamafighter app was coming out and we were practically forced to create the app immediately! It was incredible. I'm just happy that people liked the site, but to hear people express such strong desires for more is definitely an exciting experience... We were thrilled to provide people with the first version of our app and look forward to expanding upon it!
Our app is free and currently has 100 percent 5-star ratings in the app stores.
JB: Congratulations on your recent endorsement by Russell Simmons and the State of New Jersey's Mental Health Consortium. How has this helped the movement?
TW: Thank you so much! Meeting Russell Simmons and getting him to endorse us was a huge stepping stone and, personally, a privilege. He is such an earnest person and, as a yogi, it was cool to talk to him about the benefits of practicing yoga, which he's been very vocal about in the past. In addition to his endorsement driving traffic to us, it also provided an opportunity to meet the person who now heads up iamafighter's press and media relations, Elle Mason. His endorsement was truly a blessing in many ways!
The State of New Jersey's Mental Health Consortium recently asked us to present iamafighter at their upcoming state mental health convention in February 2015. We're still in talks since it has been such a recent revelation, but needless to say, that has been really exciting and definitely a step in the right direction! Just last spring iamafighter presented at the Hudson County Mental Health Consortium, which opened a lot of doors, so I'm very excited for this next opportunity on a larger scale.
JB: What's next for iamafighter?
TW: We're currently running a Kickstarter crowdfunding campaign. Through our Kickstarter campaign, we will be adding important new features to iamafighter, including colorblind functionality, to improve fighters' experiences, and we will also begin bringing licensed professionals on-board our team.
If we exceed our Kickstarter goal, we will be able to begin expanding our language capabilities. Right now, iamafighter is only available in the English language. But due to the global demand for iamafighter that we've seen in places like Australia, Britain, France and Canada, among others, expansion into non-English-speaking markets is certainly in the cards for us.
Due to the scale of our growth, we are also actively looking for investors willing to help us keep up with demand.
Through our Kickstarter campaign, as well as investors, I believe that iamafighter will continue to revolutionize how people connect on social networks. It's about connecting meaningfully and with a purpose.
To learn more, simply search for "iamafighter" (all one word) on Kickstarter's homepage, Kickstarter.com.
Calling all HuffPost superfans!
Sign up for membership to become a founding member and help shape HuffPost's next chapter