"Come to me, all you who are weary and burdened, and I will give you rest." ~ Jesus
Are you finding rest on Labor Day?
I always thought Labor Day was created as a holiday of rest from labor but I was surprised to learn just the opposite. A national holiday since 1882, Labor Day pays tribute to the American worker and focuses on the virtues of work rather than a vacation from it.
Labor Day is found on the U.S. government's Department of Labor website. It describes the first Monday in September as "pay(ing) tribute to the creator of so much of the nation's strength, freedom, and leadership -- the American worker."
Springing from America's trade unions, Labor Day was designed to exhibit to the public "the strength and esprit de corps of the trade and labor organizations." It often featured festivals for the "recreation and amusement of the workers and their families."
For most of us, the idea of laying bricks, constructing rail road tracks or working in coal mines is ancient history. Today we sit over computer screens, tinker with technology and experiment in medical or pharmaceutical labs. Creations are less tangible and our contributions to society are not always easy to exhibit.
We continue to observe Labor Day, taking time for family, friends, food or -- in my case -- frolicking at the beach. But finding rest from our labors isn't as easy. Work is less physical and more cerebral, making "rest" from our labors a more elusive, less relatable concept.
Instead of looking up the word labor, which conjures up thoughts of sweat, heavy lifting and pain associated with childbirth, I decided to look up the word rest. What is it and how can we observe it today?
Dictionary.com defines rest as a refreshing or relief from anything that wearies, troubles or disturbs us. I was particularly drawn to the word refresh. To refresh is to give new strength or energy to; to reinvigorate or make strong again. Now that's a word for today.
Many of us are desperately in need of refreshment, especially refreshment of the soul.
It's raining in Florida today, but my husband and I enjoyed some Labor Day refreshment yesterday. We took a drive to Clearwater Beach for an early morning walk and some splashing around in the slightly cool waters of the Gulf.
As we walked along the shore, my senses were already finding a special rest. But as I stepped into the sea, I refreshed on several more levels. Immediately, as is frequently the case, I was brought back to early childhood. That was a time in my life where a simple bathing suit was all that was needed to play, even if play meant running through a moving sprinkler on our front lawn.
Beneath the water of the Gulf of Mexico, my feet settled into the invitingly soft sand. I lifted my legs, then floated effortlessly while musing at a biplane above trailing an ad for Florida Blue.
I relished in the salty water that caressed my skin and kept me easily buoyant. The water's undulations supported me like a welcome guest, quietly lulling me into repose. Farther out, dolphins danced in the water, entertaining guests aboard a tourist boat decorated with plastic palm trees.
For me -- and even my husband -- a few hours at the beach was all we needed to celebrate the Labor Day holiday in our own, unique fashion. This wasn't a mere cessation of work; it was a soulful refreshing that left us revived, reinvigorated and appreciating the very essence of life.
I've always found rest and refreshing at a warm beach. This is where I am reconnected with nature and invited to contemplate the divine. I am reminded of a world beyond our present horizon and my soul is once again renewed.
Before Labor Day crowds began filling the beach yesterday, my husband and I were already heading back home. We'd been gone only a few hours but the brief respite felt like a full vacation.
"Funny, but I feel so relaxed," Jimmy remarked before turning our car into the parking lot of a local supermarket. "We've been gone a few hours but I feel like we went away for the weekend."
Soon, we were back home and unloading groceries from the trunk. Before stepping indoors, Jimmy turned on the spigot outside the garage to wash sand off his feet.
"I'm so happy to be resting on Labor Day, " he laughed. "I think I'll lie down and take a nap."
In just a few hours, we had found our happy place of rest on Labor Day weekend.
Wherever you are going -- or not going -- this Labor Day, wishing you rest and your own form of refreshment, too!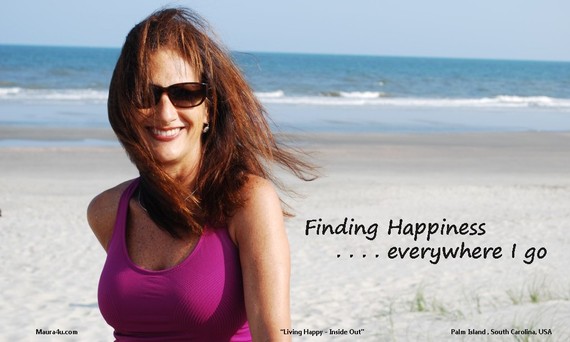 Calling all HuffPost superfans!
Sign up for membership to become a founding member and help shape HuffPost's next chapter