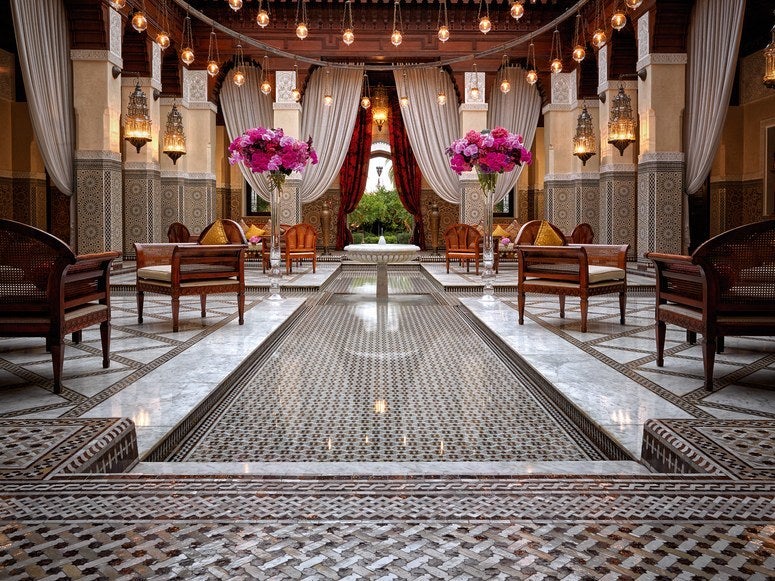 Are you one of those couples who has pretty much traveled the world and are stumped about where to go next? Do you love traveling so much that you are willing to drop everything at a moment's notice to hop on a plane to somewhere new and exotic? Are you planning your honeymoon but you don't know where to choose that will excite and interest you?
Here are 10 reasons why Morocco should be your next trip for romance:
1. Marrakesh is a city for lovers. At first glance, it might just seem like a big bustling city but once you start exploring, you will find charm and romance in every corner. Find a horse and buggy and let them transport you around the streets of the city. You can hold hands with your honey and see things the old fashioned way. I would also recommend hiring a guide so you don't get lost and can see all the important highlights of the city. We hired Abdul who came dressed in traditional Moroccan garb and made sure we saw everything there was to see.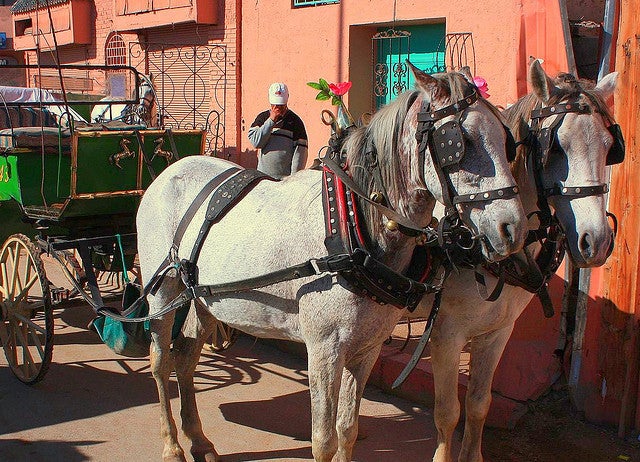 2. Our favorite romantic activity in Marrakesh was going on a Camel ride. You drive out to The Palmeraie and find one of many local proprietors who will take you out on the camels. You actually bargain with them to find the perfect deal and then they wrap you in Moroccan garb and up you go. Your adrenaline is on high gear which is a great prelude for some romance when you get back to the hotel.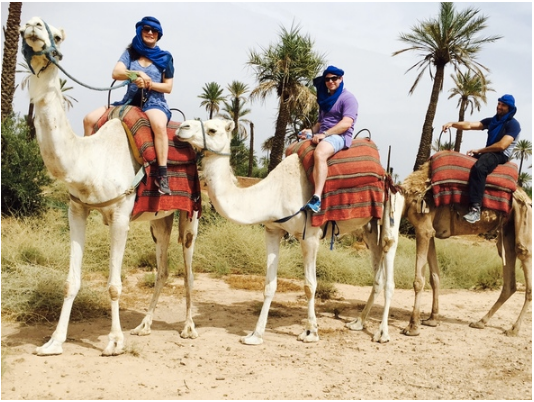 3. If you want to stare into each other's eyes over a true Moroccan feast, check out- Al Fassia. You can order Moroccan delicacies here which will make you gaga over Moroccan food. Try a Moroccan salad full of local delicacies, followed my ChickenTagine, Coucous and a Mixed Kebab. And for dessert have a Moroccan pancake.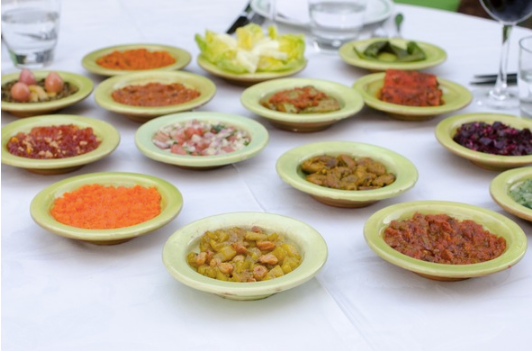 4. If ever you are going to splurge, do it to stay at the Royal Mansour hotel. First off, this hotel was commissioned by the King so he would have a place to stay when his palace wasn't enough for him. So, unsurprisingly, this place looks like a palace. It is six stars (which is one more than the typical five star hotel) and no detail is overlooked. The rooms are little houses of their own. The more luxurious part is that each room has its own butler who enters and exits the room from a secret door so you do not even realize that he is coming into the room to take care of your every whim and desire.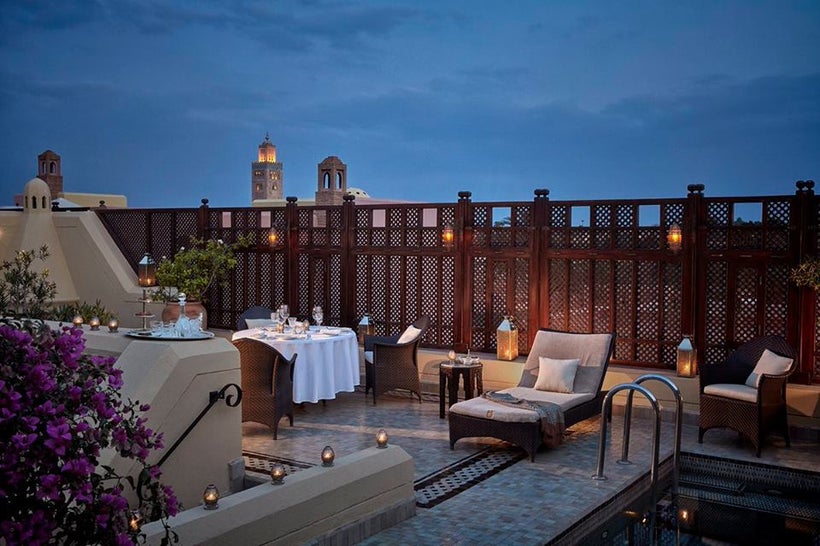 6. While in Marrakesh, for some trendy nightlife with a bit of romance, start the evening at the Sofitel Marrakesh. The hotel has a club as well as a cabaret for live music which has a fun international crowd. Finish the evening at at Jad Mahal for music and dancing. We found ourselves dancing to both American and Moroccan music while mixing with locals.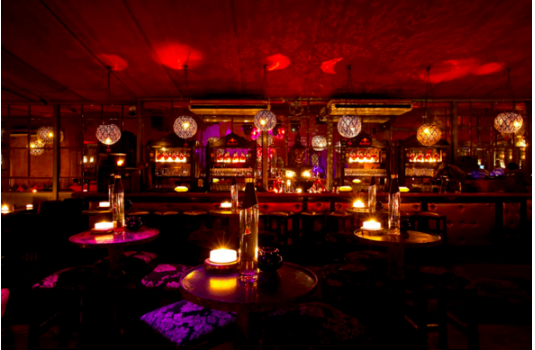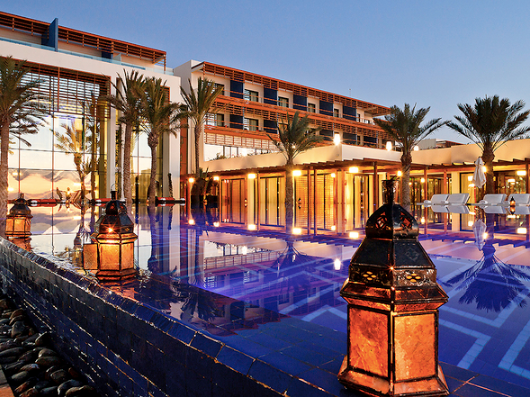 7. Make sure you take advantage of the shopping in Marrakesh. The Medina is quite famous with thousands of stalls, selling everything imaginable. You can get lost traversing through stalls packed with traditional Moroccan items like slippers, spices, medicines, handbags and jewelry. This is a great place to find your sweetheart that special and unique gift. You can also head to a tannery and choose your own leather jacket or to a pottery plant where you can buy a tagine pot to bring home or a tiled fountain.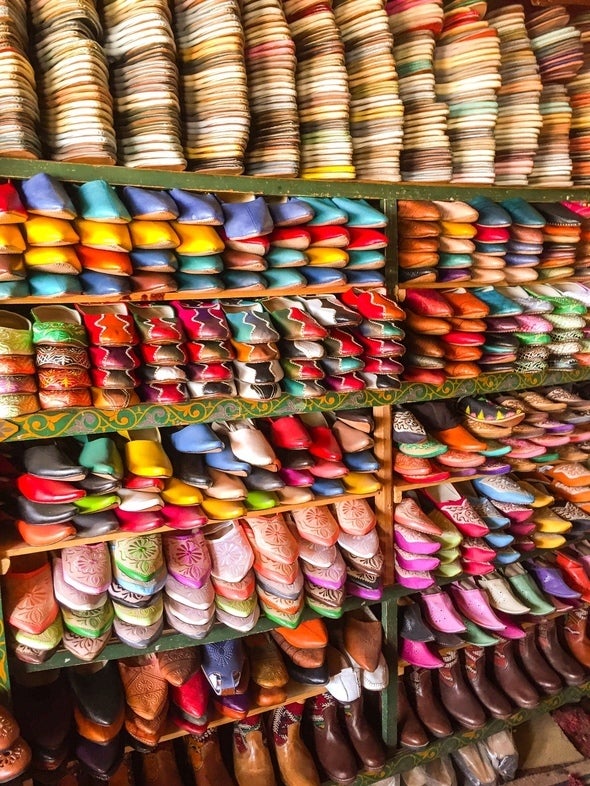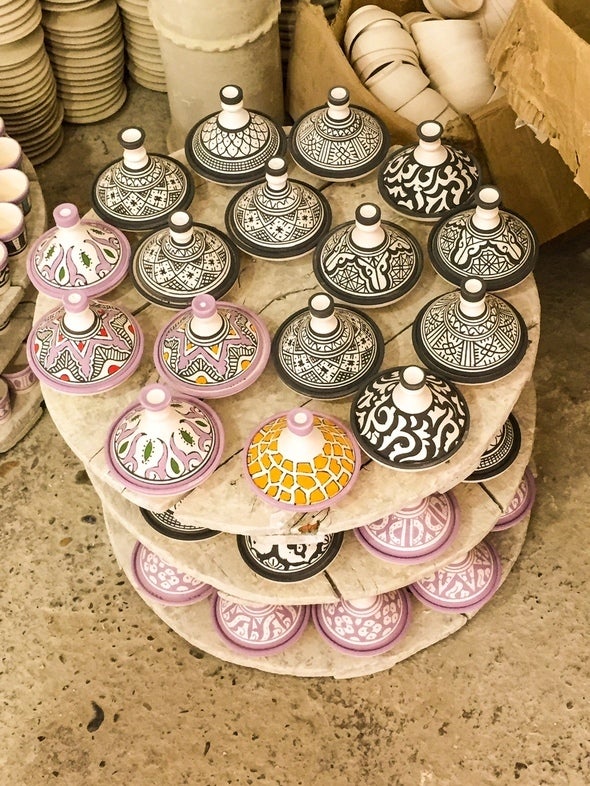 5. If you are looking for a romantic breakfast, try the outdoor veranda at Le Jardin at the Royal Mansour. The waiter will do a theatrical pour of Moroccan tea for you and spoil you with endless amounts of whatever food you want for breakfast.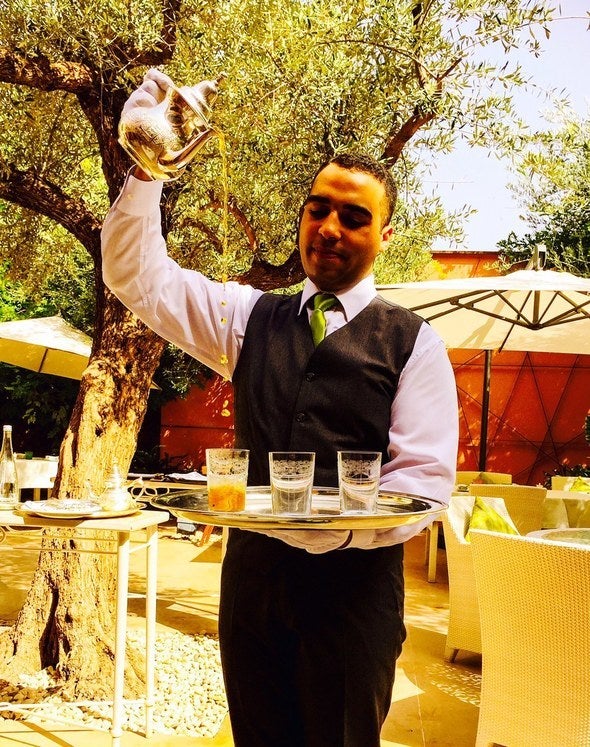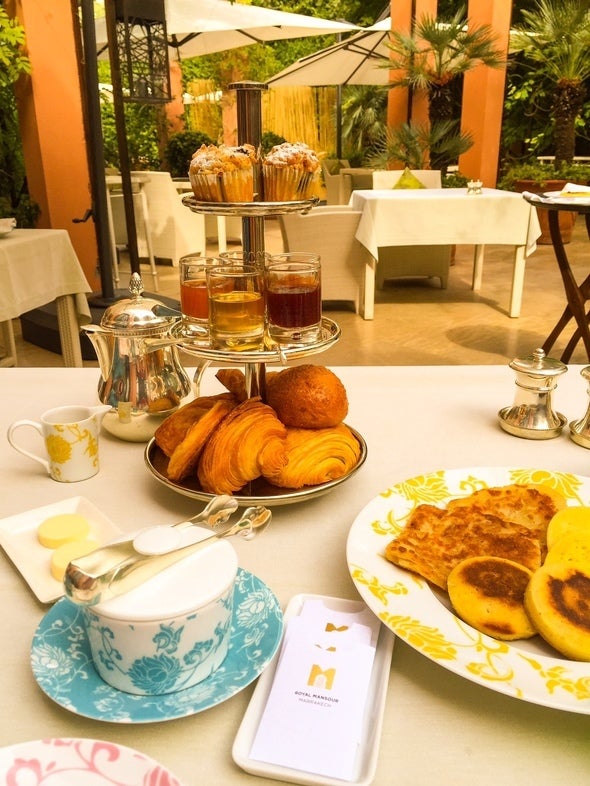 8. If you like checking out the traditions and religion of a place, definitely check out a few of the synagogues in Marrakesh. We found them to be beautiful and inspiring and gave us a chance to connect with Jewish people in Marrakesh.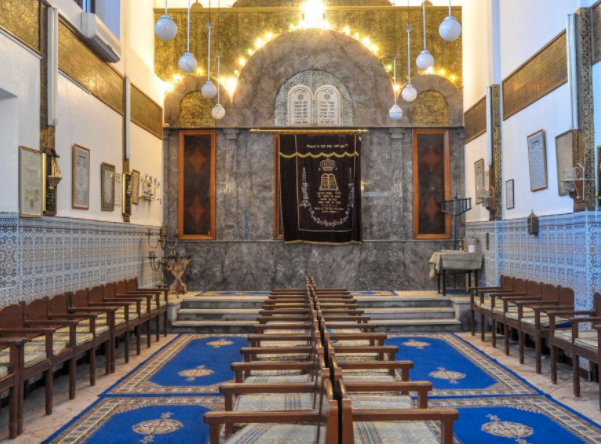 9. If you want to indulge in one of the best Moroccan restaurants in the country, try La Grande Table Marocaine which offers an extensive array of typical Moroccan meals. Dare your love to try something unexpected from the menu, like sh'hiwates, king prawn tajine with white beans, or roasted lamb with couscous. For dessert, share an indulgent chocolat spindele and argan oil treat while you listen to live Moroccan music and stare into each other's eyes.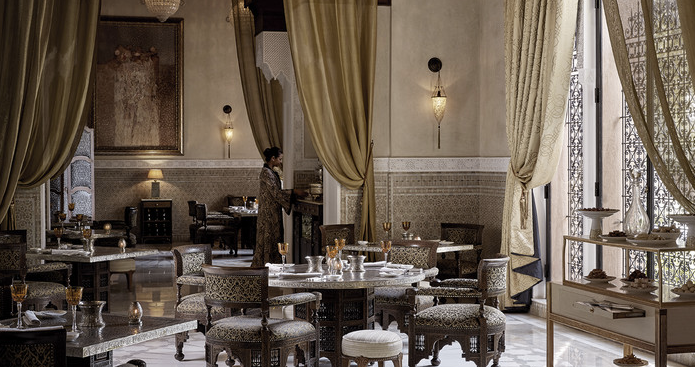 10. If you want to take a day excursion from Marrakesh, I would recommend Ourika. It's unlike anything we had ever seen. The drive itself is a true adventure, over winding roads with Moroccan scenery. You will see the tru countryside of Morocco. And once you arrive, the town is quite spectacular- it's part shanty-town, part resort-town with vibrant colors and unusual bridges across little bodies of water. You and your SO can find lots of nooks and crannies to steal kisses as you get lost in the mazes of the town.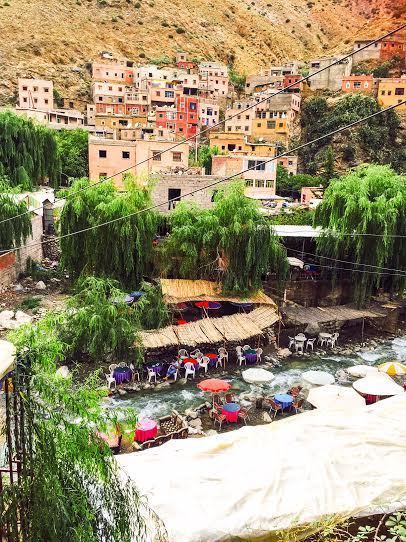 11. After Marrakesh, we headed north to Fes. Fes is a smaller and more charming version of Marrakesh. It does take awhile to get there, so consider taking a food or shopping break in Casablanca. Once arriving in Fes, I would recommend staying inside the Medina for a more authentic experience. Your hotel's proprietor will need to retrieve you from outside the Medina's walls so that you can find your way in. It definitely feels intimidating upon arrival but once inside you will find yourself in a fairy-tale like setting. We chose to stay at Riad Fes, a Relais & Chateaux hotel inside the Medina. The lobby is purple velvet , the rooms are romantic and spacious, the food is truly authentic and they even have a pool on the roof for those very hot Moroccan days. The setting was quite relaxing and romantic.
While in Fes, the most romantic thing we did was a couples Hammam at Palais Faraj. A hammam is an authentic Moroccan massage that involved massage, water and steam and if you haven't had one before, Fes is definitely the place to do it. After the Hamman, we ate dinner on the roof of the Palais and stared into each other's eyes under the stars.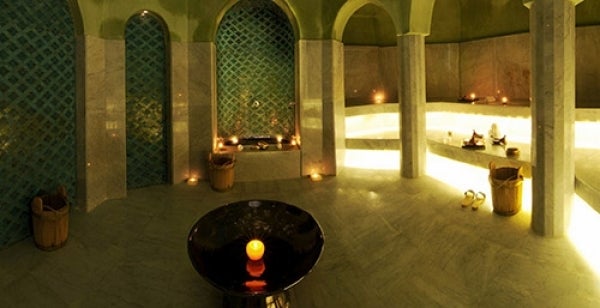 Trying to find other romantic places for travel?
REAL LIFE. REAL NEWS. REAL VOICES.
Help us tell more of the stories that matter from voices that too often remain unheard.
This post was published on the now-closed HuffPost Contributor platform. Contributors control their own work and posted freely to our site. If you need to flag this entry as abusive,
send us an email
.