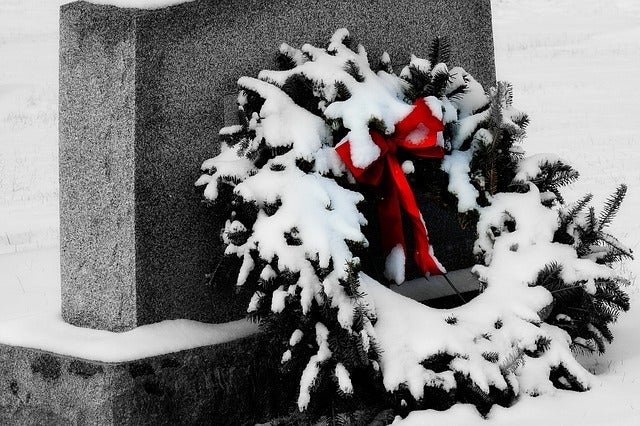 Shopping was done. Decorations had been up for weeks. Gifts were finally wrapped and ready to be torn into. I was nestled all snug in my bed ready to enjoy the peaceful slumber of a silent winter's night.
At 2 a.m., that peaceful slumber came to an abrupt halt when the phone rang.
I buried my father on Christmas Eve that year.
The holiday season was never particularly bright for my family. Years of family discord and physical and emotional distance didn't exactly make for season of merriment, but the death of my father darkened even the last little bit of holiday twinkle. That year, Christmas was spent unwrapping gifts labeled "dad" and having a quiet dinner—party of 3—at a table for 4.
Every December brings mixed emotions—it's hard not to get swept up in the festive lights, the manic energy, repetitive harmony of "Rockin' Around the Christmas Tree," and the myriad Santas loitering on every street corner. There's a buzz in the air that's contagious, and most likely you'll catch it no matter how often you wash your hands. But in the few days before Santa makes his deliveries, it's hard not to let my mind go back. On the wintery days when I wake to white-tipped grass and a frost-laden car, I slip into remembering exactly when my dad's permanent absence was hitting home—the night the three of us sat, grief-stricken, staring at our egg rolls while the rest of the world jingled and jangled the hours away.
When the call came at 2:04 a.m., I dashed out of bed. I headed out into the cold, quiet still air. The earlier evening snow had hardened into a crisp shell insulating my car and I frantically and futilely began scraping at the glass windshield. Defeated, I drove all the way to the hospital with my head out the window.
The ER receptionist twisted and turned me down hallways toward a closed door. I braced myself for what I might see—ventilators, machines, tubes. My thoughts raced. Was he in a coma? Would he only have days to live? Would we have to sign a DNR order? Could he go home by Christmas?
But when I opened the door, he wasn't there. My mother sat with two strange women. Their eyes said everything, but my thought processing had slowed to the pace of holiday traffic. I knew instinctively that it was his heart, but my own heart wasn't allowing me to accept reality. My mother finally said "Dad's gone."
I didn't think about what it was like for her that night because my parents had been separated for 14 years. I never considered her heartbreak or pain until years later after I'd married and had a child of my own. It's one thing to lose a marriage. It's another thing to lose a life—especially the life of your children's father.
And as hard as it was to hear that sentence come out of my mother's mouth, watching my "little brother" crumble into his bed sheets as I told him the news stopped my heart, too. His face turned ashen as he quickly came to the realization that perhaps it hadn't been the best of nights to have cancelled plans with my father. I don't know if he's ever forgiven himself. I could never bring myself to ask.
In the ten years since his passing, I've wondered how the holidays would be different if he were still here. My father—for all his faults and flaws—was a jolly old soul and sought refuge in humor. It was how he got by. He was always good for a laugh, even if it was at my expense. But my father and I never had an easy relationship. For years, I subconsciously wondered "What is wrong with me?" because he never seemed all that interested. That negative line of questioning would stalk me shamelessly into every intimate adult relationship. Dad showed up to my dance recitals and my tennis matches. He'd play baseball and volleyball in the backyard and join us every now and again in our Marco Polo pool antics. But, he was never really "there."
Not until after his death did it occur to me that he—despite the laughter and the nonstop jokes—he was not a happy man. His small condo had been taken over by stacks of mail and newspaper, Chinese takeout menus and candy bar wrappers. It took me days to even notice the torn screen door and tubing left by the EMTs in the chaotic struggle to save his life. I finally understood why I had never been allowed into his space—physically or emotionally.
My father was more than a father. Sometimes we forget our parents are people, too. They were once children themselves who may or may not have had loving, supportive and attentive parents. My father lost his father at 16, and I think it may have changed him forever. I'll never really know, but it doesn't matter. His passing brought me a sense of closure and acceptance of what had been. And it had never been about me. He did the best he could with the story he lived and with the lessons he'd learned. He was not perfect, but I believe he had the intention of being a good dad. He just didn't know how. And that was something I could empathize with and let go of.
In forgiving him for not being the dad I needed, I was able to begin loving and accepting myself. I now know I was always enough, and will always be. I can remember his silly laugh and his rosy red Irish cheeks without feeling the sadness of what we didn't have. Instead, I focus on what we did have and those last few years when we finally had some peace together. My dad was never going to be like Father Christmas, but on every Christmas now, I can fondly remember the father he was. And, that is enough.
Support HuffPost
A No-B.S. Guide To Life
Related
Before You Go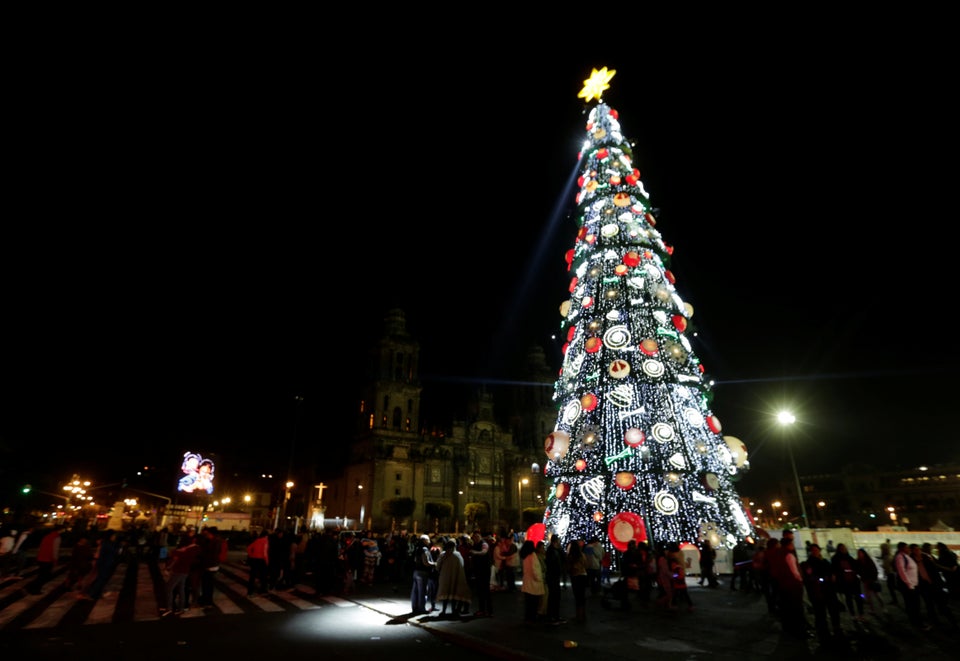 16 Beautiful Photos That Capture The Christmas Spirit In Latin America
Popular in the Community