I love taking classes. I love learning. Since graduating college, I've signed up for courses all over LA, from UCLA Extension's writing seminars (they're great!) to improv workshops at The Groundlings (good too!). And I won't even get into all the acting classes I have experienced.
Lately I have wanted to ensure I am still nurturing and stimulating my creative spirit--especially since I am no longer pursing acting as a career. (Why I moved on? Explanation here.)
So, with that, here are five creative experiences I felt were worth sharing. (Disclaimer: Three out of five are fine-arts related, so now is the time to whip out your beret and open a bottle of red.)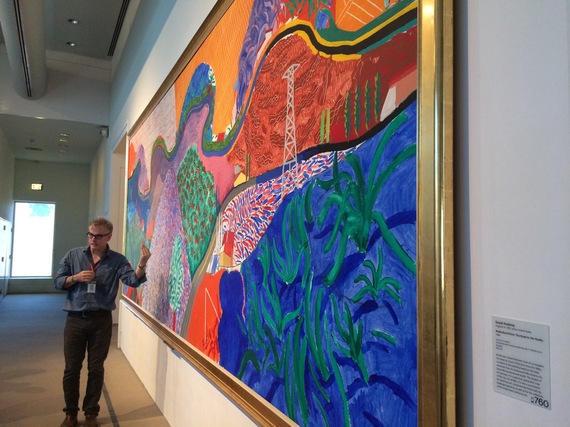 Pictured: Instructor and artist Thom Dower discussing Mulholland Drive: The Road to the Studio by David Hockney
I was surprised to discover how little people know about LACMA's studio art classes. I recently experienced Thom Dower's class, Acrylic Painting. Every Sunday for five weeks we examined seminal works in the gallery, and then would then retire to the atrium on the LA Times Court and paint. We had a beautiful view of the area's green hills, and there's plenty of fun people watching as families walked into the museum.
Some of our gallery visits included viewing the Portrait of Marten Looten by Rembrandt Harmensz, Sous-Bois by Paul Cézanne, Tea by Henri Matisse, Freeway and Aquaduct by Richard Deibenkorn, and finally Mulholland Drive: The Road to the Studio by David Hockney.
To paint after seeing such powerful work, by such iconic artists, was inspiring and energizing. I felt alive and looked forward to class each week. The painting I created from Thom's class is set on my easel and I look at it daily; it's now one of my favorite creations. I met some great people, learned a couple new art techniques, and felt fulfilled. I will certainly be back--and as a member to LACMA, I receive discounts on classes. Score!
In September I went back for a special one-day class at LACMA, Life Drawing with Jazz, in conjunction with the exhibition John Altoon. Inspired by a historical photograph of John Altoon teaching a life drawing class, using musicians as models, we enjoyed live jazz in the exhibition gallery space while sketching. (How cool is that?!) It was thrilling to be right in the middle of the exhibition, drawing and listening to the musicians. I prefer painting to drawing, but it was a really fun experience. This class was also taught under the guidance of LACMA instructor Thom Dower. I'm looking forward to discovering what fun classes LACMA offers next!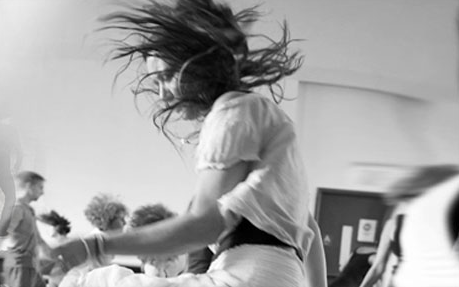 Photo via 5Rhythms

5Rhythms
Against the Stream
You know that quote that enthuses, "dance like no one is watching?" Well, everyone is doing it here. When I arrived to the 5 Rhythms "Movement as Meditation" class, I witnessed a room full of strangers dancing their hearts out. The music was thumping and a DJ was spinning some very cool beats. At first glance, it almost appeared like a nightclub, but at 10 a.m. on a Saturday morning there were no creepy vibes and not a libation in sight. I suddenly wished I had an extra cup of coffee that morning.
So as I mentioned earlier, I used to take a lot of acting classes, so I have a mental list of interesting experiences, like the time I had to behave like an animal in front of an entire class of 50. Yikes! Dancing at 10 a.m. wasn't terribly scary in comparison to all the other kooky stuff I have done in the name of creativity.
At first I was little quiet in my own space, but soon enough I am dancing around the whole room. As described on the website, "This is a laboratory of seeing oneself with fascination. To meet oneself and others in all our humanity. So come and unwrap the stories that are tattooed into your blood and allow your creativity to rise up into physical form."
We danced to different musical landscapes, both by ourselves and with partners. We danced to various rhythms, then expressed what each form meant to us through our bodies: Flowing, Staccato, Chaos, Lyrical and Stillness. It sounds a bit loony, I know: You just have to experience it to understand. If you check it out, be prepared to lose your inhibition and open your mind--without a tall glass of vodka on the rocks.
This isn't a class, per se, but a learning experience nonetheless, and one that exposed me further to the culture and architectural history of LA. When I look beyond what's right in front of me in my little world, I feel not only inspired but also open to the opportunities life has to offer. During my conservancy walking tour, we explored Angelino Heights. The tour was like being inside a little time capsule, witnessing what developers William W. Stilson and Everett E. Halls acquired in 1886 and grew to what would become the historic district it is today. The Art Deco and Downtown LA walking tours, also given by the Conservancy, are next on my must-do list.
On a late-night Google search, I found a multimedia workshop that had rave Yelp reviews. I was craving some free-form expression and this looked like the perfect setting. Berta Art is located in a downtown loft space, the ideal artist's enclave with hardwood floors, exposed brick, and three large arched windows with stunning views of the city. It's inspirational just being in the studio. Between painting and sharing techniques on how to apply other media into our work, Clara Berta, artist and teacher, shared with us lovely art-related quotes, a book on Robert Rauschenberg, and a video clip of a Richter video.
The little refuge I discovered that day in DTLA inspired me to create my own artist area in my apartment. Clara creates a community. The class is open to all levels.
I stumbled upon this outdoor, beachy artist haven years ago walking on Main Street in Santa Monica. It has since moved to 14th Street. I didn't take an art class here, but I used the space as a studio to paint. It's a place where you can paint without having to set up a whole studio in your home. They also have art classes for kids, teens and adults. I celebrated my birthday here one year, and another's birthday the next year. Both experiences were just fabulous. You pay for a canvas (or bring your own, but it is cheaper to just buy one there!), art supplies and you can bring your own wine. So painting, wine, the ocean breeze and no worries for clean up? Perfection.
A very exciting thing happened: By the time I finished writing this blog, I sold a painting, my very first experience actually selling a painting! It happened by accident. A very happy accident. I didn't make the painting in a class, but I am sure my experiences helped to make the piece what it finally came to be. As Kurt Vonnegut said, "To practice any art, no matter how well or badly, is a way to make your soul grow. So do it."
I hope this has inspired you to make your soul grow through art. Follow me on Instagram @roxiefotos, or Twitter @roxietalk and check out my next creative adventure. Tell me what you have discovered around town too!
Calling all HuffPost superfans!
Sign up for membership to become a founding member and help shape HuffPost's next chapter