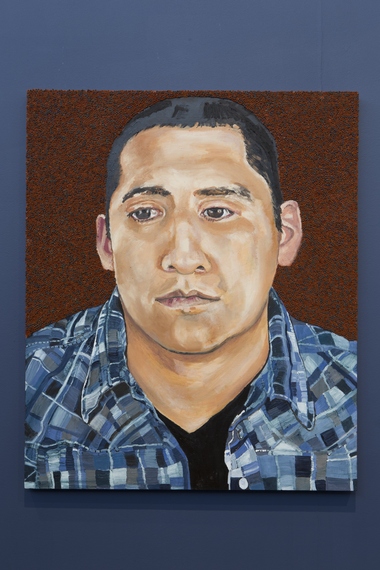 Tanya Hartman is a storyteller. Her work, in all its varying disciplines (painting, crafting, mixed media) covers a large swath of ground, ensuring all the details of her tales are taken into account. So That I May Carry You With Me is an exquisitely detailed pastiche at the Daum Museum in Sedalia, Missouri. She unflinchingly discusses the diaspora that has our country teetering between xenophobia and open borders. A bit uneven in places, Hartman's work underscores the spiritual and human accountability we all face as one person, one planet.
Encompassing pieces she has produced and shown in past exhibitions along with new work, the show feels like a retrospective. However, I think what Hartman accomplishes is a tale in full. Everything she created has been leading to this point. She takes visitors in concentric circles before leading us into a center of portraiture of refugees from political and societal breakdowns around the globe that is the nucleus of everything before it.
A hallmark of a strong artist is the ability to leave a footprint of recognizable styles. Secrets and Outtakes: Was It Met (2014) is one such idea. Tribal influences crafted into shapes like puzzle pieces that don't quite fit. The abstract tone of the work and colors draws you closer.
What Was Beautiful (2007-14) behaves like stream of consciousness thoughts, like a diary that no one should read; its musings are private and cathartic. These snippets of conversation also leave blank spots in places where the text is lightly covered over, a translucent thought that has faded with time, which are the most intriguing components. What is not being said is where Hartman understands how a good story is told. Pauses for reflection or the insertion of ones own ideas that allow for individual reflection. As with Rhyming The Lines (2010), the amoeba-like shapes also show a blurring of text that implies a multiplication of new thoughts. I theorize that Hartman intentionally wants us to not hold one specific or definite idea, as everyone's story is inherently different. The idea of incorporating snaps, buttons and other ephemera into the work also implies a transiency that supports this idea.
Prominently displayed, Alphabets and Earth: The Clay Letters (2015), extends all walls of the gallery. It brings a message of peace with an adage to treat your neighbor with decency and respect. Individual earthen letters hung speaks to the many who cross our borders for myriad reasons and all of them are interchangeable to say something different. Sometimes one sees art with expressions and thoughts incorporated can over-elucidate and squelch its intentions, but this massive work, along with What Was Beautiful is the concept of Journo-Expressionism done properly.
Where Hartman's work falters is Icons from a Broken World (2014), found at the heart of this exhibition, an internal gallery displaying eight portraits of refugees. Portraiture is not Hartman's strong suit, the paintings themselves are not completed with the same confidence or dexterity of everything previous. All done in straight-on head and shoulder poses, the subtlety of the exhibition up to this points suddenly stops. Hartman's real talents are presentation and iconography. These are earnest paintings but lack the definitive power of the words and their mosaic qualities on other works. The addition of glass beads to the portraits, painstakingly applied, highlight the subjects flatness. She covers the gamut of refugee imagery but in their sittings all appear the same; distraught, vacant, drawn. While this is a necessary truth, their glass-beaded backgrounds only highlight the portraits flatness. I'm disappointed as Hartman's craftsmanship is otherwise exceptional.
Hartman understands pastiche and mosaic and these paintings could be redone more abstractedly. I would direct her eye to Mickalene Thomas or Chuck Close for portraiture that elicits incredible power without succumbing to any ordinariness. By putting these works in its own gallery within a gallery is smart curating and all the more reason to render such ideas with a concept that reveals the pain of her subjects experiences in a more difficult, abstract manner.
Returning to ideas that Hartman knows best, Alphabets and Earth is a series of cryptic iconography from Serbia, South Sudan, Rwanda, Poland, Germany and Hungary. Created in a style that reveals the concept of strangers in a strange land uncovers small, intimate propositions. Painstakingly created on a small scale, anything larger would lose their immediacy for these are elegant prose that is nothing short of hypnotic.
People want something glistening and hopeful to hold onto. Hartman does both; she presents a spiritual reconciliation while asking us to stare into the abyss. She is aware of humankind's' temporal, temporary state. We are a species always in transit, always in flux. But Hartman manages to boil down the hardened outer shell to reveal the sweet fruit of spirituality that encompasses all the thoughts and feelings that might otherwise become impossible to digest.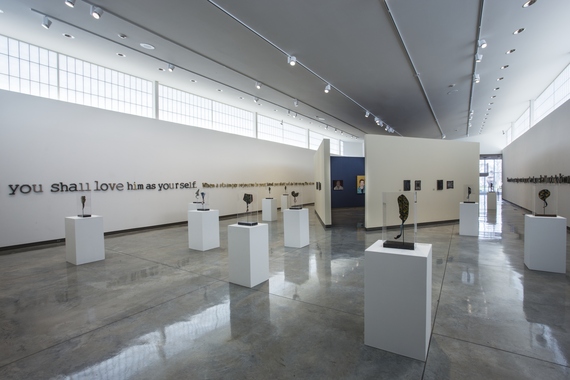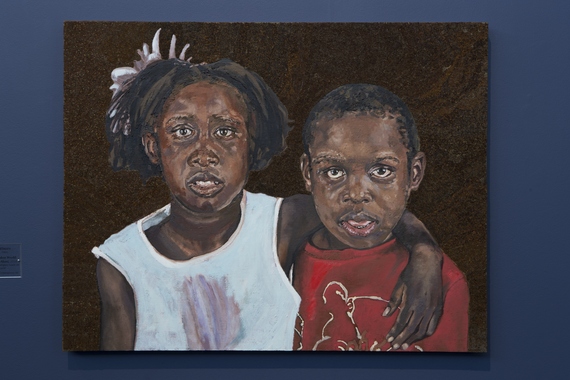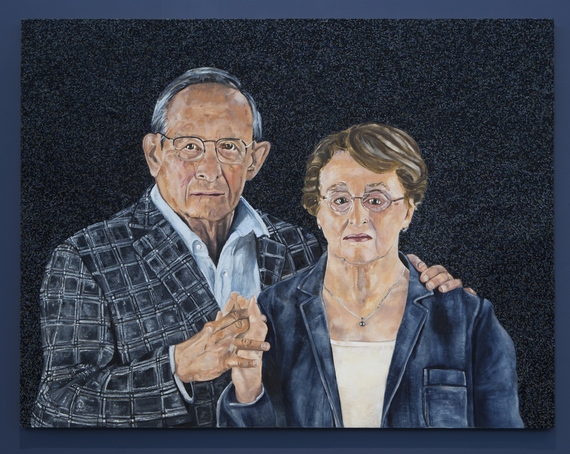 Images courtesy Aaron Paden
Tanya Hartman: So That I May Carry You With Me
Daum Museum, Sedalia, Missouri
January 31 - May 31, 2015
Calling all HuffPost superfans!
Sign up for membership to become a founding member and help shape HuffPost's next chapter