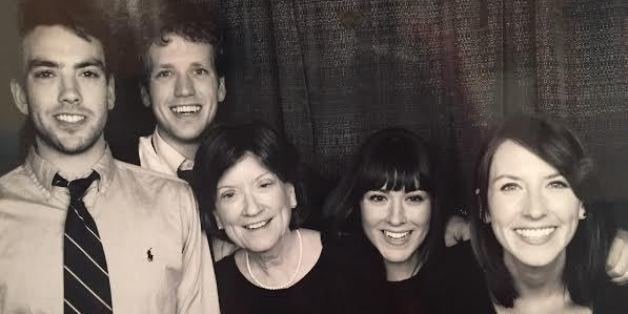 Whether you know it or not, you have an order of things. An intrinsic sense of the way things are supposed to happen, rooted in truth and statistics and hope for a normal existence. In your order, you will grow up. At some point, your parents will pass away. It will be painful and possibly surprising, but it will fit into your order of things. You will grow old, flanked by your friends and siblings. When you are old, your siblings will be older too. The younger ones will look out for the older ones, a role reversal -- karma for all of the free babysitting you had to do in middle school.
Your older siblings will die before you. Your younger siblings will die after you. Your children will continue living. They will carry on your legacy, splitting up antique furniture and telling stories and moving forward, bereaved but content with the order of things.

And then sometimes, through illness or accident, that order gets up, gives you the finger and walks away. Out of your life forever, leaving you confused, questioning, carrying a weight greater than the sum of all of the things you thought were true.

My youngest brother, Paul, drowned in a swimming accident the day after Father's Day last year. The day before had been so wonderful. I remember sitting on the deck, watching my daughters dance with my brothers, watching my husband survey the sunset over the edge of his book, watching my mom and sister look on with the same quiet satisfaction, and reminding myself to take this in. Because perfect moments are so fleeting.

The day after was a nightmare. Is a nightmare. We are still in it, even if the lines have softened and the pain is occasionally dulled by the passage of time. We are still in it.

Some people come in and out of our lives loudly and brashly, bringing intense bouts of joy followed by lengthy periods of silence. And then other people offer this continuous, low-level hum -- an IV drip of comfort. The peace they provide becomes such a constant that you begin to forget where your own happiness ends and theirs begins.

That was Paul. He was something different for everyone. A companion. A complement. A confidant. A source of quiet humor and thoughtful insight. He was my bookend, the youngest to my eldest. We related to each other's particular brand of optimism -- the kind that persists in spite of your own shortcomings. But regardless of who he was for you, he offered everyone that drip, drip, drip of earnest, selfless joy.

"Now he is gone from our physical lives, and the order is gone too. My mom has lost a son. My brother and sister and I have lost the fourth leg of our table."

I can't speak for them, or for anyone else, but when my sense of the natural order of things left, I acquired the heaviness of grief... and an immense amount of fear.

Now that nothing makes sense, I am afraid of everything. Afraid of something happening to what remains of my family. Afraid of getting sick. Afraid for the safety and wellbeing of my children. Afraid of risks. Afraid of accidents. Afraid of the dark. Afraid of what can happen when you keep on living. Afraid of what will happen when you stop.

Every frightening possibility is suddenly so legitimately possible. Because if life can upend itself so completely in a matter of minutes, what's keeping it from happening again? There is no checklist for the number of losses one can suffer. There is no quota you can reach before the universe leaves you alone.

"There is no guarantee. There never was, but now it's clear. And it's paralyzing."

As my husband said in the weeks following our loss, when it was only just beginning to settle in, and grief's grasp was beginning to tighten around our heads and hearts, "I want to do nothing and everything."

I want to live like there's no guarantee. I want to protect fiercely and love fiercely, to keep my children indoors forever and let them explore the world, to play it safe and try everything, to stay the same and change for the better.

When the order you believed in disappears and the world splits open, it is frightening. And paralyzing. But it is also freeing.

If I can embrace the freedom in grief, if I can become someone else's slow drip of happiness, if I can exist optimistically in spite of life's shortcomings and my own, then I will have lived.
This post is part of Common Grief, a Healthy Living editorial initiative. Grief is an inevitable part of life, but that doesn't make navigating it any easier. The deep sorrow that accompanies the death of a loved one, the end of a marriage or even moving far away from home, is real. But while grief is universal, we all grieve differently. So we started Common Grief to help learn from each other. Let's talk about living with loss. If you have a story you'd like to share, email us at strongertogether@huffingtonpost.com.