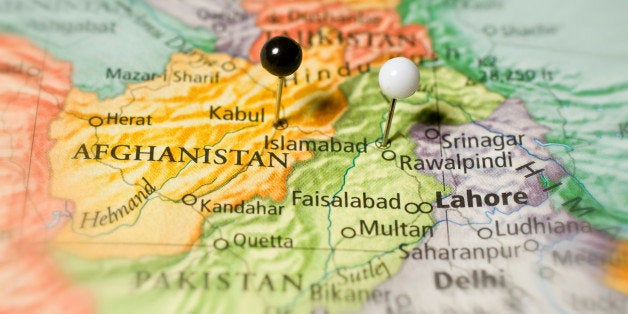 A few days after the horrendous terror attacks in Pakistan, the spotlight is moving away from Lahore. Yet the impacted families are forever changed. Terror anywhere affects all of us in our interconnected world.
Just five weeks ago, I joined more than 10,000 enthusiastic people at the colorful Lahore Literary Festival that took place a few miles from Gulshan-e-Iqbal Park, where the Easter blasts occurred. I have visited Pakistan more than 30 times over the past 15 years and feel a sense of home there. Home because of the country's generous people, our community, the work that keeps me connected to the country's poor and reminds me of our purpose.
The scenes from the terror attacks can feel overwhelming, yet we cannot yield to despair. What gives me hope are the hundreds of young Pakistani leaders I know who reject cynicism and fight for peace. They are activists unafraid to speak truth to power. They are entrepreneurs who build education programs that cultivate empathy and understanding, not division.
They hail from across the country, daily navigating fault lines of ethnicity, class, gender and religion. In this complicated moment of Pakistan's history, they work, they build, they dare to dream.
Jawad talks to the villagers near his first housing development outside Lahore.Let me share short stories of just two I'm privileged to know, both graduates of our leadership program, the Acumen Fellowship. Jawad Aslam has spent the past decade building affordable housing and, over time, thriving communities. The road has not been easy. He has withstood construction complications, pressure to pay bribes, wary potential customers, even a shootout, but he has persevered.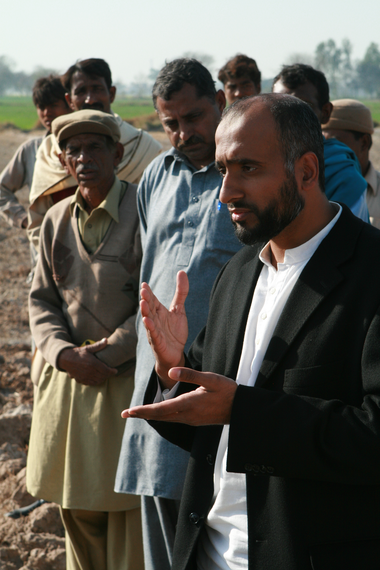 With grit and determination, Jawad has stayed with his fight for human dignity not for months but years. In so doing, by showing up long after others would have given up and daring to treat as equals those many would rather not see, Jawad has accumulated the rarest currency we have: Trust.
Though there is only one mosque in Jawad's first development, he worked with community members to negotiate what might sound impossible today: all members of the mosque -- Sunni and Shi'a -- pray together.
Shahid Rehmat has built a network of young people from diverse faiths and created safe spaces for them to come together, to talk to one another, to build understanding. While we lament the divides between people of different religions, he has grown his organization to more than 2,500 formal volunteers, and is working with government to design interventions that foster religious freedom.
Shahid focuses on building interfaith understanding among all religious groups. In Pakistan, Christians are marginalized in many communities, seen as a low caste. Like the Dalit caste in India, some communities still relegate Christians to menial labor or work as domestics. In those homes, they often must use only their own plates for eating.
Shahid's workshops bring people together across lines of difference so that Muslims and Christians and Hindus -- all citizens of Pakistan -- can break bread together and more important, see each other. At the end of some of the workshops, Shahid serves everyone tea on cups and plates owned by Christians. After eating and the drinking from the same pottery, the groups smash the plates, as they resolve to smash the biases inside themselves.
I have come to believe that it is impossible not to love people and even countries whose stories we know. When we take time to know one another, it becomes impossible to exploit one another. In trying to find solutions to our toughest problems, we can find our best selves.
In these cold winds of violence, I find hope from the courageous efforts of individuals like Jawad and Shahid -- and the 70 other Acumen Pakistan Fellows who are part of their "posse" of support. Some of them are improving education standards in and around Peshawar or designing new technologies for the poor or building companies that employ the unskilled. All of them are committed to building a more inclusive, caring Pakistan.
But we cannot be content only to find hope in the work of others. It is to each of us to do what we can to cultivate more compassion and courage in ourselves, to act on behalf of those without a voice. It is to each of us to plant seeds of freedom, of dignity. It is to each of us to give more to the world than we take from it.
We must remind ourselves that there is no problem that cannot be solved if we move collectively with courage and conscience. In so doing, we can begin to build the world anew.
Related
Popular in the Community