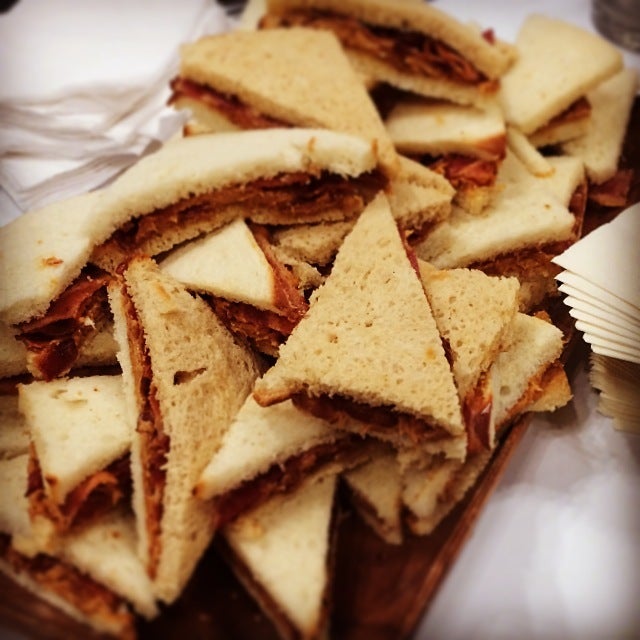 My first stop on my first book tour was the coliseum-size Javits Center in New York City. Thousands of writers, readers, publishers, editors, librarians and all sorts of other people who love books were milling about.
A long line of mostly women formed to get a copy of the uncorrected galley of my soon-to-be-released memoir, "The Raging Skillet/The True Life Story of Chef Rossi'
To this day, I'm not sure if the line formed because they were interested in my book or because I'd decided to pass out peanut butter and bacon sandwiches. You get hungry milling about book conventions.
Nobody told me how you're supposed to sign a book, so the first 10 or so books I signed enthusiastically, with things like:
I hope you enjoy my book almost as much as I enjoyed writing it. Thanks for caring. All the best, Chef Rossi.
I was two steps to carpal tunnel syndrome by the time I wised up.
A tall woman in line approached me.
"What drove you to write this book?
Better question might be, what pushed me through 4 agents, 60-something rejections, a decade of writing then 33 rewrites?
How could I sum it up in what Mom would call "the Reader's Digest version"?
"I'm sure my mother had something to do with it," I answered and gave her a peanut butter and bacon sandwich.
I closed my eyes for a moment. I could almost hear my mother's voice.
"I leave you alone for five seconds, and you're cooking bacon! Your great, great, great, and many greats grandfather who was burned at the stake by queen Isabella for refusing to eat pork in front of his congregation must be crying!"
I shook my head and laughed.
Thank you for visiting our booth. I hope you enjoy the read. Must be awesome to be so tall. I wrote in her book.
A large woman with a face full of sandwich was next.
"Make it out to Mary, please."
Thank you, Mary, for stopping by and sharing the love and the bacon.
"That's spelled Marigh. M A R I G H. Nobody ever spells it right."
Marigh walked away with a pile of sandwiches in a nest of napkins.
My mother might not have approved of the bacon, but she would have loved Marigh's style.
When I was a kid, I loved a cartoon called "Felix the Cat." Felix had a magical bag that could do just about anything, but it paled in comparison to Mom's bag.
One afternoon, we were on the highway. Dad was driving, and Mom was sifting through coupons. My sister, brother and I started to complain we were hungry. My mother Harriet pulled a small piece of square cardboard tucked inside a plastic sandwich bag from her purse. She unfolded it and unfolded it and unfolded it until, like a miracle, an entire pizza emerged!
"Eat this and know your mother loves you."
A short woman with a British accent stood before me.
"Trust me, I'm asking from now on."
Thank you, Kate, for traveling the rock 'n' roll foodie highway with me.
Mom popped into my head again: "The Brits fought with us in World War II, but they discontinued the coupons for Arthur Treacher's Fish and Chips."
I don't think that had anything to do with the British, but once Mom's mind was made up, that was it.
During the years Arthur Treacher's was doling out coupons, Mom hoarded them like they were gold. She'd deemed the hush puppies and fish and chips "kosher enough!"
Which basically meant it had been koshered by the dollar value of her coupon.
I looked up. A crazy looking man with a scraggly beard, dressed in the same shade of brown as a UPS driver stood before me.
"I'm Jacques, and I want to turn your wonderful book into a play."
"Of course you do," I joked.
But I was nice to the crazy man, even though he did look a bit like the Unabomber.
"I came over because I smelled the bacon," he said. "Smart."
"You can't trust the goyim," Mom said in my head. "They'll never defend you if another Hitler comes."
"Let's stay in touch," I said to him.
A young woman with freckles who said she was a student, stood before me.
Thanks, Amy, for spelling your name A M Y. Enjoy the ride.
"You're so cool," she said, walking away.
Being cool had been a little too important to me as a teen. It prompted me to highlight my hair pink, try every drug handed to me and ultimately run away from home at 16.
By the time, I was 18, I realized all that rebelling had cost me my last two years of childhood. Two years as a starving artist, scraping together pennies to make a meal.
Once a month, a care package would arrive from Mom: Hebrew National hot dogs, Entenmann's coffee cake marked "half off," because it was too old to sell, four-for-a-dollar corn muffin mix and coupons for Wendy's.
Eat and know your mother loves you.
A mother and her teen daughter were next on line. The mother handed me my galley and pointed to her daughter. "Please make this out to my daughter Margarita."
"I like Marga," said the girl. "M A R G A."
For Marga with the cool name. I hope you get all you want in life.
One of the editors at my publishing company offered me a glass of water.
"My hand is falling off."
"Find your message and shorten it. A LOT."
A handsome white-haired woman came over, "I'm Barbara, a librarian, and I can't wait to read your book."
"Thank God for you," I laughed and wrote. Librarians should rule the world. It wasn't "my message" but it was short and true.
I looked at the happy crowd behind me, munching on my sandwiches as they sifted through my book. I felt like my solar plexus was bubbling.
I tried to remember the last time I'd felt so much joy.
I remembered cooking a tomato sauce that just wasn't coming out right. It didn't have the right blend of yin and yang. I added a few drizzles of honey and a pinch of kosher salt. Suddenly it was sublime. That got a few joy bubbles, but not like this.
I remembered catching the flu when I was 10. I was so sick my parents decided to send my brother and sister with my dad for our vacation in Florida and leave Mom behind to take care of me.
I slept on a sleeping bag on the living room floor, mom on the couch as we watched old Bette Davis movies. Every so often she brought me a cup of chicken noodle soup.
"Eat this and know your mother loves you."
A short fat man with red hair and an even redder face came up to me. " I came to your booth because you're Jewish, " he said. "But what's with the bacon?"
"The recipe in the book calls for Kosher Beef Fry if that makes you feel better."
"Eh. I'm a vegetarian anyway. Sign it to my mother, Ruth," he said.
For Ruth, who has a nice Jewish boy.
He walked to the sandwich display, opened one up, discarded the bacon and shoved the peanut butter sandwich into his mouth.
A young woman with a tattoo sleeve was next.
"Can you sign it to Lolly, my girlfriend? She wants to be a chef."
"It's much better now. In the '80s, ladies were not exactly welcome in pro-kitchens."
"A filthy mouth helped," I said, and we both cracked up, "and a love for food."
And like that, my message came to me. It was so simple, I laughed out loud.
I don't know if Lolly became a chef, but I do know that on the two-year-long book tour that followed that wondrous day. Yes two years! Food is love not only saved my wrist but opened my heart.
I couldn't imagine my memoir turned into a play, but not only did crazy-looking playwright Jacques Lamarre turn out to be above board, he also turned out to be kinda brilliant.
"He's got the beard; he's halfway there," I could hear my mother in my head. "He might convert for the right shana madela. But most playwrights make a lousy living, a plumber might be better."
The first time I saw Jacques' adaptation of "The Raging Skillet" performed on the stage, I was so full of joy bubbles I almost got the hiccups.
He, the cast, the director and the audience had come, to the same conclusion that I had that day at the Javits center.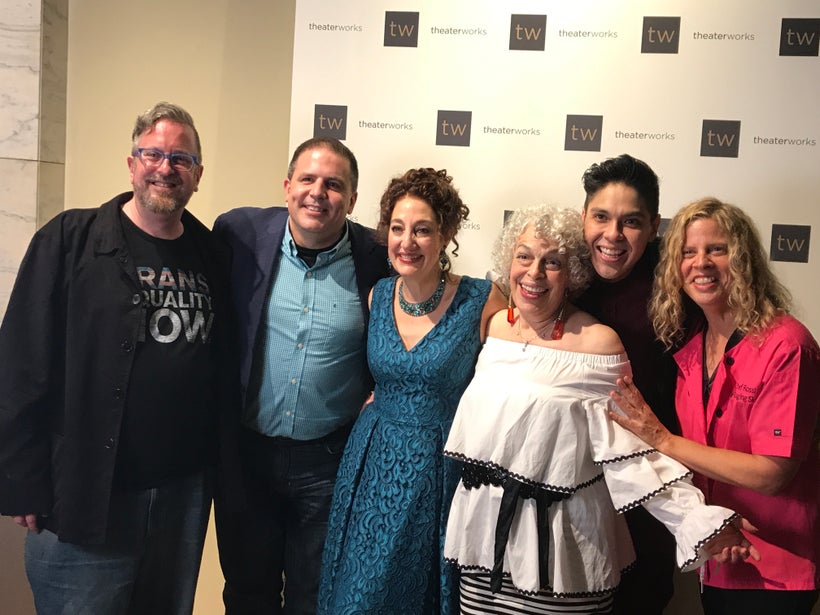 REAL LIFE. REAL NEWS. REAL VOICES.
Help us tell more of the stories that matter from voices that too often remain unheard.
This post was published on the now-closed HuffPost Contributor platform. Contributors control their own work and posted freely to our site. If you need to flag this entry as abusive,
send us an email
.