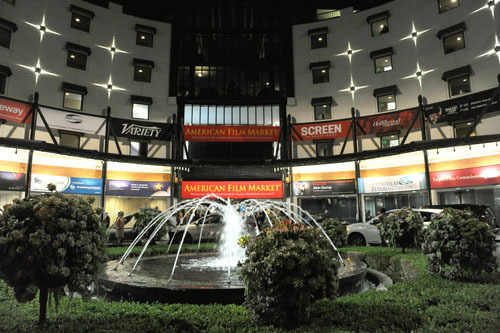 The American Film Market (AFM) 2015 (Photo Richard Shotwell/Invision for IFTA/AP Images)
The 36th American Film Market (AFM) rolled into Santa Monica for an intense round of film screenings and world premieres attracting hundreds of filmmakers hoping to convince the 1,600 buyers from over 70 countries to help them take their films to the world.
In addition to the 470 film screenings and meetings the 391 exhibiting companies attending the AFM there's a companion education series of conferences focusing on topics near and dear to the hearts and minds of filmmakers.
The conferences kicked off November 6 with a doubleheader of sessions that took a deep dive into the one subject everyone agreed is the lifeblood of filmmaking. Hint, it's not creativity - it's financing.
Top executives from production companies, banks and studios along with consultant shared what it takes to tap into the financing pipeline.
The good news is the explosion in long form programming on cable outlets and the newer digital platforms like Netflix, AOL, Hulu, Amazon and others has opened up an array of possibilities for filmmakers. The downside of this insatiable hunger for content is that since crews and talent are busy it's becoming increasingly harder to put together an affordable package.
"The number of television productions has been astronomical. It's doubled in the US," said Roy Salter, senior adviser, FTI Consulting Inc., a business advisory firm. The competition means, "the costs go up," said Salter.
The move to watching content on multiple screens, not just in theaters and on television, is a game changer that also puts pressure on filmmakers to find ways to attract viewers and challenges theater owners to engage audiences who have an ever growing number of ways to view content.
"Audiences are becoming increasingly selective," said David Linde, CEO of Participant Media. They are not going to theaters unless "it's a standout," he said. Which means you need a great script to get things rolling.
A film has to feel cinematic and belong in a theater. Not having that feel doesn't mean it can't find distribution. Participant recently made the decision that its film "Beasts of No Nation" belonged on another platform, Netflix.
"It's OK if your movie ends up as a theatrical (seen in theaters) and a VOD (Video on Demand)," explained Linde. "A producer has to be ready for that."
No matter where your film ends up, these insiders don't consider crowdfunding platforms like Kickstarter, a funding source that's become popular for a number of different ventures to be important to the feature film community.
"Not a real solution for filmmakers who are going to make movies right now," said Green.
Instead they outlined a tried and true path to getting funded. The first step is to create comps, a key element to getting financing. It's the way of showing how similar films have done in the past on various platforms. Understanding how your film is likely to perform in one marketplace is easier to do than it ever was just by using sources you can find on the Internet. Knowing the approximate revenue generating potential of your film will provide a good guide for setting your budget.
Armed with a great script, comps and a realistic budget you're ready to move to the next steps. Getting to the greenlight from here usually requires you to team up with a producer who is a known entity. They'll have contacts at talent agencies and with directors and talent (actors - at least one known entity).
This producer, or someone from a talent agency, will assess your brilliant script, the comps and your budget and run different scenarios asking "what can we get with specific talent and a certain director," said Micah Green, Co-head of Film Finance, of the talent agency, CAA.
If they like what they see they'll try to bring in a director and some talent that will appeal to buyers and distributors.
Working with these elements, a director, talent and your great script, they'll develop a funding roadmap by looking at possible presales from foreign markets, rebates and tax incentives offered by countries and States and determine what can be obtained from high net worth individuals. Running the different scenarios to factor in the various incentives versus the costs of locations, availability of crews and where you'll do the post production means they might run "up to five budgets" said Paul Steinke, SVP Production Finance, Walt Disney Studios.
Once this is underway they'll know how large of a financial gap still exists. To close the gap, they'll turn to a bank that that specializes in funding films and knows the producer and trusts their financial estimates. Of course, none of this means your film will be a success but that's the risk one takes in the film business.
At the end of the day attracting a producer, cast, a director and eventually the audience is "driven by the material," said Gareth Unwin, CEO of Bedlam Productions who produced "The King's Speech." He looks for the "kind of films that appeal to cast and directors and will do well in certain (major) festivals."
The need for quality scripts that resonate was echoed by Brian O'Shea, CEO of The Exchange, an international sales and financing company who said buyers are "becoming more sophisticated." They are "looking for quality projects . . . that's also a passion. Not just stars but actors who can really act," he said.
None of this guarantees how your film will do at the box office. "Film financing is a bad business except for a small number of savvy investors," said Green.
But it will make it more likely that you'll get your film made. Then it's on to the next one.
Calling all HuffPost superfans!
Sign up for membership to become a founding member and help shape HuffPost's next chapter